The heart of your home is taking a seriously cool turn. The kitchen is already your most prized room.
It's where everyone gathers, whether you're toasting waffles for the kids or entertaining dozens of friends for the holidays. That's why people are spending thousands of dollars to upgrade their kitchens.
You may have spent loads of money on a granite counter top or wood-looking tile floors. You may be one of the first people with a Wi-Fi-connected refrigerator. Those are particularly useful for technicians to remotely diagnose problems with it.
That's nothing, though. The next wave of kitchen upgrades is here and you'll be really proud to show off these internet-connected appliances. They are beautiful, unusual and really good at what they're designed to do, whether it's to keep food fresh, to cook or keep your dishes clean.
Most of Samsung's Chef Collection appliances are wall mounted, like your TV. So, they're sleek and fashionable. Some are also connected to the web.
Bonus: 3 crazy smart home gadgets you won't believe exist
Microwave Ovens That Can Bake
Traditional microwave ovens have their limits. You can heat up a mug of coffee or last night's dinner. But you typically don't use it to cook something, like meat. Unless you like your chicken a grayish white and flavorless.
Samsung's new microwave ovens can heat things up about 30 percent faster than a typical microwave. They can also toast food, like a crispy piece of fried chicken. They can grill meat and bake a cake.
Note: Samsung's new Chef Collection is available in stainless steel and black stainless steel (below).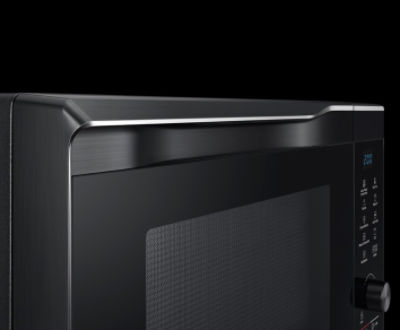 Next page: You've never seen fridges like these!