Here at Komando.com, we really like football. So, of course, we're happy that the NFL season has started.
And if there are hardcore football fans among your friends and family, you know they probably watch the game with their smartphones in hand. They're looking at apps that help them keep track of other games, stats, standings and more.
There is no shortage of sport-related apps available, even many that are specific to football. So which app will help keep you up-to-speed on other NFL-related content during the game you're watching? We present three apps for either you or any devoted football fans in your life, that are sure to inform and entertain.
Keep track of the Score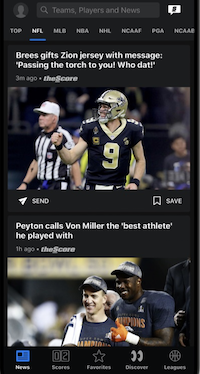 This app gives you some of the best updates on players, teams, games, stats and more. In a game where one interception can turn the tide, football fans are in a hurry to get information on other teams, especially as playoff season gets closer.
Who has to win and who has to lose to get your team that wild card berth? You can find out in seconds. This app also offers detailed game reports, calendars and schedules. This app is truly for stats-geek fan Available in iOS and Android.
Related: What I Streamed and Liked: 'Hard Knocks' shows what football is really like
Get ready for some NFL Mobile
The official app of the NFL, NFL Mobile provides news, real-time scores, video highlights, radio broadcasts and access to Game Pass — if you don't mind paying $100 to watch the games after they've aired.
The app does have some nice perks, such as the team tab. There you can get game schedules, scores, rankings, stats, social media feeds for your favorite teams and even ticket sales. Available in iOS and Android.
Related: Football Fans: Gotta know about chips inside NFL's new footballs
Show your pride with Fancred
NFL fans can be a curious bunch. Irreverent if their teams are longtime cellar-dwellers; insufferable if their teams are perennial winners; and fun if their teams are having a miracle season. Then there are teams who's fans are legendary for their bad behavior (I see you Raiders and Eagles fans).
The Fancred app is designed as a social networking site where team's fans can communicate with each other. Just create a profile, pick your favorite team and you'll have access to a feed filled with news, scores and comments from your fellow fans. Available in iOS and Android.
Use these apps to enjoy the first Sunday of the new season, and throughout the year.