First, our phones became smarter and now it's our watches. Modern day wearables aren't just meant to track your steps or check your text messages any longer, now they're packed with useful features.
But which do you choose? Are you looking for one that's geared more towards fitness, or a smartwatch that can take and make phone calls on its own?
If you're considering buying a smartwatch but are having a hard time picking the one that's best for you, we can help. Here are some of the most popular options available on Amazon right now.
The reigning champ of high-end smartwatches with all the bells and whistles is still the Apple Watch. The current model, The Apple Watch 4 Series, comes in two versions and while they might look alike, there are differences.
Both have GPS, a 30% larger display, electrical and optical heart sensors, a faster 64-bit dual-core processor, water resistance and a faster 64-bit dual-core processor. The more expensive of the two even has built-in LTE so it can make and take calls independent of being tethered to an iPhone. Just remember that convenience also comes with an extra cellular line charge on your bill.
But here comes the standout feature: the Series 4 has an FDA-approved electrocardiogram and fall detection sensors built in, unlike older Apple Watches.
If you're on the fence about an Apple Watch, you might consider waiting just a little longer because there could be a new model coming soon.
This Samsung Galaxy Smartwatch (46mm) is on the higher end of the Android smartwatch spectrum. While it has the usual fitness and sleep-tracking features, it also has some more advanced capabilities to make it worth the cost.
You can swim with it on, it has a decent battery life and it comes with a convenient wireless charger. It also has a speaker and mic for voice calls, and you can get your text messages when you pair it with a compatible Android phone. But before you buy, you should know that a new version of the watch will be available in September.
It may not be a fancy Apple Watch or Samsung Galaxy Smartwatch, but the Fitbit Ionic remains faithful to its mission — helping you stay healthy.
This top-of-the-line Fitbit does come with a few more goodies than other Fitbit models (such as the Versa) including GPS, better battery life and a larger, sharper screen.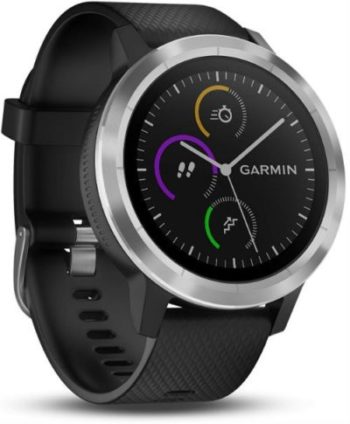 The Garmin vivoactive 3 tracks your heart rate variability (HRV), steps, distance traveled and calories burned. It also comes with free apps, built-in GPS and smart notifications.
For a Garmin, the vivoactive 3 now has a nice feature already found in higher-end smartwatches. With the Garmin Pay contactless payment solution you can make purchases with your watch. No need to carry your wallet during your morning walk so you can buy a latte when you're done.
Ticwatch Pro 4G/LTE offers a lot of nice features for the price. Activate the 4G/LTE feature (only through Verizon) and you can get calls, receive texts, cloud sync notifications, stream music and remotely control your smart home devices.
It's also a fitness companion. Its TicPulse technology empowers 24-hour heart rate monitoring. TicMotion technology detects your motion and tracks running, fast walking and swimming activities.
What's best for you comes down to your phone and your preferences. While you can pair an Android smartwatch with an iPhone, Apple's walled garden will prevent many smartphone features from working. An Apple Watch is the only option that will unlock all options.
You've got a lot more to choose from if you own an Android, with smartwatches being produced by numerous companies and in various price ranges. Wearables like the Samsung Galaxy Watch are the flagship models, however.
While smartwatches continue to make strides into the health space, you still can't go wrong with a Fitbit if tracking those analytics is all you're looking for. You'll also get amazing battery life from those products due to the lack of some features you'll find on smartwatches.