What is the best available browser? That has been a hot debate for years and everyone seems to be loyal to one or another for their own reasons.
Google Chrome, Mozilla Firefox, Safari, and Microsoft Edge are a few options. However, Samsung's browser has a new privacy setting that could be the game-changer we've all been waiting for.
Is Samsung Internet right for you?
We're talking about the Samsung Internet app, a mobile web browser for Samsung smartphones. The company recently made a big announcement about the app. It's now available for all Android phones running Android 5.0 and above and not limited to Galaxy devices.
What makes this browser so appealing is a new privacy setting that isn't found in other browsers. It has a built-in ad tracking blocker that will keep other sites from tracking your online activity.
If you didn't already know, companies track your every move online. This is done so they can provide you with targeted ads.
You might find this creepy and don't want to be followed around the internet at all times. In most browsers, you need to go incognito to keep from being tracked.
Every major web browser – Chrome, Edge, Firefox, Internet Explorer, Safari and Opera – has private, or incognito, browsing. Turning this feature on means your browser will ignore cookies – including ad-tracking cookies – and won't record your browsing history. It's almost like you weren't online.
Bonus: Click here to learn more ways to stop ads from following you around online.
With Samsung Internet, you can keep your browsing habits and information private with the new Tracking Blocker. The built-in Tracking Blocker is an extension that prevents invisible trackers from monitoring your online activity.
Many sites include trackers for advertising purposes and unfortunately, some are even malicious. Removing them not only keeps your activity private but it can also speed up your browsing. It's enabled by default when you're in Secret Mode.
The Tracking Blocker is available under the Extensions menu when you're not in Secret Mode. To turn it on, open the Extensions menu and slide the toggle to the right next to Tracking blocker.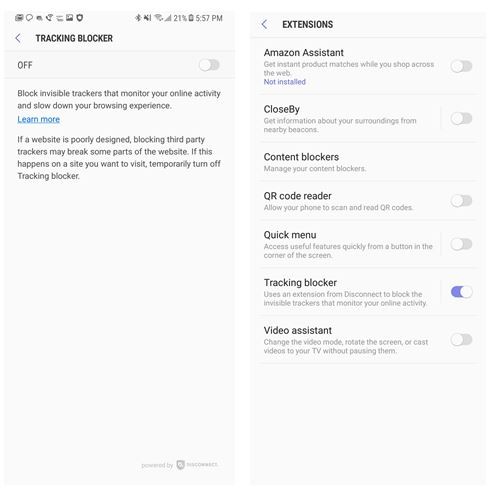 Other Samsung Internet features
Night Mode
If you are constantly browsing the internet while you're in bed, Samsung Internet might be perfect for you. It has a Night Mode that reduces the amount of bright light from your phone, perfect for when you're trying to wind down and go to sleep.
High Contrast Mode
You can also make reading more comfortable with its High Contrast mode. This feature will show text in white on a dark background, meaning less light in your eyes and making text easier to read. This feature is found under Settings >> Accessibility.
Sync bookmarks
If you use Chrome on your desktop, now you can sync your bookmarks with the new Chrome extension. This allows you to access your Samsung Internet bookmarks on your desktop and your Chrome bookmarks on your phone.
These new features might be enough for those loyal browser users to make the switch. You never know though, it's sometimes tough to move away from something you already know and love.
Is your PC or Mac running super slow? Speed it up with these tricks
Anyone who uses a computer has probably experienced this one time or another, a PC or Mac that seems to bog down over time. Your programs open sluggishly, web browsing seems pokey, apps are lagging and your computer startup time is worse than ever. But before you throw your computer out to the nearest recycle bin, I have some troubleshooting ideas.
Click here for some tricks that might save you some cash and your sanity.