Depending on what part of the country you call home, you might not associate cold weather months with jumping on your bicycle for a joyride around the neighborhood. But in places like Phoenix where it still hovers around 80 degrees, it's the most wonderful time of the year.
That brings me to the rising popularity of electric bikes, which don't look all that different from a regular old bicycle, but come equipped with motors and batteries. And according to a recent report by Deloitte, more than 130 million e-bikes are expected to be sold from 2020 to 2023.
I recently had the opportunity to review an e-bike from Rad Power Bikes, a Seattle-based company founded in 2015. Make no mistake, its flagship fat tire model, the RadRover 6 Plus, is a beast of an e-bike — but is it worth the price?
RadRover 6 Plus Electric Fat Bike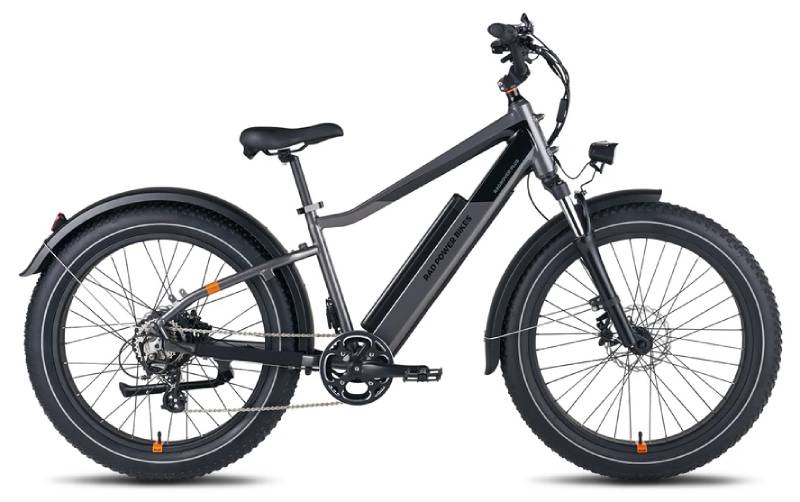 As you can see from the image above, this e-bike might look similar to that trusty old bicycle in your garage, pedals and all. But that's where many of the similarities end once you power it on.
A general rule for how e-bikes work is that the motor turns on when you start pedaling — the harder you pedal, the more power is provided based on the setting you're using. Or you can twist the throttle on the handlebar for power without any pedaling.
Here's what you should know about the RadRover 6 Plus electric fat bike:
Backlit LCD Rad Display real-time stats include charge indicator, speedometer, pedal assist level, mileage, power output and more
Removable 48V, 14 Ah Lithium-ion battery
Up to 45 miles per charge with a top speed of 20 mph
5-level pedal assist with half twist throttle
Custom 750W geared-hub motor for more uphill capabilities
High-performance hydraulic disc brakes
26″ x 4″ puncture-resistant fat tires with reflective sidewalls
Includes headlight, tail light and brake light that activate automatically
Relatively easy to assemble, compared to other models
Weighs approximately 75 pounds with a 275-pound capacity
No doubt $2,000 is a lot of money, but this is on par with similar e-bikes. Just know that other brands and models can go much, much higher.
Unboxing the RadRover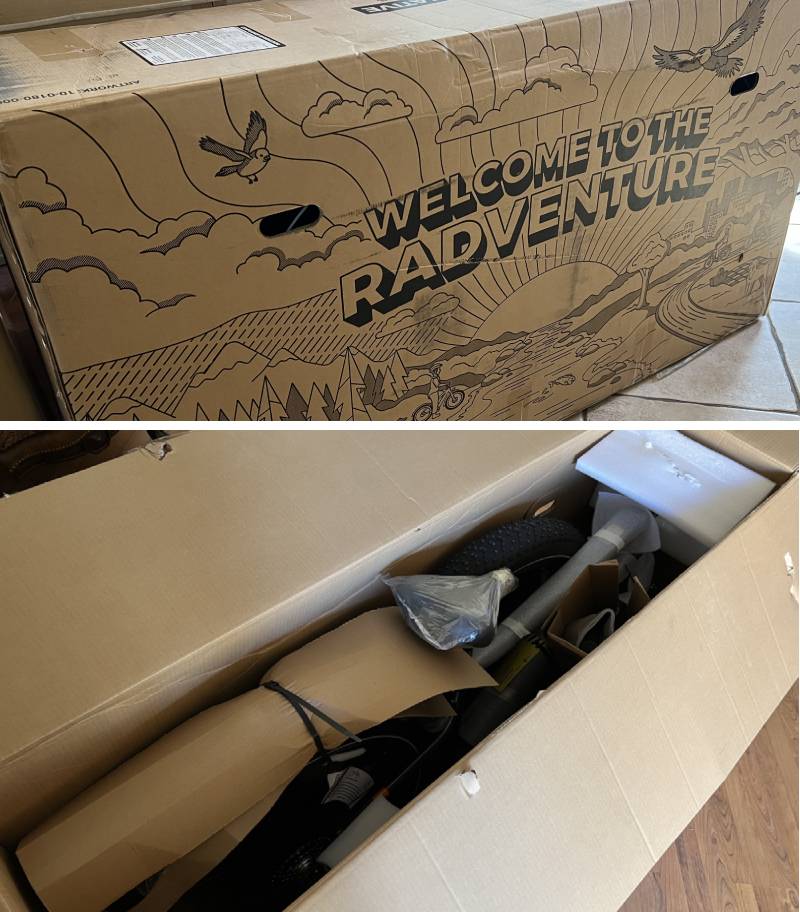 When Rad Power Bikes shipped out this e-bike for review, I had some reservations. I haven't constructed too many bicycles over the past few years, let alone one with high-tech upgrades, so I didn't know exactly what to expect when breaking open the box.
It didn't look too bad upon initial inspection, so I carefully began unpacking it. Some parts were loose, while others were zip-tied together and there was plenty of padding with a mix of cardboard and styrofoam.
It was nice to see that the bike was mostly constructed, but it still took some time to get the rest put together. I fully suggest reading the assembly instructions first and watching the companion video as well.
Something to keep in mind — Rad Power Bikes suggests you have a certified bike mechanic assemble and tune the bike. If planning to DIY, the company recommends having your work checked.
I decided to do it myself, especially after seeing the difficulty level on Rad's site was closer to the "Anyone Can Do It" side of things. A nice touch was the included tool kit. I'm not going to detail every part of the process, but the key components needing to be added to the bike include the handlebar, front wheel, pedals and headlight.
It took a couple of hours and it definitely helped having a second person for help on a few steps along the way. Rad Power Bikes also provided a couple of optional accessories to install, like a rear cargo rack, straps and a rearview mirror.
Hitting the road
Before my first ride, I fully charged the battery (using the included wall mount) and then double-checked my work to make sure all the parts were tight, properly aligned and that the massive tires were aired up. As this was my first experience with any e-bike, there was a bit of a learning curve.
First, I familiarized myself with the two LCD displays. The one that's front and center shows speed, charge level and other stats. The display on the left side of the handlebar has controls to increase and decrease the pedal assist levels. Let me just say having two separate displays is a super convenient way to get the info you need without trying to navigate everything through a single, tiny screen.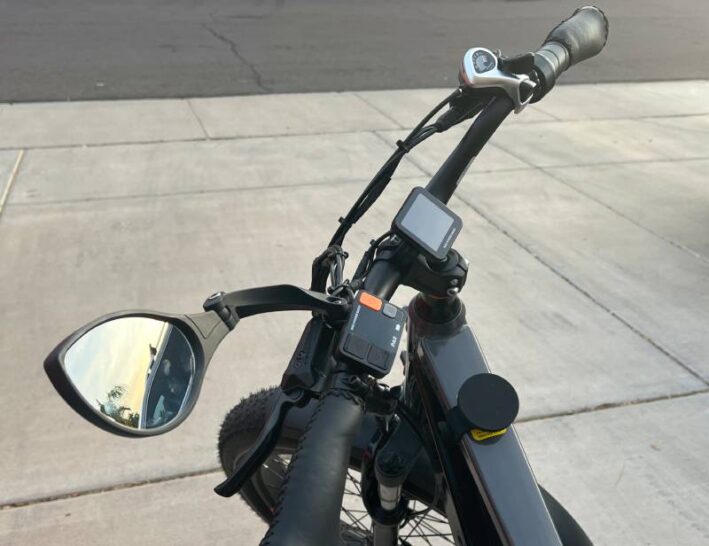 On the right side of the handlebar is the Shimano 7-speed thumb shifter, and the right side grip is the throttle. Power on the bike through the main display and it also turns on the headlight and taillight.
I started out with pedal assist set to 0, and took off like I would on any regular bicycle. Once on a straightaway in the neighborhood, I cranked it up to one, then two and notice how little effort I was having to put into actually pedaling. Twist the throttle and there's another boost.
The RadRover 6 Plus is a Class II bike, meaning it has a top speed of 20 mph. That doesn't seem very fast until you're trying to associate the feeling with being on a bicycle. It takes a little getting used to, but thankfully the braking system is extremely responsive. Engaging the brakes also deactivates pedal assist.
Take the bike off-road, and that's where you'll appreciate the 4-inch thick fat tires — specifically their ability to handle gravel and dirt. I was a little more cautious using the pedal-assist system at first until I knew I wouldn't spin out. It is a relatively heavy bike, after all. By the way, going uphill was an absolute breeze.
Taking it out a few times, I never even came close to depleting the battery. You'll get about 45 miles on flat terrain with minimal pedal assist and throttle use. Even on hilly terrain with heavy motor use, you're supposed to get 25 miles.
The good and the bad
Here's what I really liked about the RadRover 6 Plus:
Comfortable to ride
Smooth acceleration and braking
Versatile for both urban commuters and off-road adventurers
Two separate LCD displays
A variety of accessories available for multiple scenarios
Locking battery compartment (comes with two keys)
This is what could be better:
Displays are a little hard to read in direct sunlight
Pricey when compared to some other e-bikes
Verdict: Is the RadRover 6 Plus worth it?
It might look like a lot to handle but each of my household family members, ranging in height from just under 5-feet to just under 6-feet tall, were able to easily ride the RadRover Plus 6. And it's just fun.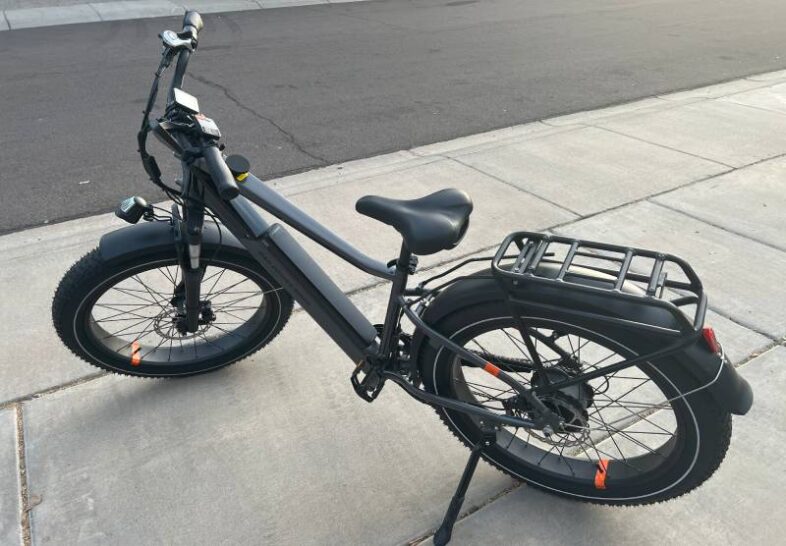 Yes, you have to take the price into account and whether you want the "Plus" features that come along with this bike — like ceramic brakes and other more premium options. Rad's entry-level e-bike, the $999 RadMission 1 is a single-speed bike meant for city riders so it lacks a lot of the heavy-duty hardware.
But if you're looking for a more versatile bike, one for city streets and trails, the $1,999 RadRover 6 Plus checks the boxes from features to durability. For the same price, there's also the RadRover 6 Plus Step-Thru that doesn't have the top tube running from the handlebar stem to the seat tube. That makes it easier to get on and off the bike.
Whichever you choose, my first experience with an e-bike was a very positive one across the board and I very much recommend this latest entry from Rad Power Bikes.