As new tablets continue adding features commonly found on traditional computers, you might wonder if you even need that laptop anymore. That depends.
When it comes to portability and overall convenience, you can get by with a tablet — especially since many also let you connect a Bluetooth keyboard and mouse. For power users who prefer a desktop computer over a laptop anyway, then there's probably not a tablet that's going to cut it.
That is unless you add a docking station, such as one that debuted last year that's designed to work with certain iPad Pro and iPad Air models. Its goal is to bridge the gap by basically turning your tablet into a compact iMac desktop computer of sorts. But is it worth the price?
The Kensington StudioDock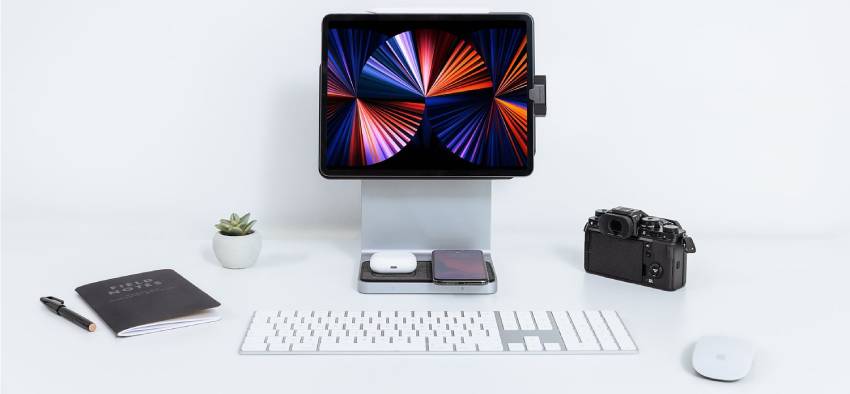 Meet the Kensington StudioDock iPad Docking Station, which adds bonus functionality to recent iPad Pro and iPad Air models, including the ability to charge your other Apple gadgets. More on that part later, but for now, check out the highlights:
Compatible USB-C iPads magnetically attach to the docks
Easily switch between portrait and landscape mode
Single 4K HDMI and four USB (three USB-A and one USB-C) ports
Other ports include an SD card reader, 3.5mm audio jack and gigabit Ethernet
Includes two Qi wireless pads to charge your iPhone and AirPods
StudioDock ranges from $379.99 to $3.99.99 depending on iPad
Apple Watch charging attachment sold separately for $69.99
A luxury to be sure, and you have to make sure to choose the right one. In early 2021, Kensington released two versions of the StudioDock:
iPad Pro 11-inch (2018/2020/2021) / 2020 iPad Air
iPad Pro 12.9-inch (2018/2020)
Seems pretty straightforward, right? It was until last fall when Apple released the all-new 12.9-inch iPad Pro.
While it looked just like the previous generation, the new one was 0.5 mm thicker. That might not sound like much, but it was enough to make it incompatible with the StudioDock.
That had to be frustrating for Kensington, but even worse for consumers who upgraded to the latest iPad only to find out it won't work with the $400 dock they bought a few months before. Financial part aside, it didn't take long for Kensington to announce a StudioDock compatible with the 2021 iPad Pro 12.9-inch model.
The latest StudioDock went on sale at the end of January, and it just so happens I recently upgraded to that big, new iPad Pro. That's the specific dock I was able to review.
First impressions and a couple of speed bumps
I carefully unpacked all of the contents, attached the charger, and everything was going smoothly — until it was time to connect my iPad Pro.
The iPad attached magnetically to the dock's backplate, which was a nice touch, but then I ran into an issue when trying to slide it down onto the USB-C connector. It seemed to be attached, but there was no indication that the iPad was charging.
I double-checked that this was indeed the new StudioDock designed for the 2021 iPad Pro and confirmed it was, so I tried some of the other troubleshooting tricks and finally had to reach out to Kensington customer support. I went through the same steps with the support agent, who eventually concluded that the StudioDock was defective and needed to be exchanged. Great.
Then I took a closer look and noticed the iPad wasn't pushed all the way onto the USB-C connector. I disconnected and reconnected the iPad a few different ways, not pushing too hard to limit the risk of damage to either device. But there was still the same gap, so I turned the whole dock sideways and tinkered with the angle of the iPad ever so slightly until I finally got it to line up.
Long story, but the trial and error part of just getting the iPad and StudioDock to connect took about an hour when all was said and done. Not a great start.
It's definitely not just a fancy stand
Now that it's (finally) set up, I took the time to really examine the StudioDock, and it really has a premium feel to it. The mostly aluminum build makes it relatively heavy, which demonstrates just how sturdy it is.
The iPad dock can also easily swivel from portrait to landscape and gently locks into place. It's also a smooth motion to tilt the dock forward and backward to get just the right angle. And because the dock has some weight, it stays firmly in place while you adjust the iPad.
Now starting with the basics: the cloth-covered Qi wireless charging pads. I placed my AirPods on the left pad, and my iPhone on the right and both started charging immediately. The left pad is only capable of 5W charging, which is pretty standard, but I was a little disappointed that the pad to charge the iPhone is only 7.5W.
That means it'll charge my phone much slower than what it's capable of, in my case, an iPhone 13 Pro Max that can hit 27W when connected to a wired fast charger or 15W when using a fast wireless charger. So if I needed to charge my dead iPhone using this Qi pad, it could take at least four hours to get to 100%.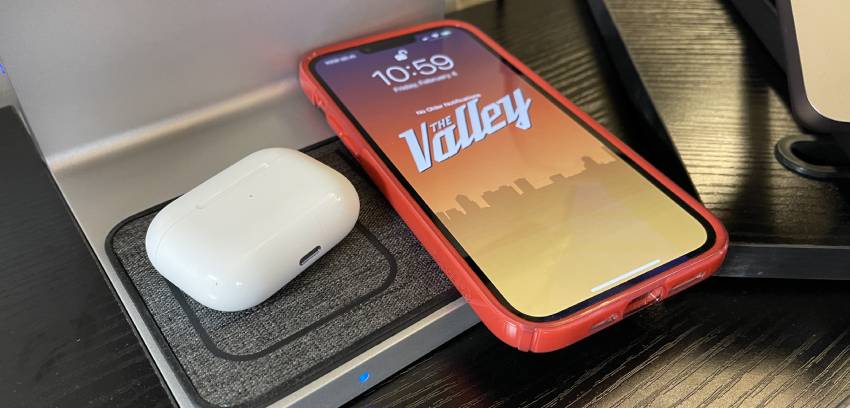 Then you have all the ports that turn this dock into a full hub. On one side, you have the power button and a single USB-C port, while on the other, you'll find a 3.5mm standard audio jack and an SD card reader.
The latter is excellent for photographers who can plug their DSLR camera's SD card right into the StudioDock to edit images and videos. I can also see this as a popular tool for graphic designers and other digital artists.
On the back of the dock is an Ethernet port for wired internet, three USB-A ports and a 4K-capable HDMI port. Since USB-A is on its way out, it's surprising that there are three of those ports and only one for USB-C.
You can connect a wired keyboard and mouse using those ports, but it's obviously easier if you already have wireless peripherals that connect via Bluetooth. As far as the HDMI port, don't get your hopes up …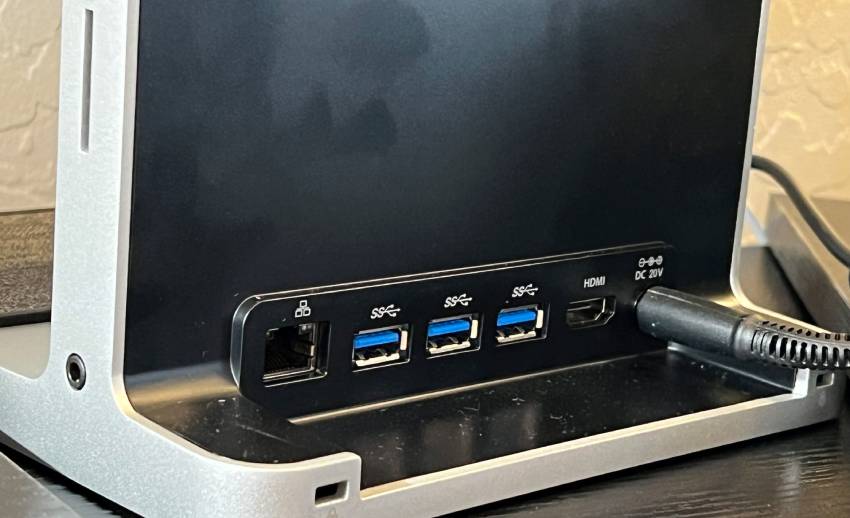 Yes, you can use it to connect to a second screen, like a TV or standalone monitor, but you can't extend your display in most situations. That's not on Kensington. That's an Apple limitation in iPadOS that only lets you mirror your screen to a second display. Bummer, but hopefully that's a change Apple will one day make.
You can also add an Apple Watch charger, but that costs an additional $69.99
Is the StudioDock worth the price?
I'm not sure if others had the same issue getting the iPad and USB-C connector lined up with this model or if there was just a subtle variation in the way this specific dock was built. Once I got past that, it was much easier to appreciate everything this dock could do.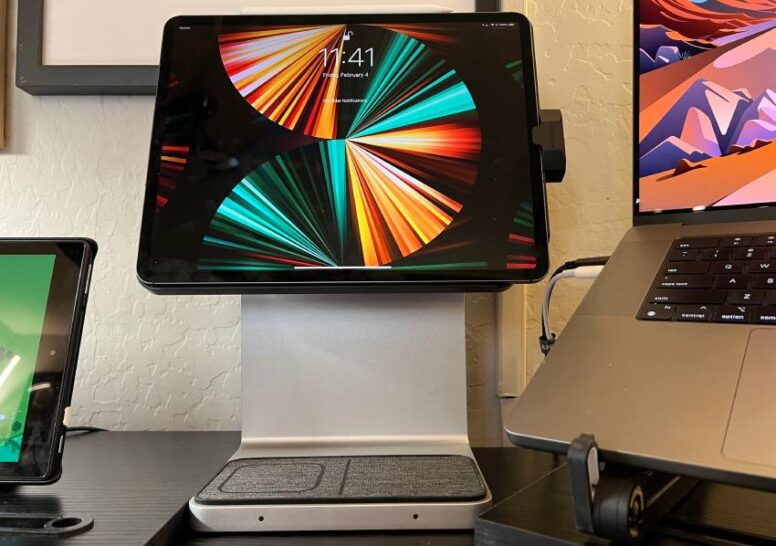 Pros:
Nice design and sturdy build quality
Easy to swivel and tilt iPad dock
Relatively fast iPad charging
All-in-one Apple gadget charger
Wide range of ports
Cons:
Connecting to an iPad takes finesse, although it's possible this is an isolated issue with this specific unit
Lacking external monitor support (thanks, Apple)
Slow wireless charging pad
Should include more USB-C ports than USB-A
Could lack compatibility with future iPads
EXPENSIVE
The Kensington StudioDock is a very nice product that almost turns an iPad into a small Mac. However, at the $400 price point, this dock isn't for everyone — even if you own a compatible iPad Pro or iPad Air. It's meant for those who might already use an iPad as a computer replacement or creatives who do a lot of editing.
The StudioDock ranges from $379.99 to $499.99. Just make sure you pick the version that corresponds with your iPad.