Cybercriminals have been stepping up their attacks lately. That's why we have to be prepared for anything. Another massive cyberattack spread across the globe again last week.
Fraudsters have no shame and will sink to the lowest levels to find new victims. There is a new scam that you need to know about. A phishing email purporting to be coming from the White House is making the rounds.
Watch out for this phishing email
The latest phishing scam comes in the form of a fraudulent email, claiming to be from the president's daughter, Ivanka Trump. The message claims that the email's recipient is due a large sum of money that was recovered by the U.S. Embassy from the government of Benin Republic.
A check in the amount of $50,000,000 is scheduled to be delivered to the recipient's address. To receive the check, you need reply to the email with personal details, including:
Full name
Residential address
Mobile number
Fax number
Occupation
Sex
Age
Nationality
Country
The message also includes a mobile number with a 202 area code, Washington, D.C., that you can text for more information about your delivery. Clearly, the scammers behind this email are trying to get your personal information so they can cause havoc.
Here's a screenshot of what the email looks like. Can you spot all the errors tipping you off that it's a scam?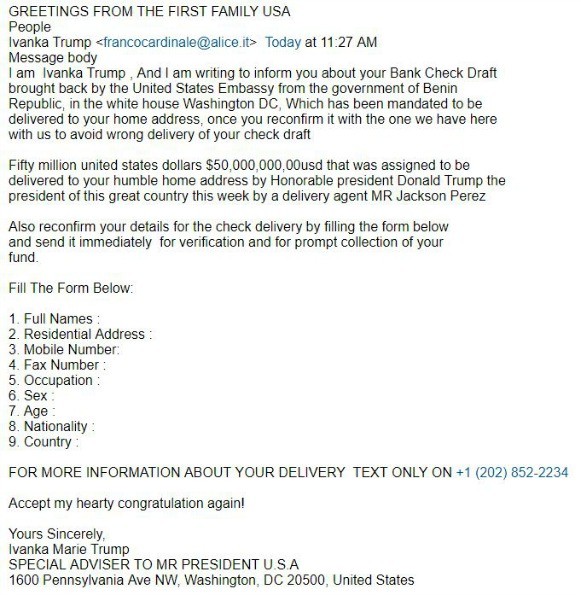 Image: Example of 'White House' phishing scam.
Of course, this email is ridiculous and no one should fall for the scam. However, as we know from previous outrageous scams, some people will fall for almost anything.
Who could forget the infamous Nigerian Prince scam? That's the one where victims received emails claiming to be from someone related to a Nigerian Prince and needed help transferring money out of the country. Almost $13 billion dollars was lost on that scam in 2013 alone.
These types of scams normally originate with a phishing email, so it's a good idea to know how to spot one. Continue reading for suggestions.
How to protect against phishing attacks:
More stories you can't miss:
3 ways your smartphone can be hacked without you knowing
Types of ransomware targeting mobile devices