LIMITED TIME OFFER: Secrets to master your Windows PC and Mac [Free eBooks]
Enter your email to get the free eBooks
No obligation or credit card necessary. It's my gift to you for checking out my smart tech tips, delivered daily.
Take your tech know-how to the next level
Go way beyond the basics with Kim's secrets to master your Windows PC or Mac. These are hidden tricks and handy features you won't find in a user manual. You're bound to learn a few you'll use again and again.
Search tricks to find your files and programs in a snap
Keyboard shortcuts to boost your productivity — and show off a little
Quick photo editing without downloading any extra programs
Messaging shortcuts to get your texts right on your computer
Handy FREE downloads for Windows and macOS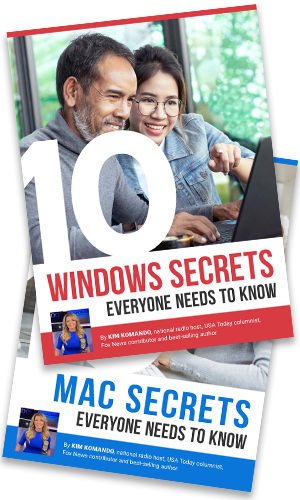 Real reviews from readers and listeners
"I have listened to Kim for years. I really enjoy her podcasts and tips to help me be more productive and safe."
JEFF, MINNEAPOLIS, MN
"Kim's tips for speeding up an old computer were outstanding. I appreciate all the 'proven tricks' she clearly listed and outlined. And they worked!"
CHARLES, BOYTON BEACH, FL
"Kim has saved me hundreds of dollars this year alone! I support the one person who is a guiding light in the tech world."
PAUL, NASHVILLE, TN