What happened on your birthday 100 years ago? What famous people past and present share a birthday with you? Tap or click here to see your life in numbers with this addictive website.
If you love birthday trivia, you will adore this incredible website. It can tell you everything you want to know about your birthday, including how many days ago it was.
Let's dive into one of our favorite things of all time, random factoid trivia. It's all relevant to the day of the year you were born.
What is WolframAlpha?
WolframAlpha is an artificial intelligence project devoted to compiling human knowledge. Instead of submitting queries and comparing them against an indexed series of web pages, this in-browser widget generates results through "dynamic computations" based on "a vast collection of built-in data."
The goal? To make all information accessible, even to ordinary people. Of course, one of our favorite ways to use it is to cross-analyze the annals of history with the most important day of the year — our birthday. Thank you, science.
You can find tons of great information on the site by entering your birth date. Here's how: In the site's home page search bar, plug in your birthday and use the small orange button to the right to compute input.
First, you'll see a bunch of data on time elapsed between now and the day you were born. Holidays, if any, will follow below. Underneath that tab, though, is where the really interesting stuff is.
Under Anniversaries, select More to see all your results.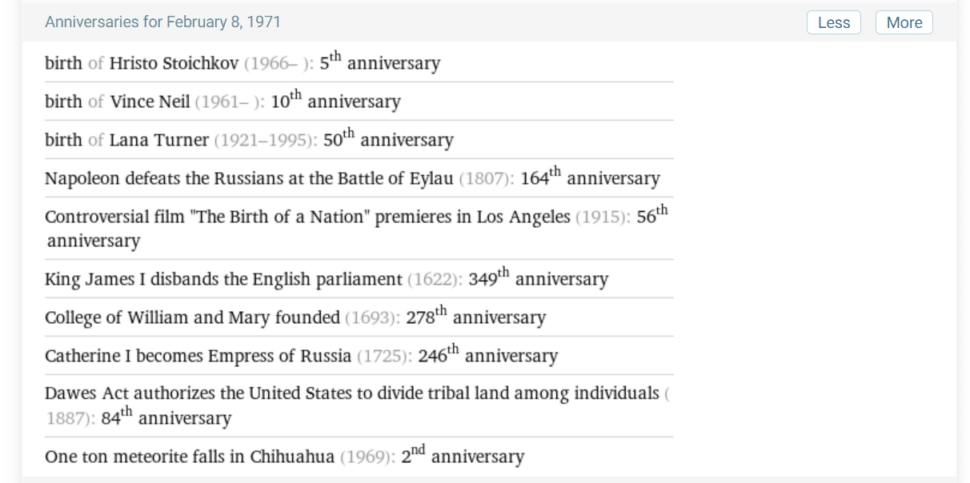 Famous births, famous deaths, major historical events, and even things like film premieres and political legislation will all be laid out for you.
On the example date we used above, Feb. 8, 1971, you can see a few fun facts. For one, Motley Crue singer Vince Neil was born on this date in 1961. Also, a one-ton meteorite fell in Chihuahua two years prior, in 1969. Not exactly what we were expecting, but we're glad to know it.
Another fun fact: Kim uses this site to personalize all of her internal staff birthday shout-outs. Why settle for something second-rate? This AI-driven mega-tool truly does it all.
Don't take our word for it, though. We invite you to explore this project for all it's worth. If you're unsure where to begin, the Surprises tab is undoubtedly one great place to start.