Is there anything more charming than a child's drawing? You'd be hard-pressed to find it. What if we told you there's an incredibly easy way to bring your child or grandchild's latest masterpiece to life?
Animated Drawings by Meta AI Research utilizes the power of automation to do just that. All you have to do is upload any drawing, creating short animations featuring your child's favorite artistic designs.
Intrigued? You should be. It's time to get our youth off of social media. If your kid's drawing involves no overlapping limbs, it's perfect for this fun online activity.
How to use Animated Drawings
You're ready once you've got the drawing scanned or photographed on your computer.
Log on to the virtual canvas and hit Upload Photo. You'll be asked whether you'd like to be included in the team's data and marketing collection for the demo. Feel free to decline. Click Next to continue in either case.
RELATED: A fun new way to chat with your grandkids across the country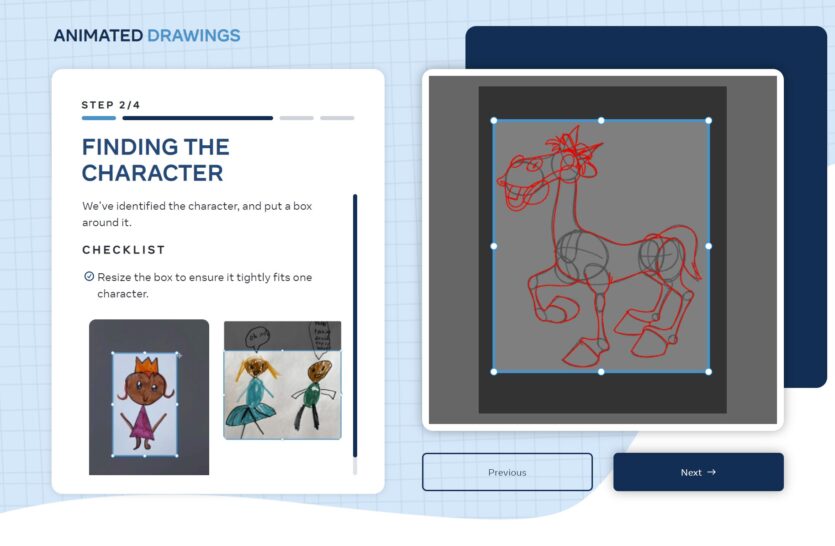 Next, as shown above, you'll need to adjust a bounding box around your drawing.
After the site scans the character, you can refine the algorithm's rendition of your character's outline. Use the pencil tool to indicate areas of the body and the eraser to remove any background areas the automation may have missed.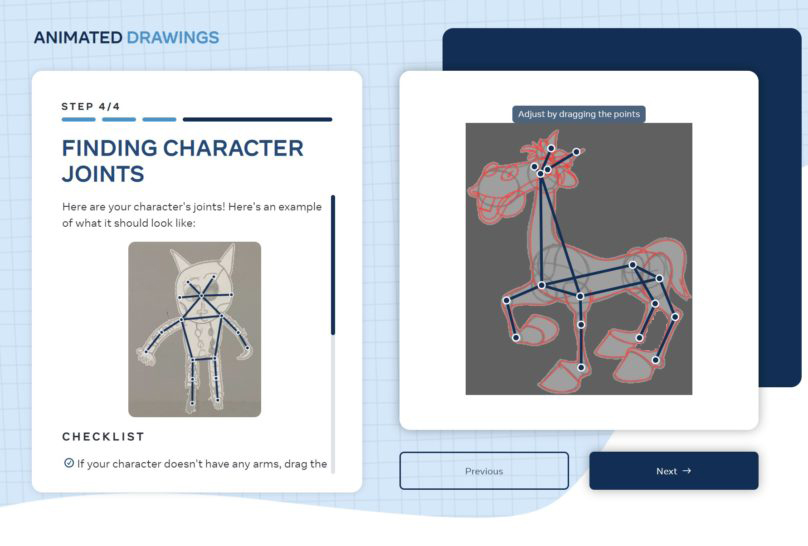 Now the real fun begins. You're invited to rig your character drawing with an intuitive and easy-to-manage armature, transforming it into a neat little puppet.
You can choose from dozens of pre-choreographed stock animations. Select anything that catches your fancy, and you'll see your star in action after a moment of analysis. Watch them dance, jump and wiggle. It could not be any easier.
And, if it's not working? You can adjust the puppet's rigging after the fact if it doesn't jive. Click the Fix button to regroup or the + Drawing button to start anew.
What makes an ideal drawing for this fun web widget? Here are a few pieces of advice from the site:
The background of the picture should be light, ideally white paper.
Ensure that the drawing is lit well enough for the algorithm to discern.
As mentioned above, your child's drawing should not obscure the character's body. It doesn't have to be a T-pose, but every limb should be separate and visible.
If all else fails, you can click on any of the sample drawings at the beginning by scrolling down to the bottom of the instructions. Coming up with something suitable won't be extraordinarily difficult. If we can do it, you and your kid can probably do it, too.
This is probably one of the most exciting rainy-day activities for any burgeoning artist in your household. As long as your uploaded drawing contains no sensitive information, you can't go wrong.
Animated Drawings: Is there an artist in the house?
This website is part of a series of motion capture, artificial intelligence (AI) and digital creativity projects.
It's a great way to connect with both family and friends. We recommend giving it a shot the next time you and the brood are stuck for something fun.
You may also like: 6 games to play with your friends and grandkids online