Photo and video tribunes can be used for many occasions. The more serious ones, like graduations, funerals, and business-related adventures, you need to be sure you'll get the right result.
But with so many programs out there, how do you choose the right one? Each app offers its own unique features and depending on what you want. For professional videos, you'll want an app geared towards making more than just random TikTok videos. Tap or click here for our TikTok beginner's guide.
If you are looking to make a memorial slideshow, we've found the apps that are perfect for you. Here are easy ways to create photo and video tributes. No editing experience is required.
1. Animoto
Currently, Animoto only has an option to run on iOS and desktop platforms. However, if you own an iPhone, Animoto is a great option. Animoto uses an easy drag-and-drop template. You can download the iOS app here.
Upload your video clips and photos to the program and start making your video. You can even add a variety of professional extras, including music that's licensed through the platform.
Short on content for your video? Animoto has an incredible stock library and premade templates that you can use to fill in your video or make one from scratch without using your options.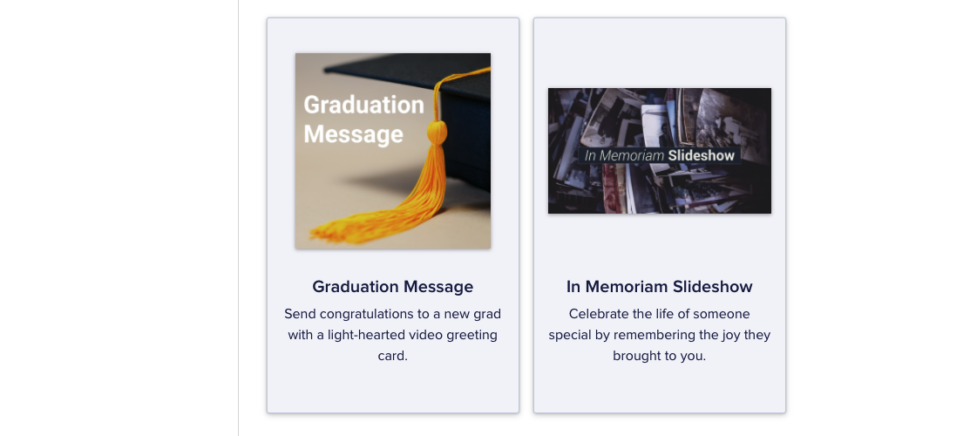 As for cost, they offer three options. The first one is for casual users, and it's completely free, forever. Those looking for a more advanced option can choose the professional platform billed at $180 annually.
2. Smilebox
Just like Animoto, Smilebox starts free. The free option allows you to create as many custom creations as you want. If you are looking for the perfect template to honor a loved one, Smilebox has it available.
Also, like Animoto, Smilebox is only available on the Apple App Store or your computer.
How does it work? Sign-up for the free option in your web browser and start creating! If you want to use the program on your phone, you can download the iOS app here.
If you are looking for more features or want to remove the SmileBox logo from your slideshows, you'll have to spring for a paid subscription. Smilebox has fewer features than Animoto, which also accounts for the smaller price tag.
Currently, the premium plan is just $4.99/month or $59.88 a year. It includes the ability to add your music (not stock selections) to your slideshow, remove the watermark, and share your content on social media and through email.
Smilebox Pro is for those who run their own websites and allows you to do everything in premium and add your logo and website information, and download as many videos as you wish. It's currently on special for $11.67/month or $139.99 a year.
3. Movavi
Movavi comes with a free download for either Mac or PC and can be used to make just about anything. This downloaded version of Movavi is just for the slideshow feature that offers a 7-day free trial. However, a look around its website shows an unlimited list of video offerings.
Here are just a few things you can do with the programs in Movavi's suite:
Split and slow down videos
Combine songs.
Convert old VHS tapes into custom videos.
Video overlays.
Voice overs.
A custom screen recorder.
In addition to its long list of features, it also has an impressive How-To section that will teach you how to use its product. Movavi starts with a free trial, unlike the previous two apps, but you have to purchase a subscription once the free trial ends. There is no full-service free option currently on the platform.
Many programs are available for download, but you can purchase all of its services in one platform at $139.95 for a full year. Businesses will have to pay a bit more, $259.95, for a full year. You can skip the free trial and browse the store here.
You can also download the free Movavi app for both Apple and Android devices. Get the app for iOS here. Get the app for Android here.
There's nothing this platform can't do, so it's worth the investment if you intend to edit videos regularly. If you aren't interested in regular editing, you should stick to the free versions offered by Animoto and Smilebox.
So you've edited those videos, now what? You need somewhere to store them. If you are looking for a place to store your photos once they've been edited, here are our picks for the best photo storage solutions.