That moment of panic where you can't find someone and don't know why has hit us all. Whether you have a loved one who works in emergency services or a teenager who likes to sneak out at night, sometimes we all need to locate someone quickly. Technology has made this easier than you would think.
You don't need to resort to crazy ideas like when you microchipped your dog for their repeated backyard escape attempts. You won't need to download a third-party app either, though that is an option. Tap or click here to track your kids' phone location.
Using apps already installed on your phone, you can easily track friends and family for peace of mind. They can keep track of you too if you so choose. Read on to find the easiest methods for tracking using both Android and Apple devices.
Android Phones: Use Google Maps
If you want to share your location or find a shared location from somebody else on Google Maps, it's easy as pie. This is a convenient feature for Android users, especially in urban areas.
Ever plan to meet someone at the mall and you can't find them in the sea of people surrounding you? Google Maps to the rescue. Here's how:
Share real-time location
Open Google Maps on your phone.
Tap on the menu icon in the top left corner of the app.
Select Location Sharing > Add People (Note: The icon looks like a little person!)
Set how long you want to share your real-time location. While it's automatically set for one hour, you can adjust it to whatever you deem appropriate. It's smart to keep this shorter rather than longer, or else we expose our friends to our Dairy Queen obsession or secret Zumba addiction.
Choose People then type in the phone number, name, or email of the person you want to share with.
Confirm your choice and the selected person will see your location in their Google Maps app. Easy Peasy!
Find locations shared with you
Just like you can share your location with others, they can share their location with you. It's a snap to find if you know where to look.
Open Google Maps.
Press on your avatar icon on the top right corner of your screen.
A menu will pop up. Choose Location Sharing.
You'll see a list of everyone who is currently sharing their location with you.
Select the person's location you want to see and Google Maps will automatically zoom in on their location.
Don't want to use Google Maps? Try Google messages instead.
Keep in mind this option will only work on Android platforms. Google Maps can be used on iPhone, but when sharing your location via text message, the process is different depending on your platform.
Sharing your location by text message can be super convenient if you are in a rush, say on the way to an interview, and want to locate someone without opening up an app.
Open the Google Messages app.
Select the plus icon on the left side of the screen.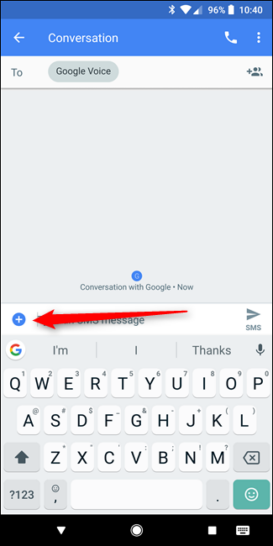 Choose the location icon on the right bottom portion of your screen.
Choose Select this location at the bottom of your screen. Ensure the right location is selected. If it's not, find the correct location in the list, or try typing it in to locate it easily.
Send it with any necessary information in a text message. Thats it!
Own an iPhone? Send your location in iMessages
Your iPhone contains many amazing features, and the ease of sharing your location through text messages is one of them. Google Maps is preferred by many, but Apple Maps is actually a pretty great app.
As a bonus, it works outside of the U.S. as well. If you want to share your iPhone location, you can skip opening up the Maps app and send it through a text message. Here's how:
Once in the iMessage app, open the chat you want to share your location with.
Click on the person's avatar at the top of the message and select info to the screen's right.
Choose from one of the two options, either Send My Current Location or Share My Location. Sharing your location will send your live location, whereas sharing your current location will just send a pin. Select the most appropriate for your situation.
If you choose Share My Location, you'll need to set how long you want your current location shared. You'll receive three options: one hour, until the end of the day or indefinitely. The indefinite option is a good choice if it's a family member you want to check in with, especially in emergencies.
Whether you have an iPhone or an Android, keeping track of your friends and family is easy as can be with these convenient features at your fingertips by using Google Maps or your built-in message feature.
Concerned about being tracked with your phone's location features? Tap or click here to see the secret map tracking everywhere you go.