As of last month, Google's Chrome web browser is officially the desktop web browser of choice among internet users. With 62% of the global market, Google Chrome's top  competitor is Safari, with 14.5% of the global market.
It's no surprise as to why Google Chrome is the leading web browser. It's user-friendly and it's fast. The speed is unprecedented when loading web pages. Unfortunately, if you enjoy having multiple tabs open, you may find Google Chrome lacking in the speed department.
Like Apple, Google has continuously made updates to its software to ensure that its users continue to have the best web browsing experience. Also like Apple, if you use an older device, especially older PCs, you may find yourself frustrated and impatient while browsing the internet while having numerous tabs open.
Do you have a slow computer? Here are 9 ways to make it run faster.
Speed up your Chrome browser with an extension
Now before you continue on with your sub-par web browsing experience, just open a tab (or a 5th or 6th one) and visit the Chrome Web Store. Google Chrome has released a free extension called One Tab that may be the answer to all of your browsing speed worries.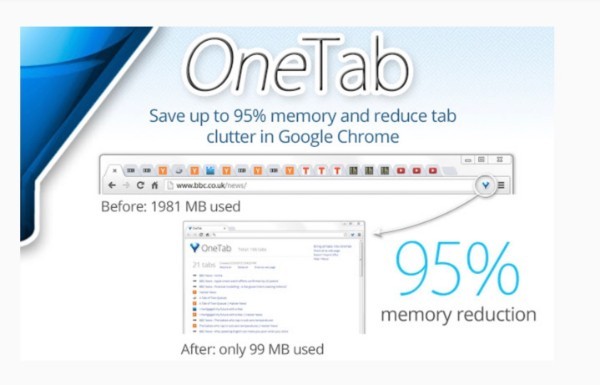 Once you have installed One Tab, a button will appear in the top right of your browser, next to the address bar. As you browse the internet, if you find your browser speed starting to slow down, simply click the One Tab button. Upon clicking the button, all of your open tabs will close and a single tab containing a list of hyperlinks (one for each tab you previously had open) will appear. Once you want to revisit one of the previously opened tabs, just chose the link you want from the list and voilà!
Bonus: Snooze your tabs so you can easily go back to them later.
One Tab is a very simple and effective solution to a common problem. The app developers also ensure that your tab URLs are never shared with third parties and the icons listed alongside the URL domains are generated by Google. The only exception being is if you intentionally click on the "share as a web page" feature. If you click, your hyperlink list will then be shared with others.
Another perk to One Tab is that it prevents you from losing your list of tabs even if you accidentally close the window or if your browser crashes. You can now browse the internet at lightning speed regardless of how old your device may be.