I'm sure you know that a "firewall" was originally the metal barrier separating you from the engine of your car. Now, it's used in relation to computers as well. A computer firewall serves a similar purpose to the one inside cars. It blocks dangerous or untrustworthy information packets from getting into your network.
You should always have a good firewall running. Without it, hackers can infiltrate your system, spy on you, upload viruses or steal your data. Usually, this takes a matter of minutes.
Newer Windows systems all have built-in software firewalls for configuring your outgoing and incoming internet ports. Although useful for your basic needs, it is clunky to configure and it does not have a wealth of advanced features.
If you feel limited with what the built-in Windows firewall can do, here's a lightweight download that will enhance it even further.
TinyWall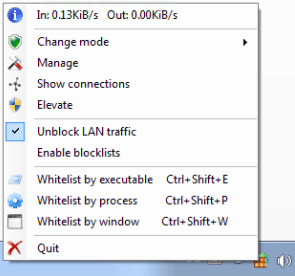 Looking for an ultra-lightweight firewall? TinyWall, like its name proudly suggests, is a small, non-intrusive, almost invisible, free firewall program.
Unlike other free firewalls that seem to announce everything they do, TinyWall does not use annoying pop-up messages and warnings to alert you that it's doing its job.
TinyWall works more like an extension of the built-in Windows firewall, adding more useful features to it rather than replace it entirely. It's also easy to understand – you don't have to be an IT expert to use it.
What it really offers is a simple way to whitelist applications to let them through your network. Instead of digging through menus and settings, TinyWall lets you do it via keyboard shortcuts and lists.
TinyWall is also a really small download, taking only about 1MB of space. That's less than one MP3 song file!
If you are a beginner and you want a simpler way to control the built-in Windows firewall with software that has an almost invisible footprint, then TinyWall is definitely worth the try.