With the advent of smartphones and their superb, upgraded cameras, we all like to fancy ourselves as photographers. But the art of taking the perfect photo is more than just pointing and shooting at your subject and calling it a day – especially if you want those skills to translate to what you can do with a real camera someday.There are plenty of things you need to learn when it comes to compiling the perfect shot: the right exposure, how to shoot in low light, and even how to take a breathtaking studio portrait. But not everyone can find a good teacher easily and photography lessons can be expensive. With cameras themselves costing a pretty penny, what is a fledgling photographer to do?
Learning the basics of photography with Photoskop
That's where
Photoskop
comes in. It is a compilation of free interactive lessons coupled with visual markers, directions, and explanations to help teach you some of the finer points of taking photos.All the lessons in its library are available in an online repository and feature skills both beginner and advanced photographers can utilize. Now you don't need a teacher to run things down for you – you can check out Photoskop and learn at your own pace for the low cost of, well, nothing.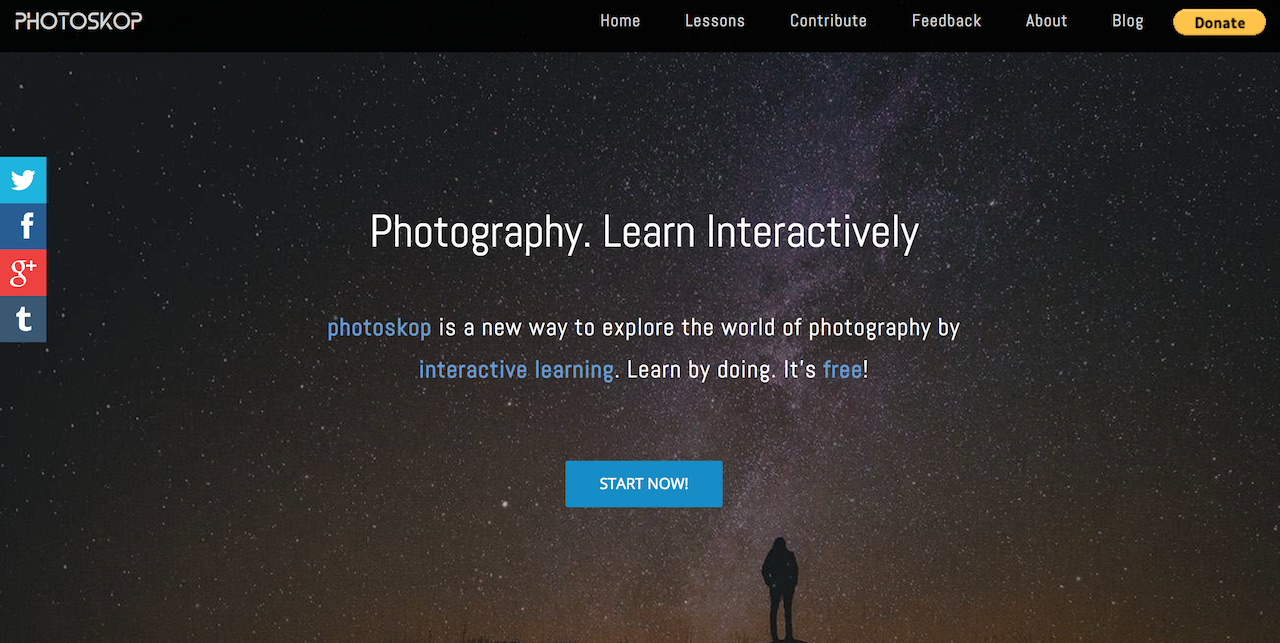 It's extremely easy to complete a lesson. All you need to do is choose one that strikes your fancy and get started. From there, you can grab your camera and start rifling through the user-contributed slides and everything Photoskop has to offer by way of tutorials.There is a wide variety already uploaded on the site, but as it's still very much a newer website, there is still more to come. It's nearly like paying to take an online photography class, but you won't be out any cash if you decide this business isn't exactly for you after all – because it can be quite challenging.But don't get scared away by the multitude of things there are to learn. A great place to start is the
Camera Essentials lesson
, which explains how the camera's aperture works, how to capture different subjects, and how to use various lenses available for your particular model.If you're a complete beginner, you'll want to get a feel for these important building blocks. Many of the concepts you see on the site draw from these steps, so you'll get a head start by jumping in here.If you're a photography pro, you can even contribute to help out other newbies if you so choose. One of the most interesting things about the site is it's built for everyone to help contribute if they're interested in doing so. The entire website's framework is built as such so it's easy to do so, whether you're uploading a text lesson or interactive activity.Using a camera can be quite tricky, but it doesn't have to be that way forever. Clear some time in your schedule, stop taking shaking selfies and hustle on over to Photoskop to see if you can't learn a thing or two to up your photo game.