If you have an Apple Watch, you already know there are a ton of useful things you can accomplish with it. You can use it as a flashlight, make calls, and keep track of your health just to name a few.
Just when you thought your Apple Watch couldn't be more productive, Apple added a bunch of features that will let it and your iPhone work together. Tap or click for seven smart ways your Apple Watch and iPhone can work together.
But that's not all. We've also found 12 must-have apps that'll add to your Apple Watch experience. Change the way you look and use your smartwatch with these useful and exciting apps.
1. Seven – Quick at Home Workouts
Based on scientific studies, Seven – Quick at Home Workouts offers you the maximum benefit in the shortest time. Whether your goal is to get fit or lose weight, this app can help you get there.
Workouts are available for all fitness levels and can be tailored to fit your needs and preferences. There are two plans available: a monthly plan at $9.99 or yearly at $59.99 ($5.00 a month). Both have a free seven-day trial.
2. Dark Sky Weather
Don't be surprised by Mother Nature. With Apple's $3.99 Dark Sky Weather app, you can get an up-to-the-minute forecast for your precise location. You can view weather predictions for the next hour, the next day, and week. The time machine feature allows you to explore the weather in the past or future.
3. Pennies – Budget and Expenses
It's easy to keep track of your spending and save money with the Pennies budgeting app. Pennies offers a wide range of budgets including weekly, monthly, bi-weekly, and custom. You can create as many budgets as you need and sync them across all your iOS devices via iCloud. The price for the app is $3.99.
4. AutoSleep Tracker
Whether you wear your Apple watch to bed or not, the AutoSleep app ($3.99) can track the number of hours you sleep. If you don't wear your watch to bed, take it off before you go to sleep. When you wake, place your watch back on and the app will know you've finished your slumber.
Wear your watch to bed and AutoSleep can provide you with a nightly analysis that includes your sleep quality.
RELATED: 5 Apple watch tricks you'll wish you knew sooner
5. Overcast Podcast Player

With Smart Speed, Voice Boost, and Smart Playlists, the ad-supported Overcast podcast player is powerful, yet simple. You can download podcasts for easy offline listening, get personalized recommendations, and create custom playlists that you can rearrange whenever you want. Overcast is available as a free version or as a premium subscription for $9.99 a year.
6. iTranslate Translator

Get translations in 100 languages with iTranslate Translator. Features include translations in male or female voices, a phrasebook with over 250 pre-defined expressions, and the ability to switch between dialects. Pro features allow you to use your camera to instantly translate signs and menus, website translation, and voice-to-voice conversations. The app is free and offers several subscription levels that range in price from $5.99 a month to $49.99 a year.
7. Evernote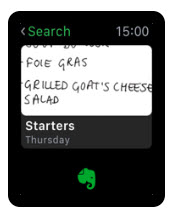 This notes organizer and planner hosts a number of features including dictating notes. And Evernote will transcribe them into the app, view new or updated notes, set reminders, and search notes with your voice. Sync data across all your devices to ensure you have your notes wherever you go. The app is free and offers several Plus and Premium subscription levels that range in price from $2.99 a month to $44.99 a year.
8. Peak – Brain Training

With over 40 unique games developed by neuroscientists and game experts, Peak will challenge your mind. Coach, the personal trainer for your brain, will find the ideal workout for you. Coffee Break provides quick contextual workouts when you're short on time. Peak has a free seven-day trial then it's billed $4.99 monthly, $34.99 yearly, or $99.99 for a lifetime membership.
9. Night Sky
Explore the solar system, identify stars, planets, constellations, and even satellites with Night Sky, your personal planetarium. You can test your knowledge with a quiz or ask Siri to show where a planet or other object like the international space station is and the app will direct you to it. With a premium subscription, you can even take live Night Sky tours all from your wrist. There's a one-month free trial and two subscriptions are available at $3.99 a month or $19.99 a year.
10. ViewRanger: Hike, Bike or Walk

Discover trail guides, download nearby routes onto your watch, and navigate your next outdoor adventure with confidence, thanks to the ViewRanger app. Activities can be saved to Apple Health as workouts that include steps taken and your heart rate. There's a seven-day free trial. Premium is $4.99 a year and USA Maps is $4.99 a month or $19.99 a year.
11. Streaks

Take your to-do list up a notch with Streaks, the tool that helps you create good habits. Track up to 12 tasks you want to complete each day to build a streak of consecutive days. Streaks remind you when tasks need completing and when you carry out tasks related to the Health app. The app is $4.99.
RELATED: Get paid for working out using an Apple Watch
12. Walkie Talkie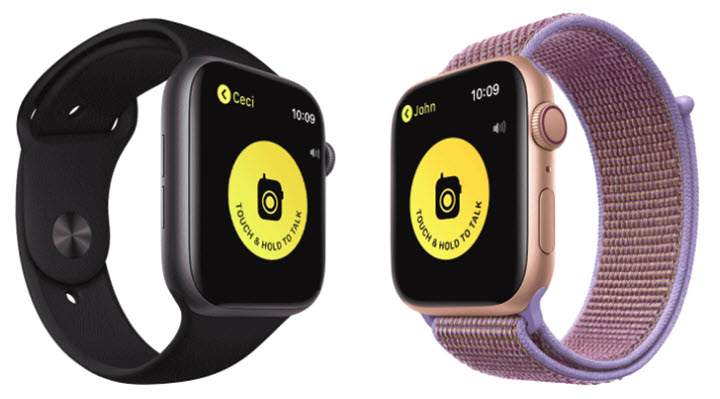 Walkie-Talkie is a free, native Apple Watch app that allows you to get in touch with someone with just a tap. To use Walkie-Talkie each person must have an Apple Watch Series 1 or later with watchOS 5.3 or later. Each person must have the FaceTime app on their iPhone with iOS 12.4 and be able to make and receive FaceTime audio calls.
How's that for upping your Apple Watch's productivity? Just adding a few of these handy apps will help you get more out of your already amazing device than you ever thought possible.