Nothing like a pandemic to make you reflect on how you spend your time. With families holed up for weeks, activities and projects are a welcome, and downright necessary, distraction.
But as the weeks pass, it's becoming more clear that there are only so many 5,000 piece puzzles or games of Monopoly we can power through. You're probably already taking on more productive projects, like these 10 tech spring cleaning tasks.
Why not spend some time learning, too? Magazine articles and long-form pieces from your favorite publications are a great place to start. We'll show you how to listen to them with Audm, effectively turning those stories into podcasts.
Wait, is this like Audible?
You've probably heard of Audible. The Amazon-owned platform is synonymous with the audiobook market. It sells and produces audiobooks and even shows you can listen with you on just about any device.
Audm does something similar but with a whole new form of media. With Audm, owned by The New York Times, you can listen to a narrated version of an article or story, without a physical or web-based version of the publication.
Both Audible and Audmn are subscription-based and allow you to download content to listen later on the go.
TECH TIPS TO YOUR INBOX: Searching for ad-free tech news, tips and advice? Tap or click to sign up for Kim's digital news email, The Current.
So, how does Audmn work?
The Audm app, available for both Android and Apple smartphones, gives you access to thousands of stories from dozens of publishers, read by top audiobook narrators. Publications include:
The New York Times
The New Yorker
The Atlantic
WIRED
Rolling Stone
The New Republic
New York Magazine
BuzzFeed News
Vanity Fair
Here's the catch: This is a paid subscription. Audm costs $8.99 per month for iOS or $7.99 per month for Android. You can save some cash with a $59.99 annual plan ($5 a month) for either operating system.
Keep in mind, though, that monthly charge is much less than you'd pay to subscribe to all these magazines or news outlets separately. If you're a news junkie, this could actually save you money.
You can try it free for three days, but be sure you cancel if it's not worth the monthly payment for you. After your trial period ends, you'll be automatically charged for your chosen subscription.
How to set up and use Audm with iOS
Whether you are listening at home or on the go, the app is simple to use. First, use this link to download the app.
Click Get Started, create an account, and click Sign Up. Choose a plan, tap Continue and complete the iTunes subscription steps.
Scroll through articles and tap the play button to immediately begin listening to any piece, or tap the share icon to share the story across social media or via messages or email. Select the plus icon to download the article for later listening or play next to enter it into the queue.
Options at the top of the home screen allow you to filter the articles by publication or author. Tap Refine to sort stories by original publish date, the date added to Audm, narrator or duration, which ranges from 10 minutes to three hours.
To find any articles you saved for later, click Queue at the bottom of the screen and select the story you want to hear. At any time while listening, you can adjust the narrator's reading speed, pause the story, rewind or reverse the article by 15-second increments and set the duration to either play all stories in your queue, until the end of the current article, or total playtime.
Tap Account to enable Use cell data if you are on a Wi-Fi network, Always use dark mode option, or manage your subscription.
How to set up and use Audm with Android
Tap or click here to download for Android.
After installation, launch app, click Get Started and follow the steps to subscribe. The Android version isn't quite as robust the iPhone app. Android users can sort stories by publisher, narrator or author.
Other features, including the Queue, are identical to that of Apple, except for Account. Here you can enable Use cell data when off Wi-Fi and set notifications when disk space is low.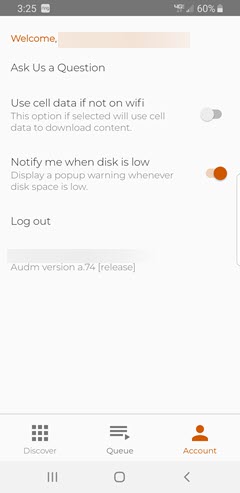 One thing you can't do is manage your account within the app itself.
To cancel or make changes, you must go into your Google Play store account. Just click manage.
There you have it — a simple way to listen to all those articles you've been meaning to read.
Now that you've changed up your reading game, why not mix up your TV game while stuck at home? Tap or click to learn how you can get personalized TV show recommendations with a free streaming app.