When the first GPS came out, it was life-changing. Gone were the days of using paper maps to navigate around unknown territories. Before programs like Google Maps, you were reliant on ridiculous directions from friends that included things like taking a left at the red barn with a black door and going left at the fourth stoplight from the intersection.
Your GPS is like its own person, navigating in real-time and automatically correcting you if you take a wrong turn. It is so accurate, it is almost impossible to get lost. Well, Google Maps' new feature has taken navigation to the next level, and your life will never be the same. Tap or click here for a more private map.
Now, you can get instructions within buildings as well. Where's the Sephora store inside the mall? Oh, just go up one level and it's the fifth store on your left. Talk about innovation. If that wasn't enough, Google has launched live view, giving you a live view of where you are and how to get where you are going.
All about Google Maps new features
So, what new features is Google Maps adding exactly? With the help of AI, it will add over 100 new features to the application this year. The first to be added is its new live feature.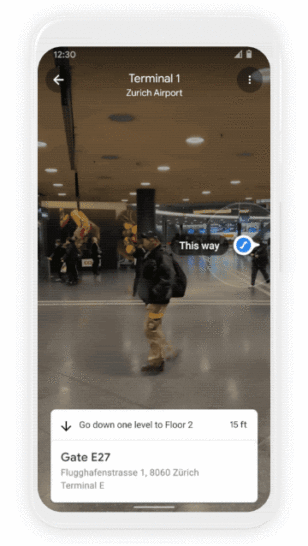 The live feature taps into billions of cameras to understand the orientation of your location and then uses those same cameras to project on your map and guide you to where you are going.
RELATED: 10 ways to use Google Maps Street View
The cameras understand your exact location and the placement of all objects inside the building you're in. Google has brought this feature specifically to places where you don't have time to get lost, namely, airports, malls and other transit authorities like train stations.
Google's live map feature will guide you to elevators, ATMs, ticket offices and more. Making traveling easier than ever.
Currently, the feature is only available in the following cities, Chicago, Long Island, Los Angeles, Newark, San Francisco, San Jose and Seattle. In the next few months, Google will add it to airports and train stations in Tokyo and Zurich, with more cities added this year.
What else does Google Maps have up its sleeve?
Google is adding more cities every month, but it has more features rolling out soon. The weather layer is a new feature that will tell you not just the weather and forecasted changes but also air quality.
RELATED: 3 ways to free up space on your smartphone
The new eco-friendly option will automatically adjust to the route with the lowest carbon footprint without increasing your final ETA. Google will also add curbside pickup directly to Maps. You'll be able to see handy features like pickup and delivery windows, delivery fees and order minimums.
With these additions, Google Maps will make life easier. Soon you can use it to plan what to wear for the day, when to pick up your groceries, and how to catch your flight most efficiently.