As technology becomes a key component in most industries, many of us spend a great deal of our day in front of a computer screen. Without breaks, we can experience a variety of mental and physical health effects. Regular breaks can help to relieve pain due from sitting too long and increase productivity and alertness. We need those kind of breaks at home, too.
Unfortunately, it's not always a simple task to practice such self-discipline. That email inbox is growing by the minute and those documents aren't going to file themselves. Sometimes, all that is needed is a gentle push to remind us to take a moment to breathe, stand up, stretch, or simply give our eyes a break.
Unless you work in a soundproof office, a typical kitchen timer may not be suitable for the workplace environment, particularly if it goes off every 20 minutes. Smartphone timers aren't much better. If you're home, you've got all the other distractions of home life to keep you off your timing game. Luckily, there are a variety of break reminder solutions available right on your desktop.
Build breaks into your day with Micro Breaks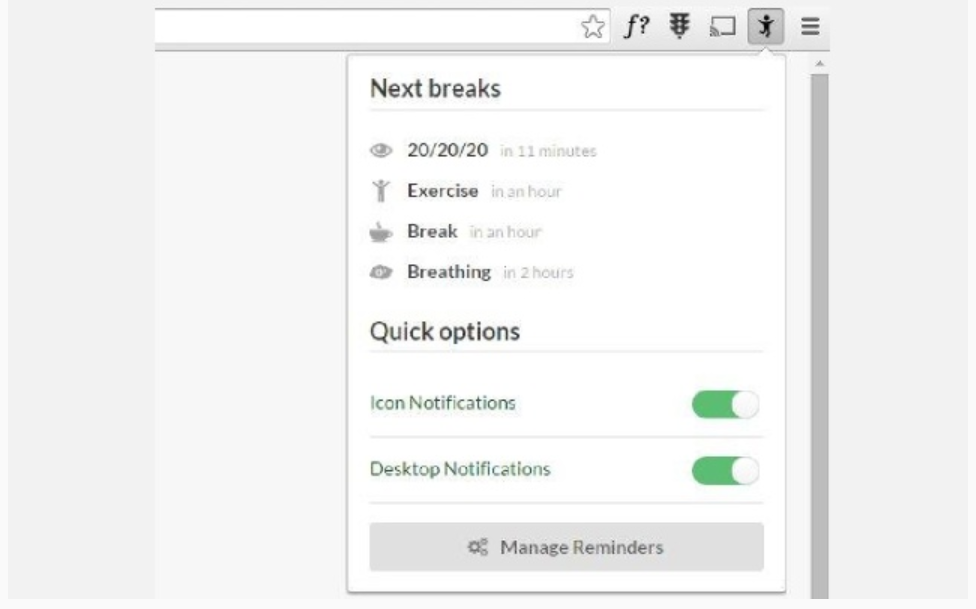 Google Chrome users can delight in the simple to use browser extension Micro Breaks. Micro Breaks encourages healthy habits like deep breathing breaks to lower stress levels, eye strain prevention techniques, basic breaks and stand-up breaks to get your blood flowing. The extension will display a non-invasive green icon or desktop notification to remind you when it's time for a break.
The 2-minute deep breathing break is recommended every 2 hours, a 6-minute standard break is recommended every 80 minutes, and the stand-up breaks are meant to be taken for 2 minutes every hour.
Eye strain is reduced by using the 20/20/20 method of focusing your gaze on an object 20 feet away every 20 minutes for a 20-second duration. Of course, Micro Breaks also allows for customized reminders to suit your specific needs.
Remember to stand up with Outstanding
If you need a break reminder that doesn't require a download, you can look to Outstanding. Outstanding is a web app that reminds you to stop working at your desk and stand up. It is simple to use and works with nearly any browser.
Just visit the website and select your reminder intervals. You can choose from 15, 30, 45 or 60-minute intervals as well as how long your break should be – anywhere from 30 seconds to 5 minutes. When your time is up, the app will remind you to get back to work.
Stay focused with Stretchly
If you're searching for a more comprehensive break reminder solution, Stretchly has it all. The Stretchly app allows users to schedule short breaks and long breaks, both fully customizable. It can even be used as a Pomodoro timer to increase productivity. At any time, Stretchly users can view the details of upcoming breaks including the time and the type of break.
When it's time for a break, a pop up will appear to remind you 30 seconds before break time and 10 seconds before it's time for a microbreak. If a break simply isn't going to work out, Stretchly offers the option to skip to the next break. If you're concerned about this feature reducing the effectiveness of the app, you can opt for the "strict-mode" feature, which can prevent break skipping or finishing breaks early.
If you choose to follow the app's recommendations rather than opting for customization, 20-second microbreaks are recommended every 10 minutes, and 5 minutes breaks every 30 minutes. The app also promotes using the microbreaks as a time to perform some stretches to increase blood flow.
First-time users of Stretchly will be presented with an initial set-up screen to determine location and to review the tutorial. In addition to customizing the break details, the app allows for customization of color schemes as well as the sound that will be played at the end of each break. With a variety of options to cater the app to your unique needs, Stretchly is certainly the most robust option.
With these three options, there's no excuse for spending too much time on your computer. Get one and starting taking a break now!