Every day you plug lots of devices into your computer via USB, because its an extensively adopted technology, offers fast data transfer speeds, and last but not least, it's quite easy to set up.  So, it goes without saying that you expect your USB devices to work correctly every time you plug them in right? Basically, that's the benefit and the simplicity of USB, or universal serial bus; it was created to let devices be connected and disconnected any time you wish.
Unfortunately, nothing is perfect, and since you're plugging in your flash drive, your cellphone, a printer, or any other kind of device to a USB port so often it's pretty common to encounter drive errors here and there. Most likely there's been a time or two where you've nearly lost your mind trying to figure out what the problem was. You've probably spent way too much time troubleshooting when your device has stopped working correctly, or your version of Windows wouldn't recognize the new device you were trying to use.
Well here's some good news. The next time this happens to you, don't take the extra-long route when it comes to fixing the problem. There's no need to go through a laundry list of steps such as restarting your computer, unplugging the device that's plugged into the USB port, or other tedious actions. Instead, you can use the free Windows USB Troubleshooter tool, which is very similar to the Windows Update Troubleshooter. This free tool is provided by Microsoft and will automatically diagnose and mend many common problems with audio, external storage, as well as printers using a USB interface.
Windows USB Troubleshooter is compatible with Windows 7, 7.1, 8, 8.1. and Windows 10. This handy guide will walk you through every step to both troubleshoot quickly and fix any common problems you may be encountering with whatever USB device connected to your computer.
How it works  
1. Download the Windows USB Troubleshooter from this link.
2. Double-click the WinUSB.diagcab file that you've downloaded to launch the program.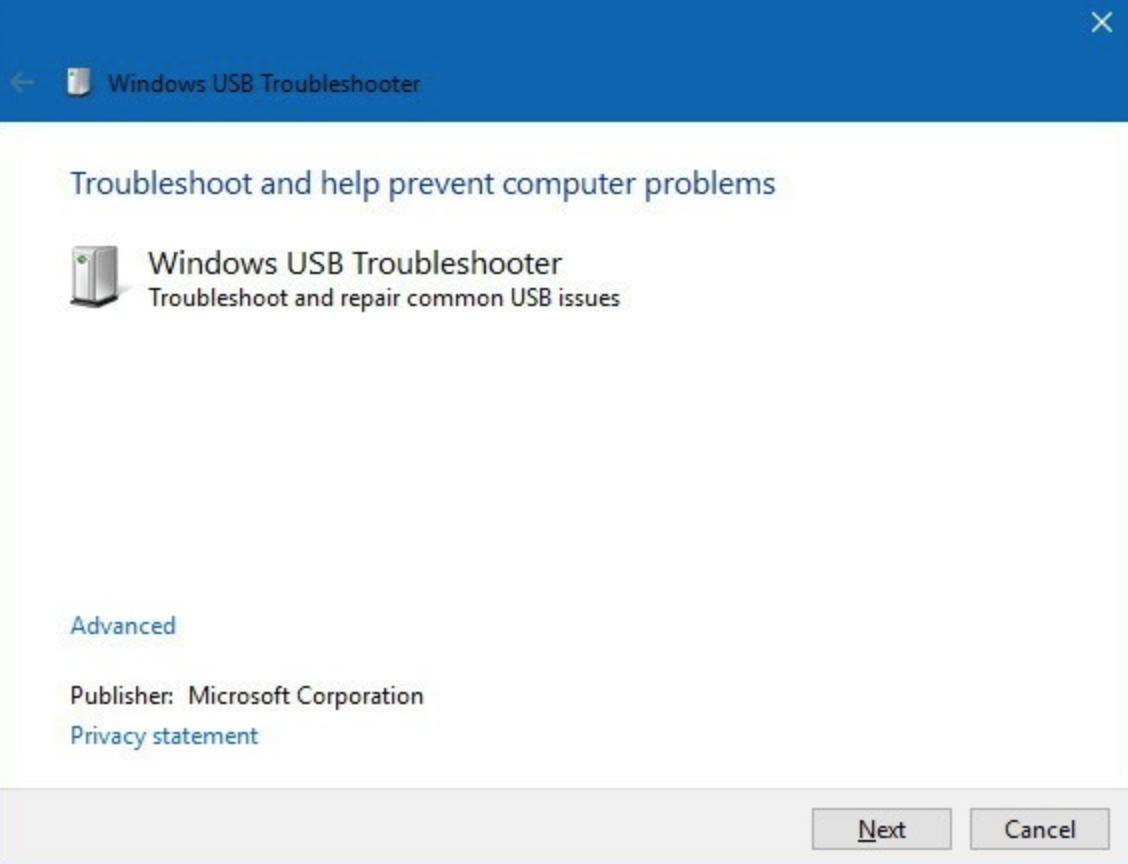 3. Then click NEXT to start the scanning process.
4. From there, the utility will list all the USB drivers and prompt you to select the device you want to fix. Be sure that you don't select one that's in use because you could end up losing data. Then click Next to proceed.
Important Reminder: This troubleshooter requires that .NET Framework 3.5 be working correctly. If for any reason it's not already on your device, you will have to download and install it; you will be prompted to do so automatically.
5. Now click the Close button. Once you've completed the steps, the Windows USB Troubleshooter will run and attempt to fix any issues, including:
The USB device can not be recognized
The USB class filter can't be recognized
The USB printer device is not printing
The USB storage device can't be ejected
Windows Update has been configured to never update any drivers
That's all there is to it!
By clicking the view information link located in the bottom-left of the troubleshooter, you can find out any extra details that are offered if you want.