Photoshop is the gold standard for image editing and the choice of serious professionals and dedicated amateurs alike. There are other image editors out there, but they have limited functionality or are just about impossible for non-pros to learn. Maybe you want to clean up the family photos and let your artistic side flow, but the high-end image editors are too intimidating, and the free ones are too limited.
And even if Photoshop doesn't seem intimidating, it has a hefty price tag. Who has that kind of budget to clean up grandma's photos? Plus, if your computer isn't a serious powerhouse, Photoshop could take all day to get the color balance just right and crop the dog out of the wedding photos.
Now there's a solution with all the power of Photoshop but runs right in your browser without requiring a high-end workstation. It's got all the great features you'd expect from a professional image editor, and it's free to use!
Introducing Photopea
Call it "the little image editor that could." The team behind Photopea wants to make it the most advanced and affordable image editor out there, and it's already well on the way.
If you've been using Photoshop, Photopea can import all those files so you don't lose any work. It can also open all the formats you've heard of like JPG, PNG and GIF, and even some you may not be familiar with like SVG and TIFF.
Once you've got your picture in, you'll find all the tools you'd expect from a high-end photo editor. You can sharpen blurry pictures, adjust contrast and color to get that iffy picture perfect and add text. You can even erase backgrounds so that picture in your living room looks like it was taken on a beautiful Caribbean beach.
This is more than a basic photo editor. Photopea uses layers and history like high-end photo editors do, so if you already know your way around Photoshop, you'll know exactly what to do. It even includes a full suite of filters and artistic effects so that family snapshot could look like something from the 1930s or the Wild, Wild West.
For professionals, you can work in CSS, put down guides for perfect spacing and arrangement, and get all the image properties and information you need, like the exact X and Y values of that pesky pixel.
Photopea: The Pea-rfect Performer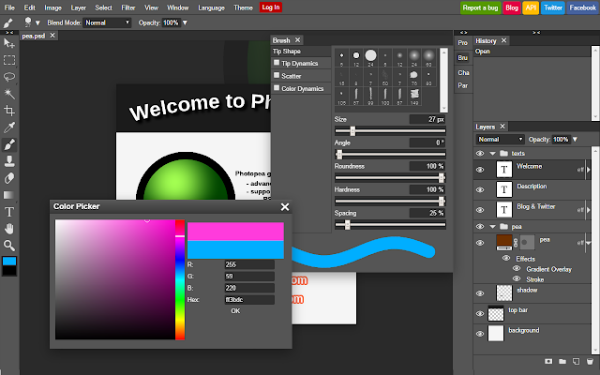 OK, it's a free, powerful image editor with a lot of neat stuff, but maybe you're not convinced yet. And don't most of those require a high-end graphics workstation? The good news is Photopea runs in a web browser like Chrome or Firefox and doesn't drag your machine to a grinding halt. You can run it on a laptop and go crazy with filters and effects, and it won't crash your computer or make you wait 10 minutes while everything loads.
How to use Photopea
If you're a budding artist intimidated by all this talk of layers and filters, Photopea is still the program you want to check out. In the upper right of the window is a little purple button that says Learn.
Click that, and you'll find yourself in a miniature course in photo and image editing. Obviously, it's built around Photopea, but you'll learn about general graphic design topics like masking, layering, vector graphics and smart tools.
Like we said above, Photopea is free to use. However, the free version does display ads in a little bar on the screen's right side. They're unobtrusive, but they are there. If you want to zap those ads, you can choose the premium option for a few dollars per month.