Computers are expensive. It can make someone really want to hold on to that old Dell that they bought six years ago just a little longer. If you've ever upgraded your computer's RAM or video card, then you'll know what I'm talking about.Sometimes even upgrading your computer's hardware can't fix some basic problems that are happening under your computer's hood. No matter how clean your desktop looks, there might be some bugs packed deep into your PC's code that slows it down.Troubleshooting these problems usually calls for the help of a tech support guy, but that means having to wait on hold for 20 minutes or more. No one wants to do that, right?
Bonus download: Quickly remove junk programs that slow down your PC
That's what makes this cool troubleshooting and repair tool so valuable.Wise PC 1stAid is another Windows (from XP to 10) app from WiseCleaner, a company that develops computer and gadget cleaning and repair applications. Here's how it works:After finding an issue with your computer, users can simply open up the app and pick it out from a list. The program then scans and attempts to repair whatever issue you're experiencing.Here's a short list of the issues that Wise PC 1stAid can fix:
Desktop icon errors
Internet Explorer hyperlinks not working correctly
Task Manager issues
Programs running slowly
Slow internet connections
Taskbar icon errors
Not only can it do those things, but you'll have unlimited technical support from their professional team. Plus, new solutions will continue to be added to the list above and make this download even more valuable.Oh, and did I mention that Wise PC 1stAid is free? Well, now you know!
Download instructions
Getting Wise PC 1stAid is simple. First, click the link reading "www.wisecleaner.com" right below this article. You should see a website that looks like this.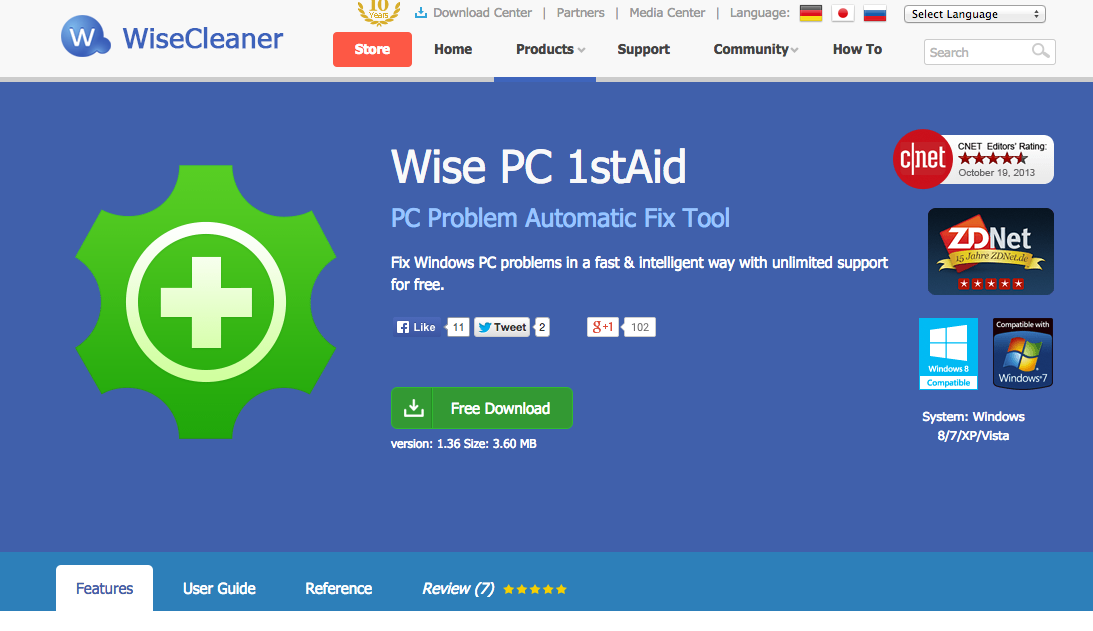 Click the green "Free Download" button and then find the WPCASetup.exe icon in your browser's download bar, or navigate to the downloads file on your PC.
Double click the setup file.
Select your language and continue.
The file should install easily, but a word of advice: Read everything that pops up during the installation process. Don't forget to read over that Terms and Conditions page, either.Need a bit more help? The
User Guide
 is helpful and detailed so that you don't miss a beat in getting your computer cleaned up.