When you think about Christmas classics, "It's a Wonderful Life," "The Grinch" or "A Christmas Story" most likely come to mind.
But before TVs were commonplace, families of all sorts would gather around the radio and listen to stories read by the stars of the era.
Wouldn't it be nice to bring back some nostalgic joy from decades ago, especially after the year we just had? Well, now you can. A great site hosts more than 500 classic radio Christmas shows that you can enjoy whenever you're in the mood for some holiday fun.
How to enjoy a Christmas tradition from yesteryear
The days of gathering the family around the radio may seem long gone, but thanks to the Internet Archive, you can enjoy more than 500 Christmas shows and radio programs dating all the way back to the 1930s.
Internet Archive has stories from Walt Disney and friends, full Christmas concerts from Benny Goodman and his Orchestra, a reading of "A Christmas Carol" with Lionel Barrymore, several performances with Bing Crosby, Frank Sinatra and many others. Shows range from 20 minutes to around an hour long.
To get started, all you need to do is head to the 500 Christmas Shows page and select what you want to listen to. Then click the play icon, sit back and enjoy. It will look like this: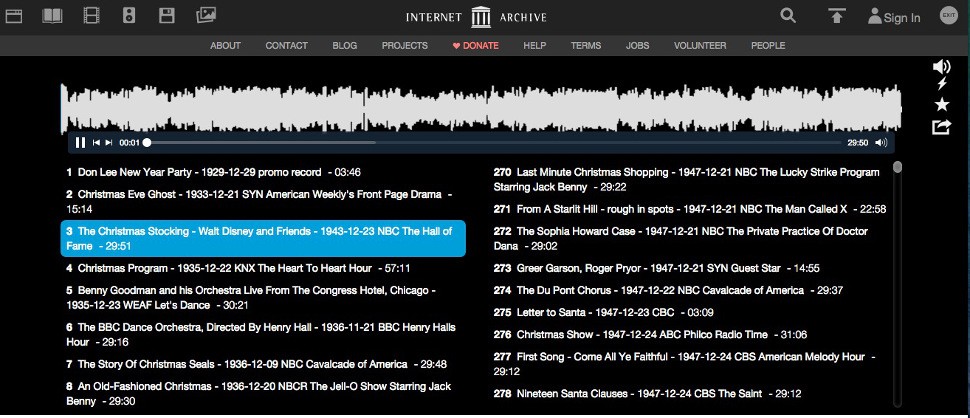 If you're a fan of old-timey radio, Internet Archive also has a collection of vintage radio shows from "Sherlock Holmes" and "Dragnet" to "The Lone Ranger" and World War II news broadcasts.