For many of us, choosing what movie or show to watch revolves around how much time we have to spare. After all, the last thing we want to do is fire up a show and have to turn it off before it ends.
The suspense of how it finishes would be terrible, but so too would being late to wherever it is we have to be. The run times are listed on the back of Blu-ray cases and are available online, but sometimes a decision needs to be made quickly.
When it comes to a TV series, manually adding up the lengths for multiple episodes or sequels can be tedious and inefficient. Fortunately, there's a website that does it for us. Addicted to your devices? Tap or click here to see how Google can help.
Welcome to the one-stop shop
A one-stop shop for all things entertainment, bingeclock.com provides a searching tool as well as some popular, trending shows and films.
For instance, if you want to see how long it would take to watch the entirety of "The Office (US)" or "Game of Thrones," you can select those titles and the site will give you all the details.
By the way, if you're interested, it would take four days, three hours and 30 minutes to watch all nine seasons of "The Office" and two days, 22 hours and 14 minutes to catch up on all eight seasons of "Game of Thrones."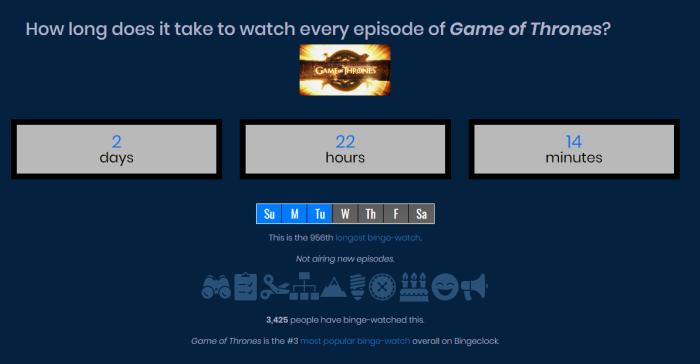 That's just a couple of TV shows. If you wanted to watch every "Star Wars" movie, or perhaps do a Marvel movie marathon (both of which are great ideas), you can easily see that the former would take you 20 hours and 10 minutes while the latter would involve one day, 20 hours and two minutes.
If you are unsure of what you would like to binge next, bingeclock can offer suggestions. Simply tap TOOLS from the left sidebar and click "Random Episode Generator." You can also have the site send reminders straight to your email any time your show airs a new episode so you don't fall behind.
If you're a fan of memes, the site can help with that, too. Click MEMES on the left sidebar to search for memes related to movies and shows. The site also provides a cord cutting calculator, a premiere anniversary calculator and has a bingeblog for you to read up on.
Ready to binge? There are plenty of streaming options to choose from
By now you are probably well aware of streaming, though you may not be sure which service is best for you. There are a lot to choose from. Tap or click here to see which streaming service is best.
When you're ready to binge-watch something, turn to bingeclock.com to plan when you can watch your favorite shows.