A few years ago, multitasking used to be next to impossible when it came to reading books. You either had to read through a chapter of your favorite book first then do an errand or put down the book, do your chores and come back later to continue reading.
Thanks to audiobooks, you can now listen to your favorite books on the go, whether you are out for a long drive or in the kitchen cooking your favorite meal. But audiobooks are pricey, and you might not be able to afford as many as your voracious reading appetite requires.
Let's dive in and explore best websites that allow you to download and listen to audiobooks for free.
Internet Archive
Internet Archive has thousands of free audiobooks and poetry. You can browse through the audiobooks by subject, keywords or by using the search box. You can also sort by view count to enable you to get the most popular audiobooks.  The Internet Archive was essentially designed to be the internet's library.
Learn Out Loud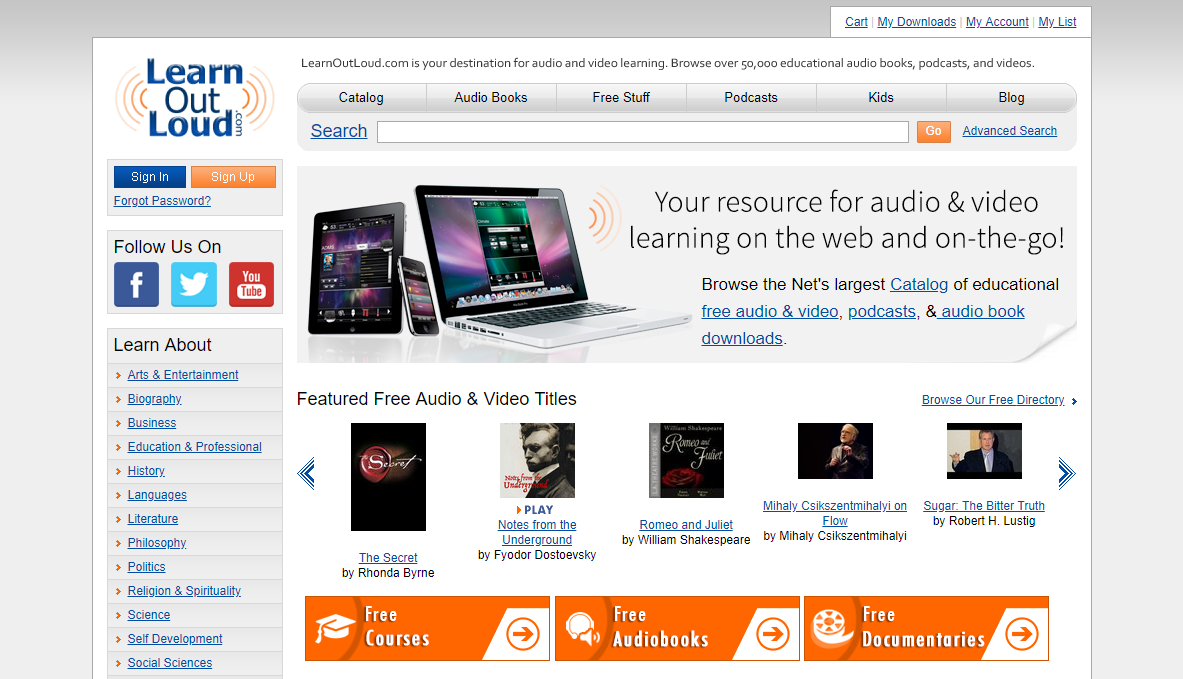 Learn Out Loud has 50,000 of free audiobooks, podcasts and videos that mostly focus on learning. To download, you'll need to create a free account.
Learn Out Loud offers you several ways to find audiobooks. This is because they have been sorted in alphabetical order, recently added, most popular and random. The site also categorizes the books in unique genres like science, technology, business and others.
You can either stream the books online or download them to read later, whatever you prefer.
LibriVox
LibriVox relies on volunteers to read books in the public domain and upload them as audiobooks. You can download full books or chapters to read.
LibriVox has thousands of cataloged works in more than 30 different languages. LibriVox is available for iOS and Android devices; you can either download or stream the available audiobooks through your phone or tablet.
Light Up Your Brain
Light Up Your Brain is the one-stop free library for kids' audiobooks. Most are under 10 minutes long, and they come with a text version to enable those who want to read with the narrator to do so. Light Up Your Brain also has free games for kids to help them boost their capabilities.
Lit2Go
Lit2Go has thousands of audiobooks, plays, short stories and poems. They come with citation information, play time and word count. Lit2Go allows you to browse through genres including fable, Gothic, epic, adventure and many others. Some of the books have accompanying PDFs to be read along with the text. The audiobooks can be downloaded wholly or as short segmented passages of specific chapters.You can download entire audiobooks or passages of your choosing.
Loyal Books
Loyal Books was formally known as "Books Should Be Free."  Here, you can find a collection of public-domain books in several languages. Download entire books or chapters in MP3 or MP4 format. You can also access the books through podcasts and RSS feed.
Loyal Books allows you to search for book titles by genre, popularity and language. Most of the audiobooks in Loyal Books have ratings and reviews from fellow listeners.
Open Culture
Open Culture compiles audiobooks from different sources on the web. These are primarily classics you can download or stream.
The audiobooks are organized by genre and are alphabetically listed by the author's last name. Just scroll down to browse through everything Open Culture has to offer. Open Culture has hundreds of free audiobooks available and is updated frequently.
Project Gutenberg
Project Gutenberg, just like LibriVox, has books narrated by volunteers, plus some narrated by computer. So if you like listening to the likes of Siri, Cortana or Alexa, you're in luck. Project Gutenberg offers more than 60,000 free eBooks to choose from its comprehensive library. It is also available for iOS and Android devices.
Storynory
Storynory, just like Light Up Your Brain, is another kids' audiobooks platform. Here you can download fairy tales, original stories and classic stories. There are also short stories for the little ones and even educational books. Storynory publishes at least one free audiobook a week. With Storynory, your kids' bedtime story time is set, with or without you.