We all like webmail services like Gmail or Outlook Mail for their convenience, accessibility, ease of use and most of all, they're free to use! There's nothing like having access to all your emails from any web browser virtually anytime, anywhere.It's a different story when you go offline though. It's fantastic that you can fetch all your emails from a web browser but when you lose your internet connection, you cannot retrieve your mailbox. Want to check an important email sent to your Gmail two days ago? Without an internet connection, you can't.Macs and Windows 10 PCs have built-in email programs in Safari and Windows Mail but they're not full-featured clients. Windows 10's Mail program doesn't even support local email storage. If you're a power user looking for a solidly designed, feature-packed email program that supports local backups of all your email accounts, then Mozilla's free Thunderbird client is definitely the one for you!
Mozilla Thunderbird
Thunderbird has been around for years now and has always been one of the top go-to free third-party email clients for tech-savvy Mac and PC users. It is from Mozilla, the same company that makes Firefox, one of the best web browsers around.Upon opening Thunderbird, you'll be surprised how sleek and simple the interface is. Like any other client, you get an inbox and folder pane, a messages pane and a calendar pane. Under-the-hood though, you get a customizable junk filter, automatic e-mail scam/spam protection and even antivirus program integration.Additionally, it has a powerful search function and support for tabs, tags, customized folders, and contacts. Speaking of contacts, Thunderbird also has a built-in client support for instant messaging services including Facebook Chat, Google Hangouts and Twitter.Setting up multiple email accounts in Thunderbird is straightforward enough. If you're adding an account from one of the big email providers like Gmail, Yahoo, or Outlook, just enter your email account credentials and Thunderbird will search and configure your mailboxes automatically. And like I mentioned earlier, you save local copies of all your webmail accounts for offline access.
Add-ons
Although Thunderbird is extremely useful on its own, what makes it really powerful is its support for tons of add-ons, themes and extensions. Similar to Firefox add-ons, these are little programs that can add extra functions to your default Thunderbird experience.For example, the Lightning extension allows you to integrate multiple calendars, schedules, to-do lists, and events. Or you can try the add-on "Enigmail" that can add secure message encryption to your emails.
Download Instructions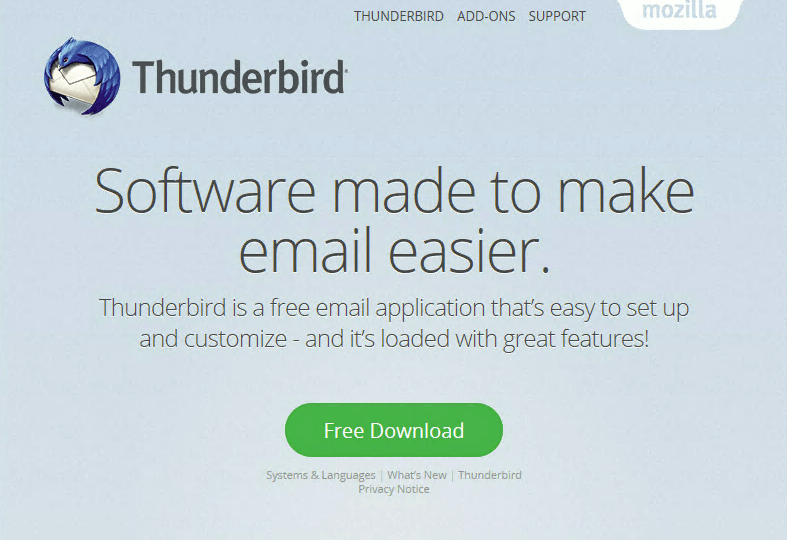 To download the program, navigate to the
Thunderbird home page
or use the blue link buttons below. Click the large green "Free Download" button on the middle of the screen.When the download is complete, run the installation file as usual. Note that the install wizard will automatically select Thunderbird as your default mail application. You can uncheck this box if you only want to use Thunderbird as your secondary email client.Using the Standard installation options will automatically add a shortcut to Thunderbird in your startup menu, your desktop and your Windows toolbar. If you do not wish to do that, select Custom installation, then uncheck these options.When Thunderbird launches, you can immediately start configuring your email accounts. It even offers a free email account from Gandi.net but that's entirely optional. As mentioned earlier, if you're setting up an account with a major email provider then it will be a breeze – it will be done automatically. If not, contact your email provider for your email server settings.