You've got mail! Who doesn't these days? With the number of business and consumer emails sent and received every day expected to exceed 293 billion this year, according to the Radicati Group, it seems everyone's got mail.
One downside to such a volume of email is that most inboxes are cluttered and unmanageable. While many email users opt for utilizing multiple services such as Gmail, Outlook, or Yahoo to tame the mess and keep personal emails from getting mixed up with work emails, it is still a challenge.
One method for reigning in emails and keeping your accounts separate without the hassles many email clients come with is using a free email program that Kim recommends, Mozilla Thunderbird. This handy tool works across all platforms, including Windows, Mac, Linux systems, and Android and Apple devices.
What is Mozilla Thunderbird?
Mozilla Thunderbird is an open source email client that is easy to set up and customize with options including newsfeed, chat and calendar preferences. Developed by a team at Mozilla and a community of volunteers, Thunderbird continues to evolve, refining the user experience (UX).
Related: 5 essential email hacks you'll wish you knew sooner
What features do you get with Thunderbird?
Focusing on the UX, the Thunderbird development team has made every effort to ensure the program's features are useful and easy to utilize. Below are a few standouts.
One-click address book: Simply click the star icon next to the sender's name when you receive an email to add the person or company to your address book. Click the star twice to add further details or contact info.
Attachment Reminder: Thunderbird will search for words related to files such as attachment or specific filenames or types and remind you to add your attachment.
Chat network: While using the Thunderbird application, you can have a real-time chat with your contacts using your preferred messaging application, including Facebook and Twitter.
Search the web: Using the search bar in the Thunderbird dashboard, you can perform a quick search. In addition, you can search the internet for any words in the body of a message by highlighting a phrase, right-click and ' search the web for'.
Related: Check out these Gmail alternatives
How to install Thunderbird
Please note: The following instructions may vary across operating systems and devices.
The installation of Mozilla Thunderbird is simple. Download the program from the Thunderbird website and follow the few screens of instructions.
When it comes to setting up your existing emails to work with Thunderbird all that is required is you enter your specific email address and password to each account, or create a new personalized email address. Thunderbird will automatically populate and display your email clients as one list, yet, separate them by accounts.
You have the option to create a new email address from the setup screen.
Once in your dashboard, you will have the ability to compose a new email, set up accounts such as chat or newsgroups, or search your messages by any number of variables.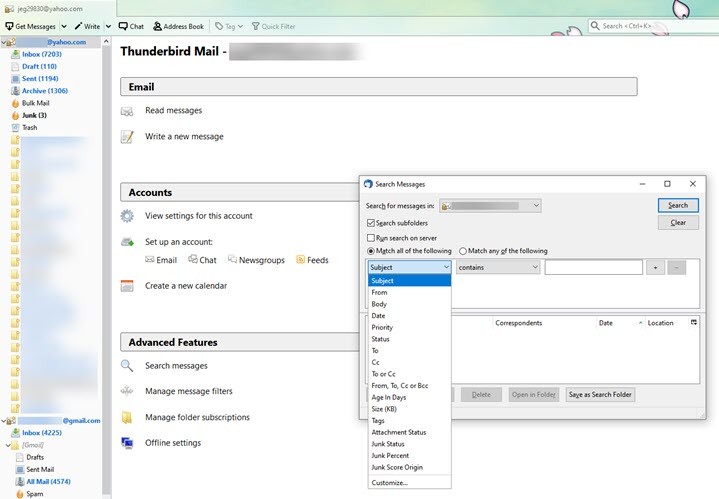 Customizing your favorite new email experience
In addition to working across all platforms, and its many features, Thunderbird offers a variety of extensions, themes and plugins.
Under the three-line menu (upper right corner), click Add-ons then Add-ons Manager. Here you will find featured add-ons and themes, along with other selections.
Want more choices? You can browse Thunderbird's website for additional options.
With its many features and options for customizing, Thunderbird is a winner when it comes to reigning in one's inboxes. Quick to set up and easy to use, Thunderbird won't have you shying away from email notifications any longer.