We're running out of time for outdoor activities. Summer will be over in just a couple weeks, and that means Arizona will soon be perfect for hanging around outdoors. For some of you, chilly fall evenings are on the way.
There are tons of different tech gadgets I still want to add to my outdoor spaces before the cooler weather lands in our laps. More preoccupied with the inside of your house? These are my go-to cleaning products, and lots of you are telling me how much you love them, too.
I've rounded up some of the best affordable outdoor products that Amazon reviewers love, and some that I use myself. These gadgets will help you swap out that old, cracked hose or water your lawn without lifting a finger — and they won't break the bank.
1. Weed and grass killer that really works fast
It feels like I'm always fighting weeds in my yard and flowerbeds, and I bet you are too. There are a number of ways to get rid of weeds, but not all of them work quickly.
Related: 10 tech gadgets for your next outdoor adventure
I wanted something that would work fast to get rid of weeds, which is why Spectracide Weed & Grass Killer Concentrate caught my eye. Be careful with your grass and flowers, though. This will kill anything it touches.
2. Smart sprinkler controls will save water, money and time
Is your home smart? This Rachio smart sprinkler will automate your sprinkler and save you money on your water bill in the process. No more remembering to water? Yes!
This smart sprinkler controller is that it offers what you'd expect and then some. It comes with weather intelligence, which will automatically skip unnecessary watering during weather-related events with features like rain, snow, wind, freeze or even when the lawn is saturated. It makes taking care of your yard a no-brainer.
3. Outdoor motion sensor light powered by the sun
I want my home to be as secure as possible. You probably feel the same, and you can secure your home without wasting a ton of energy by using these Ring Solar Floodlights.
These Ring Solar Floodlights offer the security benefits of motion-detected security lights, but what's unique about them is they are powered by the sun. They also offer smart features like security alerts, scheduling, and the ability to remotely control your lights via an app. You can also integrate these lights with Alexa, which is an added bonus.
Related: Outdoor recreation and shopping guide
4. I love this hose, really
Have you seen the Flexi Hose expanding hose? I really love this and think you will, too.
It's compact and easy to store until it's filled with water. It's also lightweight, which makes it easy to drag across the yard, and it doesn't leak as other hoses can. It doesn't twist or tangle, either, which is a nice change from your typical garden hose.
5. Simple 3 n 1 soil meter, no more guessing games for you!
Are you having issues with the health of your plants? I've had the same issue, and what I didn't realize until recently is that it can be caused by pH issues in the soil.
If your plants are struggling, you may want to use this Atree Soil pH Meter to check the soil pH in your yard. You can use it to measure soil moisture, pH value and sunlight intensity, and it's really easy to do. You just stick it into the soil and the meter looks for variations. It transfers details to the conductor and displays the values for you.
6. Premier weather station with a gorgeous display and app
Serious gardeners need the right tools. This Logia 5-in-1 Wi-Fi Weather Station can be used indoors or outdoors to offer information on real-time weather, humidity, and other important factors for you.
Amazon users love this weather station, and you might, too. Take this review from Paul Young, for example, which states: "I tried two other weather stations and sent them back. They were inaccurate, or difficult to operate, with little assistance. This one is working perfectly, easy to set up, and gives a lot of accurate information. You will love it!"
7. Yes, it's a smart Bluetooth digital smoker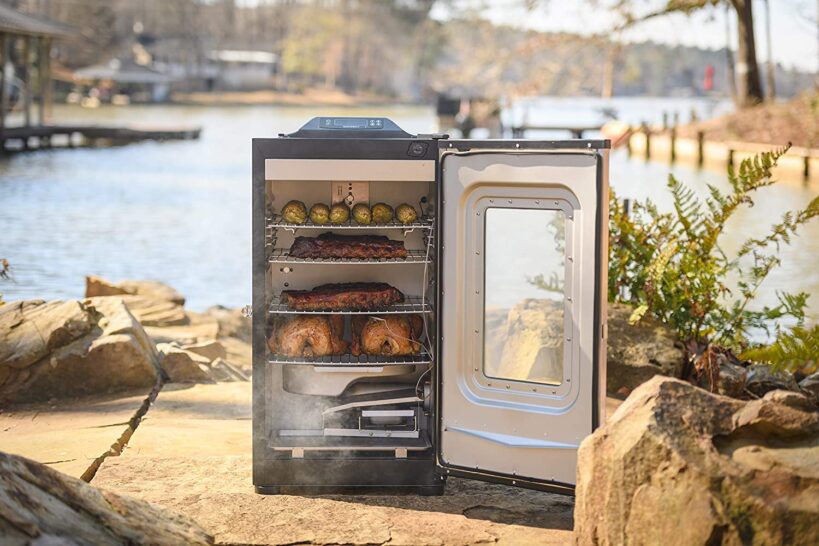 A digital smoker that uses smart and Bluetooth technology? I was intrigued and you should be too — especially if you're a fan of outdoor grilling or smoking.
What's cool about this smoker is that it's the technologically advanced version of your beloved smoker. It uses Bluetooth Smart technology to let you control the temperature, lighting, monitor meat temperature, and power your smoker on or off via the app. It comes with four chrome-plated smoking racks and a unique side wood chip loading system so you can add wood chips without losing heat.
8. Wi-Fi outdoor smart plug that lets you control what you plug into it with Alexa and others
Many of us are using smart plugs inside our homes, but how many have added smart plugs to outdoor areas yet? I haven't — but these TECKIN Outdoor Wi-Fi Outlets maybe my next purchase for my patio.
These outdoor smart plugs work similarly to indoor smart plugs but are safe for outdoor use. They're compatible with Amazon Alexa and Google Assistant for voice control, and you can use them to set sprinkler timers, turn off outdoor appliances or for any other tasks.
9. Converts any can or bottle of beer into a nitro-style draft
Have you ever found yourself daydreaming about installing a draft system in your outdoor space? Well, you can do that with the portable Fizzics FZ403 DraftPour Beer Dispenser, which lets you easily convert the beer you're drinking into a nitro-style draft.
This beer dispenser is lightweight and battery-powered, so it's easy to use while grilling or hanging out outside in the cool fall weather. It works by converting your beer's natural carbonation into dense, uniformly sized bubbles and it accommodates all cans and bottles, including 500ml and 750ml bottles.
10. Bust out the tent! Wood burning electricity generating & USB charging camp stove
There's nothing better than having a multipurpose device for efficiency. So you'll love this camp stove that not only burns wood but also generates electricity. How's that for clever?!
Turn fire into electricity with this CampStove 2 that generates three watts of usable electricity, stores it in its internal 2600 mAh battery, and works as a power bank for USB charging of LED lights, mobile phones and other devices.
11. Smart Bluetooth hose or faucet timer
I have forgotten to turn off the hose more times than I can count. If you've done the same, you know how messy that can be. That's why I like this Orbit 21005 faucet timer, which lets you turn your hose or faucet into a smart faucet quickly and easily.
What's nice about the Orbit faucet timer is that it is controlled via Bluetooth and your phone. You can use it to automatically adjust your controller and make sure your plants and yard get the right amount of water every time. It also tracks water usage, which can be helpful if you live in an area with high water costs or drought issues.
12. All-weather superb outdoor speakers
I've been thinking about upgrading my outdoor speakers before winter rolls around. If you need new outdoor speakers, these Polk Audio Atrium 4 Outdoor Speakers might be worth a look.
These compact speakers deliver superb sound and bass — perfect for the audiophiles among us. They're also easy to install, weatherproof, and affordable, making them a great option for your outdoor spaces. They even work in areas with extreme temperatures or heavy rains.
13. A super 165ft long range smart wireless meat thermometer
A smart meat thermometer? My ears perked up when I heard about this one, and if you like to grill, yours should, too.
The MEATER Plus wireless thermometer is the perfect tool for outdoor grill fanatics. It lets you monitor your meat's temperature via the free app so that your steaks, burgers, or chicken are the perfect temperature every time. As a bonus, it's dishwasher safe — making it easy to clean after grill sessions.
14. Summon your own robotic lawnmower to get to work
I have good news: if you don't like mowing the lawn, you can let robots do it for you. Well, one robot — the Worx WR150 Landroid L 20V Power Share Robotic Lawn Mower.
This high-tech lawnmower works much like a robotic vacuum, but rather than sucking up dirt and pet hair, it can mow up to a 1/2 acre lawn — unassisted — on one charge. If Landroid encounters yard obstacles, it will simply bump them and back away. You can even exclude areas of your lawn that you don't want Landroid to mow, and it can tackle slopes in your yard up to 20 degrees.
15. Self-growing indoor tomato, basil and lettuce garden
Not all of us have a green thumb. If you've wanted to grow lettuce or herbs but can't figure out how to keep them healthy, you might want to invest in this Click and Grow Smart Garden instead.
This countertop garden is perfect for growing novices. It allows you to grow up to nine plants at once, and it can be used to grow all sorts of plants: lettuce, tomatoes, strawberries, or any other garden variety. It comes with three mini tomato, three basil and three green lettuce pods and only needs water to grow.
16. Outdoor waterproof anti-theft lock that uses your fingerprint
Remember those old locks that used numbers or keys? They've gotten quite a bit more sophisticated with the IFOLAINA Fingerprint Padlock Smart Touch Lock. This lock is perfect for your shed or other outdoor storage space.
It uses fingerprint technology for access, which makes it simple to access what you need to without digging for a key. It's corrosion-proof, waterproof, wear-resistant, and can be used to lock up your bikes or lawn equipment for up to 3 months on one charge.
17. Bluetooth flame speakers are hot
Trying to narrow down your new outdoor speaker purchase? Well, these BixMe LED Flame Speakers are hot — literally.
Not only can these Bluetooth speakers fill your outdoor areas with your favorite music, but they also help brighten your patio with LED "flames," which actually flicker warm yellow lights. These speakers simulate the sway state of the flame in wind, forming extremely realistic natural flames while playing your favorite tunes.
18. String these solar lights for instant ambiance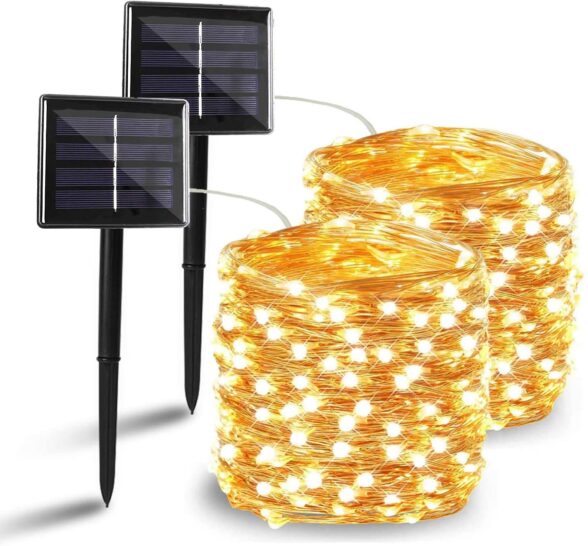 The ambiance of my outdoor areas needs to be perfect. If you're looking for ways to help create your perfect outdoor space, these BHCLIGHT outdoor lights may help out.
Don't take my word for it, though. Amazon user Rhonda Fritz summarizes these lights perfectly, stating: "For such small lights they are very bright. I was pleasantly surprised. I love it that you can change the mode from still to flashing to fade. I chose fade. Easy to put up, except that they tangle VERY easy. Worth the effort though. Two rolls covered my arbor beautifully."
19. Can't beat good ol' Miracle-Gro and this is cheap, just add to your cart
I want my lawn to be lush and green, and I would guess you do too. Miracle-Gro is go-to for people who want nice lawns, and you can't beat this price. Add it to your cart!
20. Handheld wand that ignites charcoal, briquettes, wood, or pretty much anything else
Lighting your grill can be frustrating, especially if you're using a regular lighter or matches to get the job done. I like this one from MIGI WOLF, which can get your charcoal glowing in just 60 seconds.
By clicking our links, you're supporting our research, as we may earn a very small commission. Recommendations are not part of any business incentives.