The number of unemployed Americans is at its highest since the Great Depression. Not only did 17 million workers file for unemployment in the past few weeks, but nearly a third of Americans couldn't manage to make rent on the first of the month.
Thankfully, Congress' CARES Act is starting to kick into gear. This legislation provides direct payments of $1,200 for single taxpayers and $2,400 for married taxpayers filing jointly, plus significant financial aid for businesses. Tap or click to see how you can qualify even if you didn't file taxes.
These stimulus checks are hotly anticipated across the country, but not everyone is getting theirs at the same time. When is your money coming? You can now track the status of your payment and submit your direct deposit information so you can get it faster. Here's how.
Help is on the way
The IRS has already begun distributing stimulus checks to Americans, starting with people who already have direct deposit information set up with the tax bureau. Not sure how much you're owed? Tap or click here to see how much you'll be getting.
If the IRS already has your bank account info on file, no action is needed. Those without direct deposit information on file will have their checks printed and mailed, but this may take months longer.
If you don't want to wait, tap or click here to visit the IRS' Get My Payment portal. Through the site, you can provide your bank information to expedite your payment and see its status, along with the date it's scheduled to be disbursed. For those receiving paper checks, you will be able to see when it was mailed.
Those without a bank to deposit the check have a new option. For the first time, the IRS is letting people receive government checks directly into online accounts through PayPal or Square, the company behind Cash App.
For PayPal, you'll need to sign up for a PayPal Cash card. Once you have it, call the phone number on the back of the card to get access to your account and routing number. You can use this for the direct deposit information the IRS asks for.
For Cash App, you'll also need a Cash App payment card (Cash Card). Once you have it, tap the Banking tab on the bottom left of your Cash App home screen. You can use this account and routing number for the direct deposit information the IRS asks for.
How to use the portal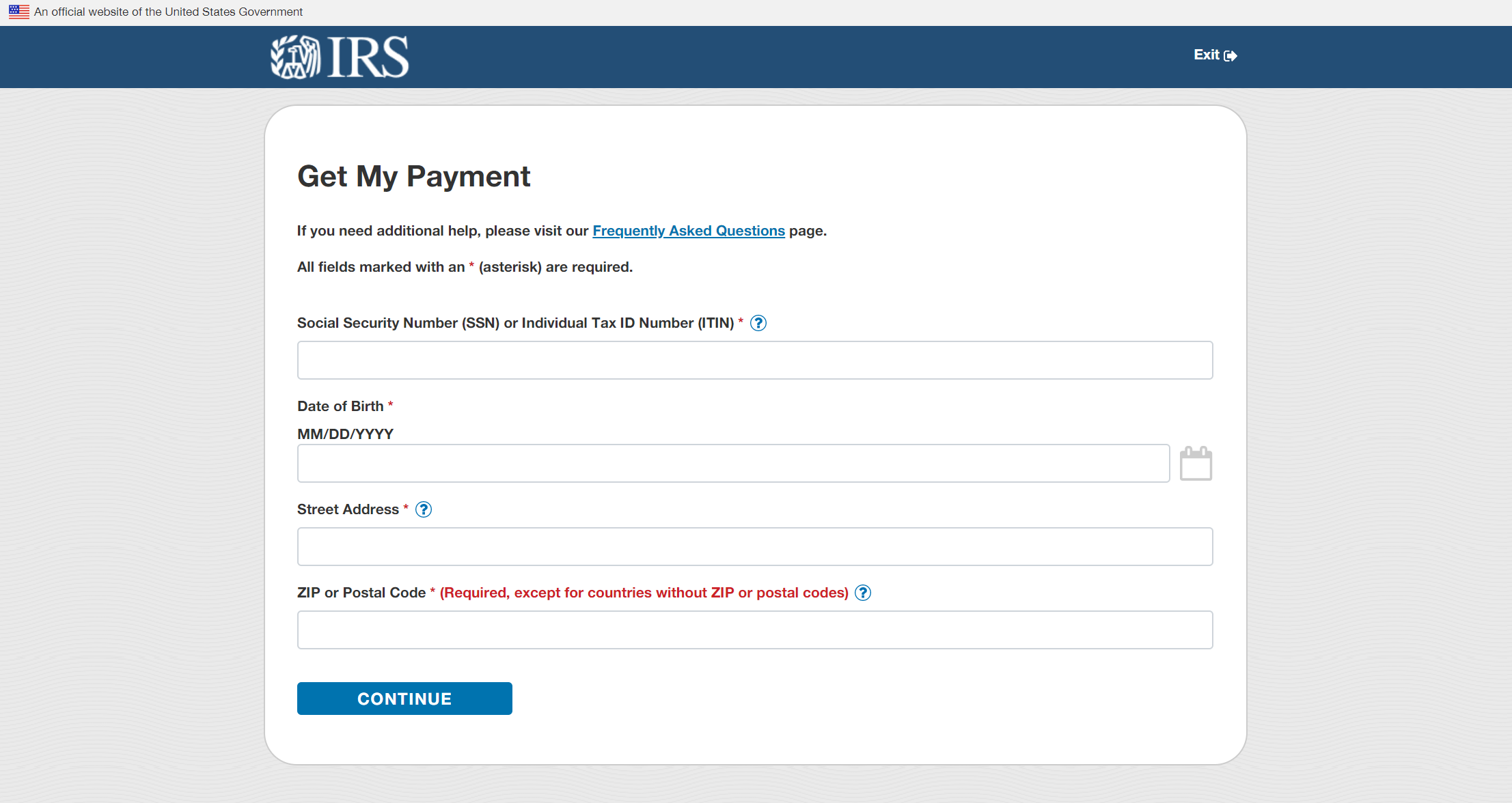 Be prepared to enter your Social Security number, birthday, street address and ZIP code to see your payment status. Be sure to follow the formatting exactly or it won't work. You must enter your street address in the exact format shown below, for example.

Don't be surprised if you get error messages or timeout alerts while attempting to use the portal. Millions of people are accessing this newly created website at the same time, and many are reporting a "Payment Status Not Available" alert that says the IRS doesn't have enough information to "determine your eligibility" at this time.

If you get this message, you're not alone. Some Americans have even reported getting this message and receiving their direct deposit. Logic dictates that this alert is just the website being buggy. More likely than not, you'll have a better time accessing it when traffic slows down a bit.
Before getting paid, don't get scammed
This stimulus check is a bright spot in an otherwise dark time, but a number of scammers and cybercriminals are putting in the effort to ruin it for everyone.
The IRS has posted a detailed warning about the number of coronavirus and stimulus-related scams circulating and are urging taxpayers to use their best judgment to avoid falling for them. Tap or click here to see the scams to watch out for.
This includes ignoring robocalls, emails or letters asking for money or personal information. Don't forget that the IRS will never ask for your bank account or Social Security Number over an insecure channel and will only accept that kind of data through an encrypted website that you visit — like the one that just launched.
The arrival of your check may seem far off, but once that money arrives, it'll help soothe some of the economic pain you're feeling. All that's left now is the wait. Are we there yet?
The information contained in this article is for educational and informational purposes only and is not intended as health or medical advice. Always consult a physician or other qualified health provider regarding any questions you may have regarding a medical condition, advice, or health objectives.