Ever find yourself down in the dumps? You're not alone. An estimated 350 million people worldwide experience depression, while anxiety affects more than 280 million people across the globe. And that's when things are status quo.
With the COVID-19 pandemic, more and more people undoubtedly feel afraid, sad or especially lonely while practicing social distancing. Thankfully, there's still a way to keep in contact that's a little more personal than social media. Tap or click here to host virtual get-togethers with family and friends.
But what if you don't have many friends and you aren't really that close to your family? Worse, what if you're close to people but still struggle with anxiety and depression? Keeping on top of your mental health is important. Nothing can take the place of a medical professional, but we do have a few apps that can help get you started in the right direction.
1. MDLIVE
MDLIVE is a free telehealth app available for both Apple and Android devices. You can also check out its website for help from a computer. MDLIVE provides a convenient way for anyone who wants to privately connect with board-certified and state-licensed physicians.
From the comfort of your home to across the world, whenever you need — nights, weekends, holidays — you can reach out and talk to someone who cares.
RELATED: 5 health tests you can take online
MDLIVE is accredited by the American Telemedicine Association, has two National Committee for Quality Assurance certifications and its physicians have an average of 15+ years of experience.
Treatment and support are available for the following:
Addictions
Anxiety
Panic Disorders
Stress Management
PTSD
Depression
And more
MDLIVE's fees range from $99 per counseling session to $259 for an initial psychiatry visit (follow-ups $99), depending on your health insurance.
2. BetterHelp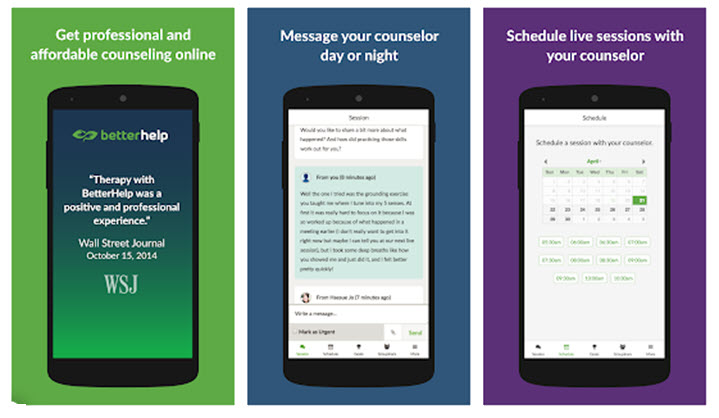 BetterHelp is a free counseling app available for iOS and Android. It's a useful way to get professional assistance when you need it most.
The BetterHelp app is focused on mental health and offers 3,000+ trained, experienced and accredited counselors who can assist you in a range of areas, including:
Depression
Anxiety
Family and Couples counseling
Addictions
Services are not generally covered by insurance. Fees range from $40-$70 per week (billed monthly). You can cancel any time for any reason.
3. Talkspace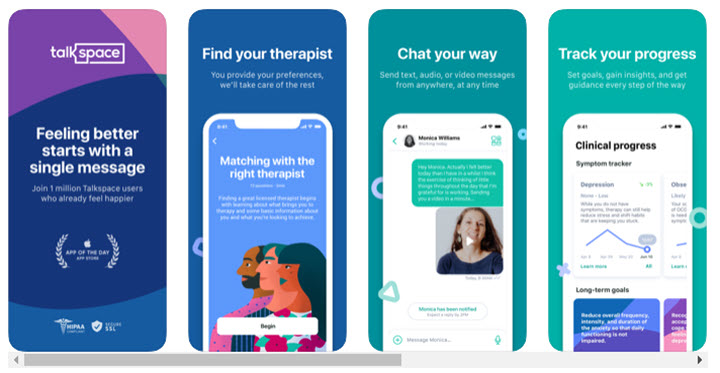 Talkspace is a free app available for both Apple and Android devices. Get matched with a licensed therapist in your state and message via text, audio and video, all from the comfort of home.
Enter your preferences for therapy and Talkspace will match you with a therapist from your state the same day. You can send unlimited messages from anywhere, any time and you will receive a response at least once a day, five days per week.
You may also like: 3 apps to help you get a better night's sleep
Services are not generally covered by insurance. Subscription starts at $65 a week (billed monthly). You can change therapists or stop your subscription renewal at any time.
4. Calm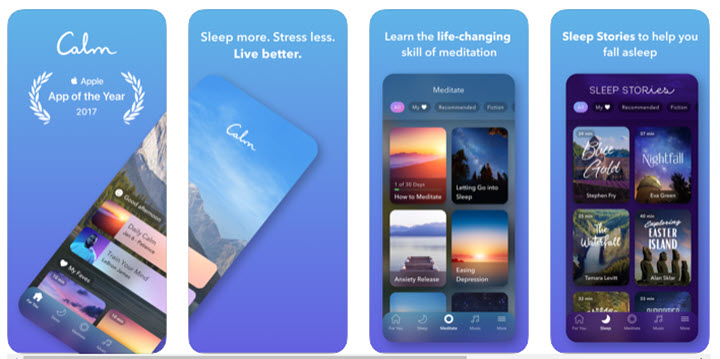 If you are looking for an app to help you relax, use Calm. This app is available for both iOS and Android. It comes with hundreds of programs, including guided meditations, Sleep Stories, breathing and stretching exercises, and relaxing music to help you sleep better, lower stress and stave off anxiety.
Mindfulness topics include:
Deep sleep
Managing stress
Calming anxiety
Gratitude
Forgiveness
And more
Services are not generally covered by insurance but you can sign up for a seven-day free trial. Auto-renew subscriptions range from $14.99/month to $95.99/year to a lifetime subscription between $299.99-$399.99 (one-payment). You can cancel any time.
5. Stop, Breathe & Think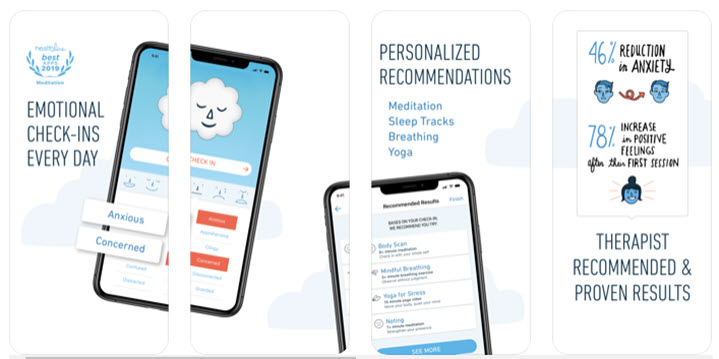 This calming meditation app is available for iOS and Android devices. It is designed to help you stay mindful, de-stress, sleep better and build emotional strength needed for many of life's ups and downs.
Stop, Breathe & Think provides daily meditations for both beginners and experienced meditators, and offers yoga and acupressure videos based on your mood. This app requires more effort on your part, as there are no therapists that can directly help you address any possible mental health issues.
Topics include:
Morning meditation
Manage depression
Slay your stress
Strengthen focus
Guided meditation
Stop, Breathe & Think is free to use for its foundational reflections but it also offers a premium membership that unlocks 100+ activities for $9.99 a month or $58.99 a year. Cancel any time.
Although several of these apps may help you relax, if you are struggling with feelings of anxiety or depression, it is essential you connect with a physician via one of the telehealth apps or speak to your primary doctor.
If you or a loved one needs immediate help or is considering suicide, dial 911 or reach out for help. Free and confidential support is available 24/7.
National Suicide Prevention Lifeline
1-800-273-8255
The information contained in this article is for educational and informational purposes only and is not intended as health or medical advice. Always consult a physician or other qualified health provider regarding any questions you may have regarding a medical condition, advice, or health objectives.