Nothing says we live in the future quite like being able to buy kitchen appliances that you can operate via Wi-Fi. With these devices getting more common and more affordable every day, you can make sure you're getting the best of the best of them for your kitchen by checking out our recommendations below.
We've found a range of appliances that can fulfill a variety of cooking needs, all with the benefit of being controlled from your phone or computer. Never worry again if you've left the oven on when you've left your home; you can turn it off remotely if you did. And you can ensure you have a delicious meal ready to go when you get home.
All of this is possible with Wi-Fi-connected smart kitchen devices. Read on to see which ones are best for your home, and your way of cooking, so you can enjoy living in the future as soon as possible!
Wi-Fi-connected grilling
If you like getting outside and putting your dinner on the grill, check out the Traeger Ironwood Series 650 Pellet Grill. With 650 square inches of cooking space (which can hold up to 8 chickens, 5 rib racks, or 6 pork butts), a lot of development into its design and pellets to maximize its smoking capabilities, the Ironwood 650 Pellet Grill is already an impressive place for cooking and roasting; its smart capabilities just make it that much better.
Related: Plan your family's means with these apps
Through the app, you can access various recipes for grilled foods, which will help you with prep before your meal. You can then download the recipe onto the grill, and the grill will cook your food according to the recipe without you having to do a thing. That means it determines the temperature, raising it and lowering it when necessary, and it lets you know when it's time to flip your food, or take it off the grill entirely.
It gets better
If you want a little more control, you can also use the app to lower and raise the grill temperature manually, and you can do it from absolutely anywhere. You can also set the app to let you know when a certain temperature or time is reached, so you can add your vegetables to the mix, or put a sauce on at the right time. The grill can even be set to a "Keep Warm" temperature, allowing your food to stop cooking, but still be served hot if you can't get to it right away.
The Traeger Ironwood 650 Pellet Grill is far from the cheapest option on our list. But for that price tag, you get a grill that lets you actually step away and spend time with the people you're cooking for, rather than focusing on the meal you're preparing.
Smart oven/range/stove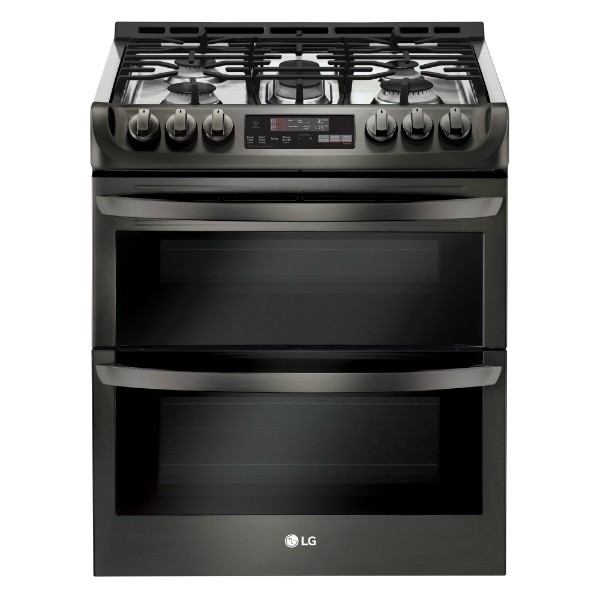 Maybe you love the idea of being able to remotely control the temperature your food is cooking at, but you're more of a baker than a griller. In that case, you need a smart oven such as LG's smart Wi-Fi-enabled double oven, which comes in electric (LTE4815BD) and gas (LTG4715BD) models.
Both models have the same stainless exteriors, the same super fast oven-cleaning feature, and the same smart technology capabilities. Through the LG SmartThinQ app, the LTG and LTE ovens can be remotely turned on, off or adjusted. Need to preheat the oven before you get home? You can do that via the app. Need to lower the temperature after a while for a recipe? Set a timer in the app, and lower the heat when you get the notification about it without getting up from your couch. You can also start the oven cleaning function remotely, and can get notified 10 minutes later when it's done.
You can even set up the LTG and LTE ovens to work with voice commands. This can be done through the app, or through a Google Assistant or Alexa device.
The stovetops on these ovens are not accessible remotely. Expect to pay more than your typical oven for this smart technology: starting around $2,500 and up.
Microwave works with Alexa
The GE WiFi Connect Microwave is a great example of an appliance that was born for modern convenience, and its upgrade makes it even better.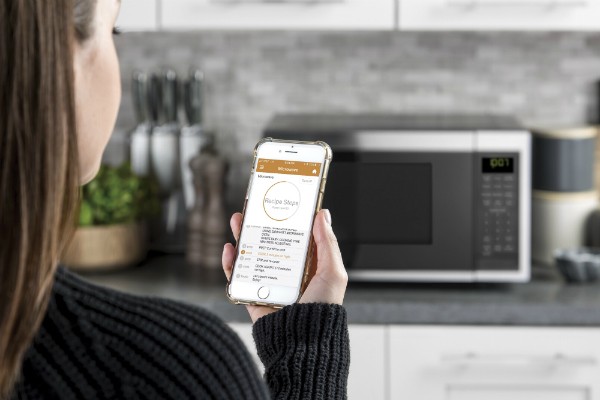 One of the big upgrades the GE WiFi Connect Microwave has is scan-to-cook technology. When you input a barcode from something like a microwave meal or a pack of frozen vegetables into the GE Appliances Kitchen app via your phone's camera, the GE WiFi Connect Microwave pulls the cooking information from a database, and sets itself to the proper power level and cook time for the food. No need to worry about inputting times wrong, or not knowing your microwave's power level; all that work is done for you, via the GE WiFi Connect Microwave's smart technology.
This technology also lets the GE WiFi Connect Microwave be voice controlled. You can set up your Alexa device to communicate with your microwave, and do things like turn the microwave on, pause it, or set it to modes like "defrost" or "popcorn" while not in the room, or while not touching the buttons.
The GE WiFi Connect Microwave makes a convenient device even more convenient, and we saw prices online range between $122.99 and $139 for the 0.9-cubic-foot microwave.
Precision cook with sous-vide technology
When you cook something sous-vide, you place it in a plastic bag, or in a glass container, and submerge the bag or container in a temperature-regulated water bath to cook. It's a method that's doable with an oven, a pot, a thermometer, and a ziplock bag, but Wi-Fi-connected appliances have made it much easier to do well.
The Anova Precision Cooker is one of the more popular sous-vide cooking devices on the market. Just put the Precision Cooker in a pot or pan or water with the plastic bag of food, and it will heat things up to the necessary temperature, and keep them there the entire time through self-regulation. It also circulates the water to keep things cooking evenly throughout.
The regular Precision Cooker comes with Bluetooth technology, allowing you to turn the cooker on remotely, and therefore safely have food cooking while you're at work, or out and about. If you upgrade to the slightly pricier Bluetooth and Wi-Fi version of the Precision Cooker (roughly $159 vs. $129, depending on where you shop), you can cook more food at once and heat your food even faster.
Cook to specific temperature with smart meat thermometer
If you want to cook meat well, and safely, you need a meat thermometer to make sure the interior of what you're cooking hits the right temperature and doesn't go too high and overcook or burn your meal. Sure, you can get a regular meat thermometer for that purpose, but if you want something that can tell you when you've hit the perfect temperature that's also safe to leave inside your outdoor grill, meat smoker and oven, you should consider getting the Smart Bluetooth BBQ Grill Thermometer by NutriChef.
Through its corresponding app, the Smart Bluetooth BBQ Grill Thermometer can alert you when your meat has hit its ideal temperature, and it can do so without you telling it what that ideal temperature is. Just let the app know what kind of meat you're preparing, and how you want it cooked—rare, medium rare, medium, well done, etc. The app has a database of recommended meat temperatures, so when the thermometer reaches a particular temperature, the app sends push notifications to let you know.
With a 200-foot range, and the probe's ability to withstand 482 degrees Fahrenheit, the Smart Bluetooth BBQ Grill Thermometer can be used very comfortably in most homes and cooking environments.
Smart pressure cooker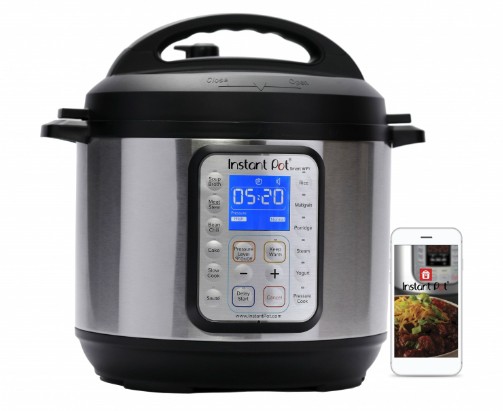 If you like the long braise of a slow cooker, but don't have the time to use them, even with remote access, you might be in the market for a pressure cooker. Via steam from boiling a liquid inside, a pressure cooker heats up fast and cooks your food via high internal pressure. Once the steam is safely released, your food is ready. InstantPot's Smart WiFi 6 Quart pressure cooker lets the process start and be controlled remotely.
Like the other devices on this list, the InstantPot Smart WiFi 6 Quart pressure cooker can be accessed and controlled via an app, allowing you to turn it on or off, and control the temperature from anywhere. It can notify you when it's done cooking, and you can push that notification to family members or roommates who are home and can serve or store whatever you had cooking.
Related: Get recipes for your Instant Pot
Pressure cookers get you food fast, and the InstantPot is no different. You can even have foods that would normally include some soaking time, like beans, ready to go in half an hour. What the InstantPot Smart WiFi 6 Quart pressure cooker gives you on top of this, thanks to its remote start capabilities, is the ability to cook that quickly without being home, or without having to watch the pressure cooker for that entire time. It also doesn't leave it up to you to release the steam it stores up, a real hazard with pressure cookers—the InstantPot does that itself. The InstantPot Smart WiFi 6 Quart pressure cooker retails for around $149.95.