Ready to get new smart speakers for your home or office? Luckily, there are always tons of sales going on, and we've got the inside scoop.
Gone are the days of paying full-price for smart speakers and other tech. If you're a savvy shopper, you know how to hunt down deals. Tap or click for the best tech deals to upgrade your business.
If you're trying to keep up with the Joneses, one of this year's hottest gadgets is the smart speaker. We'll help you decide which one you should buy.
Say hello to your new BFF
If you could, you would hug Amazon's Echo (3rd gen), because this smart speaker is determined to make your home life simpler. Utter the name "Alexa," and she's at your beck and call, whether it be to play music, create a shopping list, read an Audible book or control your smart home.
Available in five hues, this latest generation voice-enabled device has a 360-degree premium speaker with Dolby processing and continues to feature tens of thousands of skills (You may need a separate smart home hub to manage some smart home devices).
It's not the size of the package
Consider the Echo Dot, Amazon Echo's little brother. While it may be small (perfect size for a nightstand), the Echo Dot w/clock model is mighty in terms of capability. Of course, you can ask Alexa to set an alarm, update you with a weather forecast or perform a host of other skills.
The LED display on the Echo Dot w/clock can display the time, outdoor temp or timers, and its brightness automatically adjusts, day or night, thanks to a light sensor. Want to know what else it can do? Check out these five clever ways to use your Echo Dot.
Show how much you love someone this Christmas
Get the reaction you were expecting when you gift the Echo Show (2nd gen). You'll enjoy watching movies and TV on the 10.1" HD touchscreen display, while the premium speakers allow you to stream music and audiobooks in sharp stereo sound. This device further boasts a smart home hub and two-way doorbell and camera audio.
The Echo Show 2nd gen goes from the living room to the kitchen as it's the ideal cooking companion that can provide recipes, set timers and create shopping lists. Staying in touch with your loved ones is simple as well, with hands-free video calling and messaging.
If you are looking for a more compact smart display, go with the Echo Show 5, which measures 5.5″ — half that of the 2nd gen model. While you can watch movies and listen to music like its predecessor, the clock on the Echo Show 5 display is customizable using built-in clock face options or personal photos.
Want the best of both models? The Echo Show 8 comes with an 8" (surprise!) HD touchscreen, stereo sound and a privacy shutter (introduced in Show 5) that closes the video chat camera when not in use.
As with earlier models, this smart display allows you to ask Alexa to perform tasks, including the operation of smart home devices. The scheduled release date for the Echo 8 is November 21, 2019. Look for future subscription services such as Food Network Kitchen and FreeTime for kids to come to the Echo lineup.
RELATED: HOW TO USE AMAZON ALEXA OR GOOGLE HOME TO CONTROL YOUR SECURITY SYSTEM
The only charcoal you want to see under the tree
Akin to the Echo (3rd gen), the Echo Plus model comes in an assortment of shades, including the traditional black charcoal hue, and uses the voice-activated Alexa to play music, check the latest news or as an intercom to speak with other devices throughout the house via Drop In and Announcements.
What sets the Echo Plus apart from the original Echo is this model has a built-in Zigbee hub, which allows you to operate compatible smart home devices without the need for an external hub.
Make trips more enjoyable and safer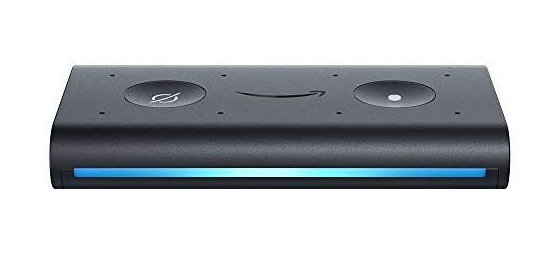 Alexa hits the road with Echo Auto. Mount it to your vehicle's vent and connect the Echo Auto to the Alexa app on your smartphone, and the device will play through your smartphone's speaker or your car's speakers via auxiliary cables.  
Use your voice to make hands-free calls, play music or have Alexa read you your favorite audiobook.
Note: Echo Auto is not compatible with all cars and phones. View these compatibility charts for vehicles, air vents, and phones.
There's something for everyone
And not everybody is an Amazon fan, so for those who would like a smart speaker, look to the Google Home Mini, which works with Google Assistant and runs on Android or iOS. This voice-activated speaker comes in a variety of colors and can answer a world of questions, including those about the weather, news and sports.
When you need inspiration for mealtimes, use the command, "Hey Google" to have the Home Mini look up recipes that will please any crowd. In addition to its ability to perform any number of tasks, the Google Home Mini can control over 1,000 smart devices from 150 common brands.
Want something smaller?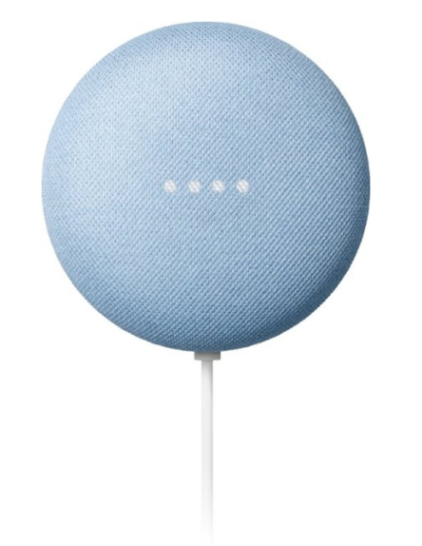 With a redesigned sound system, the Google Nest Mini smart speaker is an upgraded model of the Home Mini. While both devices come in various hues and are best suited for small spaces, this version has an integrated wall mount to get the device up and out of the way entirely.
Want to hear some holiday tunes? As with the Home Mini, you can ask the Nest Mini to play your favorites, receive notifications and manage compatible smart home devices.
It is a wonderful life
This interactive Google Nest Hub device has a 7" touchscreen display that makes it easy to view reminders, smart security camera footage and stream videos. Use personalized routines to jump-start your day or to help accomplish any number of tasks.
Together with the Google Nest Hub and the phrase, "Hey Google," you can place calls to your loved ones and display true-to-life family photos in this ultimate digital picture frame.
The Live Albums feature automatically displays and rotates shots from your Google Photos. If your holiday budget is extra tight, or your loved one is a DIYer at heart, try turning any old dumb speaker into a smart speaker.
Skip the Jelly of the Month subscription
Here's a smart assistant that won't cause anyone's eyes to roll. Equipped with a 10" HD touchscreen display and a 6.5MP camera, The Google Nest Hub Max is ready to help you make hands-free video calls and shoot some photos.
The built-in features, including Chromecast and a 30W subwoofer, allow you to stream movies and TV from Google Play Movies, Hulu and HBO NOW, and enjoy high-quality audio. In addition, the Nest Hub Max makes it simple to operate smart home devices like Hue, Nest and Ring, and keep an eye on your home with the integrated Next Cam.
Please don't stop the music
There's no reason you have to choose an Amazon or Google device. For anyone on your list who is an Apple aficionado, the company's only smart speaker, the Apple HomePod, will make the perfect gift.
Apple's affinity for music is evident with this device, as it senses its surroundings and will adjust the music accordingly to ensure the best sounds possible. Subscribe to Apple Music, and you can listen to any of the library's 45+ million songs on the HomePod.
Activated with the words, "Hey, Siri," this voice-enabled assistant will help you with everyday tasks and manage HomeKit-enabled smart home accessories. It does require an iPhone, iPad or iPod touch with iOS 11.2.5 or later for setup.
Whichever of these great smart speakers you choose, you can simply download songs you love or order takeout with ease. Your smart speaker will open a whole new world for you, so get yours now!
By clicking our links, you're supporting our research, as we may earn a very small commission. Recommendations are not part of any business incentives.