If you find yourself in the market for a new pair of headphones, you'll probably notice there are options — a lot of them. From wired to wireless, over-the-ear to earbuds and other features like noise-canceling to take into account, choosing the pair that's right for you can become a challenge.
A lot of new models even have digital voice assistants built-in, like Alexa, Siri and Google Assistant, so you can say what you want to listen to next or control other connected devices. Tap or click here to learn more about routines that will make your smart assistant even smarter.
Choosing the right headphones typically comes down to considerations like sound, price, comfort and portability. And you can't go wrong with the options we've hand-selected below.
You can't go wrong
Anyone who is already in the Apple ecosystem of devices is sure to love how seamlessly their products work together, like iPhones and AirPods. The latest model of the latter, the Apple AirPods Pro gives users Active Noise Cancellation with Transparency mode, sweat and water resistance, and a customizable fit.
Its adaptive EQ automatically tunes music to the shape of your ear for perfect sound quality. And these AirPods are super easy to set up to use with all of your other Apple devices.
Apple isn't the only tech giant making awesome noise-canceling headphones. These Sony wireless Bluetooth headphones come with a built-in mic and work with Alexa voice control, along with Siri and Google Assistant.
Its Alexa-enabled feature gives you voice access to music, information and more. These headphones also feature a Quick Attention Mode. Simply cover the right ear cup to turn down what you're listening to for instant, easy conversation. And, the long-lasting battery gives you up to 30 hours of playtime for all-day listening.
For truly immersive sound, check out these Echo Buds. These premium headphones deliver crisp, dynamic audio with Bose Active Noise Reduction Technology built in.
You can also go hands-free with Alexa. The Echo Buds work with the Alexa app to stream music, play audiobooks, make calls or even get directions just by asking. These are great for people who love to be fully-immersed in what they're listening to without having their ears covered.
If you're looking for premium sound with long battery life, these Beats Solo3 wireless on-ear headphones will do the trick. You will get up to 40 hours of battery life and great audio quality with fine-tuned acoustics for maximum clarity.
You're also going to love how they feel. They have an adjustable fit with cushioned ear cups for everyday use. Take phone calls, control your music and activate Siri with the multifunction on-ear controls.
These Samsung Galaxy Buds give you up to six hours of battery life with an additional seven hours from the wireless charging case that comes with it. They don't skimp on sound quality, either.
Premium sound is delivered by an optimized driver that offers substantial bass, while a volume driver gives you a wider range of sound. They come with three adjustable ear tip and wingtip sizes — perfect for people who don't like to wear headsets.
Want to get great sound quality without breaking the bank? Check out these COWIN active noise-canceling headphones.
They come with professional active noise-canceling technology that significantly reduces surrounding noise. They also have a high-quality microphone built in that lets you make hands-free calls.
If you don't need the Pro version of Apple's AirPods, check these out. This is the latest model of AirPods and they come with a wireless charging case.
Connecting to your iPhone or iPod is extremely easy. Plus, you can share music between two sets of AirPods, or have Siri announce your messages. Just don't lose one because they can be expensive to replace.
If listening to music is your passion, these might be the right headphones for you. We're talking about Bose noise-canceling wireless Bluetooth headphones with Alexa voice control.
That's right, no more struggling to search for music. Simply ask Alexa for help finding music, navigation, weather forecasts and more. You can even make hands-free calls with its built-in four-microphone system.
If you're looking for headphones meant for high-performance, then check out the Powerbeats Pro. Not only are they totally wireless, they also offer wonderful sound quality.
They have volume and track controls on each earbud, voice capability and auto play/pause. The shape of the earphones also helps keep them in place, perfect for use while working out.
The Bose SoundSport wireless headphones give you total freedom of movement. They come packed full of technology that makes music sound clear and powerful.
The earbuds are sweat and weather-resistant, so users can work out to their full potential without fear of getting them wet. And you don't need to worry about losing them, either. You can track these earbuds with the Bose connect app's "find My buds" feature. Perfect for kids who are always misplacing their gadgets.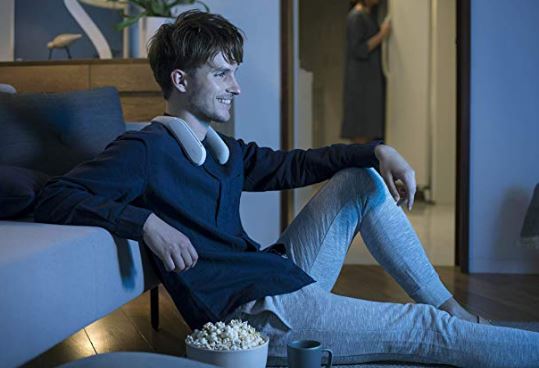 So, these seem a little strange. Sony recently released what it calls an Immersive Wearable Speaker for home theater and gaming.
It's supposed to deliver a dynamic sound experience that doesn't isolate you from your surroundings. It just looks odd sitting on the couch next to someone with basically a soundbar wrapped around their neck.
By clicking our links, you're supporting our research, as we may earn a very small commission. Recommendations are not part of any business incentives.