Amazon is already one of the best places to shop online, but did you know you can save even more money if you know where to look?
Amazon shoppers, especially Prime members, have access to benefits like premium credit cards, subscription orders and other unique ways to save. Tap or click here to see how to get even more out of your Amazon account.
Not all of these money-saving tricks are easy to find, which is why we've put together a guide on the five smartest ways you can cut your expenses while shopping. With all the money and gift cards you'll have left, you can buy something for everyone on your Christmas list this year.
1. Amazon's very own credit card options
Amazon members can sign up for one of two Amazon-branded credit cards that come with unique rewards and benefits. The Amazon Rewards credit card is open to all Amazon members. The Prime Rewards card is exclusive to Prime members.
Upon approval, Amazon Rewards nets you a $60 gift card that you can use across the site. Prime Rewards members get a $100 gift card upon approval.
The Amazon and Prime Rewards cards give you 1% cash back on all purchases and 3-5% back on purchases from Amazon or Whole Foods. Both cards get 2% cash back on purchases from restaurants, gas stations and drugstores.
The Prime Rewards card also features a rotating selection of Amazon categories and products that qualify members for 20% cash back. If you're a major shopper, these savings will add up over time.
Tap here to fill out an application for an Amazon Rewards card and see if you qualify.
2. Shop with your American Express points to save
Amazon has a special arrangement with American Express that lets cardholders shop directly with their rewards points. If you've racked up thousands of points with your card, you might be surprised at how much you can buy.
To get started, you need to link your American Express card with your Amazon account. Once your account is linked, you can use your rewards balance as a payment method during checkout. When you finalize your order, the points you apply will be converted to dollars and deducted from your checkout total.
Millions of items will qualify for Amazon's Shop with Points program, but certain digital goods, Kindle downloads, Subscribe and Save items and AmazonFresh items cannot be purchased with points. You also cannot use Shop with Points during one-click purchases.
A word of caution: While shopping with points is convenient, check with American Express to see if your rewards qualify you for a gift card of greater value. Cardholders can redeem their rewards points in exchange for gift cards from various retailers like Apple, Crate&Barrel, Home Depot, Walmart and Williams Sonoma.
Kim found that her rewards points qualified her for $3,700 worth of Home Depot gift cards. If she had shopped with Amazon using her points, she would have only been able to spend up to $2,600.
3. Find deals with these browser extensions and money-saving sites
Shopping services can help you track prices and compare products while you browse Amazon. To get the best deals, try these extensions and shopping websites
The Amazon Assistant browser extension can help you compare products and prices while you shop and notify you when new deals go live. You'll also get access to your Amazon wish-lists inside your browser window.
Note: The Amazon Assistant uses your browsing activity for targeted recommendations. If you're not comfortable sharing this data with Amazon, you may want to search for deals manually or try out the options below.
Install the Amazon Assistant for Chrome, Firefox, Edge or Safari here.
The Honey browser extension can help you look up coupons for products sold on Amazon. We love how it auto-applies discounts right when you check out. Tap or click here to see how Honey works.
Capital One Shopping shows you a side-by-side comparison of prices from several different retailers so you can pick the best deal.
The camelcamelcamel extension can track price drops on Amazon so you don't have to keep refreshing. If you visit camelcamelcamel's website, you can search for specific items and keywords to see what the best deals are. It can also inform you if items are still in stock or cheaper if you buy from a third-party seller.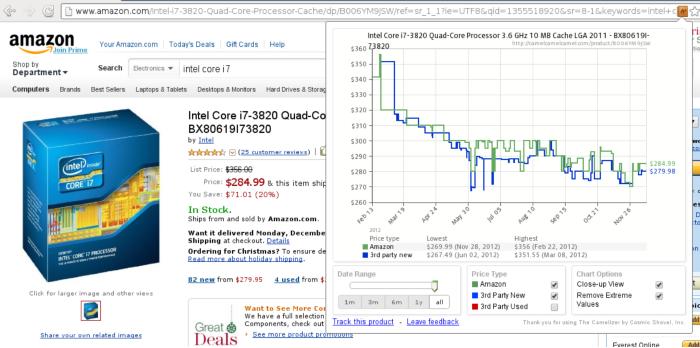 Tap or click here to see how Camelcamelcamel can help you shop smart during this holiday season.
4. Subscribe and save yourself money
If you find yourself buying certain products over and over again, subscribing through Amazon may save you up to 15% with auto-deliveries.
Here's how Subscribe and Save works: Pick a qualifying home staple like hand sanitizer, soap, dog treats or toothpaste. You can choose Subscribe and Save from the right-hand side of the listing before checking out. A discount is automatically applied, and you can decide on a quantity and schedule that works for you. There are no fees to start and no penalties if you cancel.
If you subscribe to multiple items and have them deliver on the same day, the discount can increase up to 15%. Some items, like diapers and baby food, qualify for even larger discounts.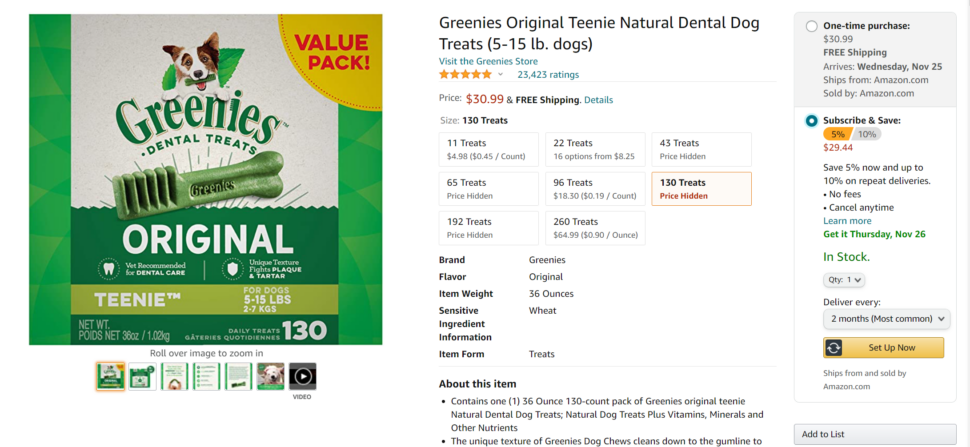 Greenies, the popular dog treat, cost $30.99 every time you buy them. If you were to buy these every two weeks, you'd spend around $805.74 each year before taxes. If you were to subscribe through Amazon, you'd only spend $765.44 each year.
With the $40 you have left over, you can buy something else for yourself on Amazon (or even just another bag of Greenies).
5. Trade your old tech for new stuff
Why pay for new tech when you can recycle? Amazon's Trade-In program lets you turn over your old Amazon devices, cell phones, game consoles and more in exchange for gift cards or credit towards new devices.
To see if your item qualifies, visit the Trade-In page and choose the category that matches your device. Next, Amazon will ask for more information like your device's model and serial number.
Once you've provided the information Amazon needs, you'll get a trade-in quote. You can then print out a shipping label and drop your device off at your local UPS Store. When Amazon receives your device, your reward will be applied to your account.
Trade-in credit towards new devices will depend on the model you choose. Even non-working devices are eligible, so it's worth getting a quote to see if you can turn your trash into treasure.
Bonus: Get discounts on great gadgets with Amazon Renewed & Warehouse Deals
If you buy tech from Amazon, you can save hundreds of dollars with the Amazon Renewed store. These refurbished products are usually going for much cheaper than what they cost new. They also come with the Amazon Renewed Guarantee, which includes a 90-day window for refunds or returns if the item you order doesn't work as expected.
This iPhone XS is more than $300 cheaper through Amazon Renewed than it is brand new.
This Dell Optiplex business computer is configured with a quad-core chip, 16GB of RAM and a 2TB hard drive for less than $250. That's a massive discount on powerful equipment.
If you want even bigger savings on used items, Amazon Warehouse deals have a range of quality ratings for you to choose from. Beyond "Renewed," you can pick "Like new," "Very good," "Good" and "Acceptable." Be careful on that last one because your definition of "Acceptable" might differ from the seller's.
Tap or click here to see some of the best deals we found through Amazon Warehouse.
We may receive a commission when you buy through our links, but our reporting and recommendations are always independent and objective.