When is the last time your phone died while you were running errands? Have you shattered any phone screens lately? These common issues pop up for all of us, at least every once in a while. The thing is, they don't have to be problems at all. There are some easy ways to keep your phone from dying or your screen from shattering into hundreds of tiny pieces, but it's tough to know what they are.
After all, so many new gadgets promise to solve all of our tech-related problems, but not all of them work as promised. I'm here to help out what that, though. I've found 20 problem-solving gadgets that will help make your tech troubles disappear.
1. Problem: You can't hear dialogue clearly while watching TV.
Solution: You need to add the right soundbar to your setup. If you have trouble hearing dialogue while watching TV, add this Bose soundbar because it has a special Dialogue Mode to make every single word and detail stand out.
There are tons of soundbars available, but not all of them offer a way to better hear dialogue on shows or movies you stream. This Bose soundbar does — with the help of dialogue mode, which is meant to make every word and detail stand out. It delivers the clear audio your TV can't — all in a compact soundbar.
It also offers a ton of other features. You'll get easy wireless Bluetooth connectivity, a universal remote control that adjusts the TV, bass, and other features, and top-notch, clear sound that's unlike anything you've heard before.
2. Problem: You need more power outlets and USB charging ports.
Solution: Put away those annoying ugly extension cords and stop unplugging one thing to plug in another. This functional power strip has it all: outlets, USB ports and is a surge protector, too.
If you're still using that old power strip you bought a decade ago, it's time for an upgrade. I like this functional power strip because it offers anything you'd need: surge protection, intelligent circuitry and tons of outlets and ports.
You'll get over a dozen AC grounded three-pin outlets with this power strip. That includes four USB ports, eight standard outlets and two specially-designed outlets for large adapters. But even with all of those options, you won't have to worry about overloading this power strip. Built-in voltage sensing detects and responds to your device's power needs, and the safety features ensure your devices are protected.
3. Problem: Porch pirates steal your packages or you're not home when packages arrive.
Solution: Get ready for holiday shopping now. Stop worrying about missed deliveries and thieves. Your online orders can be dropped into the Yale Smart Delivery Box so it holds deliveries secured until you're ready to retrieve them.
The closer we get to the holidays, the more likely porch pirates will be on the prowl for unattended packages. The premise behind this innovative product is simple: your deliveries are placed inside the box, which is only accessible by the keypad or the app. You can set or change the passcodes easily to control who has access. The Yale Connect Wi-Fi Bridge app lets you lock or unlock the box remotely, share access, and receive real-time delivery notifications from anywhere.
You won't have to worry about the delivery box being snagged off your porch, either. It can be tethered to your home or weighed down with sand to further deter theft.
4. Problem: You lose track of your expensive Apple AirPods.
Solution: I lost an AirPod and was so mad at myself. Now, I put my AirPods in this case and haven't lost one since!
Have you lost one of your AirPods yet? I have, and it was pretty frustrating. I've resolved the issue, though, with the help of this AirPods case cover, which I can clip to my keys or laptop bag to keep track of my expensive earbuds.
What I like about this case is that it fits perfectly with regular and wireless charging AirPods cases. It's made of shock-resistant elastomers to protect your AirPods case from bumps, scratches or drops. Plus, the carabiner clip cuts down on chances of me dropping my AirPods case and losing another one.
5. Problem: You drop your expensive phone and the screen chips or shatters.
Solution: These glass screen protectors have saved my butt. When you drop your phone with the protector on, your phone's glass doesn't crack.
Are you familiar with the sound your phone makes when you drop it and the screen cracks into hundreds of pieces? We all are — and when you hear it, you know exactly what happened to your phone.
That's why I invested in these tempered glass screen protectors, which have saved my phone screen from numerous accidental drops. These are thick enough to absorb impact from a phone drop, and they also help protect my phone screen from scratches, scrapes and other annoying damage.
I don't even notice them on my screen, and the screen coating also helps protects against sweat and oil residue from fingerprint smudges, too. My phone screen is crystal clear and intact thanks to these protectors.
6. Problem: You don't have a lot of money but you need a decent laptop.
Solution: If you're not playing video games on your laptop, here's a fix. This HP Windows 10 PC is made for today's times when you're doing video calls and a lot of work online. Plus, it's under $300.
If you're looking for an affordable laptop for school or work, you may want to check out this HP Windows 10 PC I came across recently. It's the perfect fix when you need a new laptop but don't want to spend a ton of money to get one.
This laptop won't be able to handle heavy gaming, but it's great for video calls or working online. Plus, it's thin, light, and portable, so you can take it from the office to the coffee shop or class to home without noticing it's in your bag. And, for under $250, the price can't be beat.
7. Problem: You don't have the right tools to fix your tech.
Solution: Gadgets use special screws, often really tiny ones. This toolkit lets you open up almost any device and the company also offers really good repair teardown videos and detailed instructions using the very tools in this kit.
If you've ever opened up one of your devices, you know how difficult it can be. Most electronics require special tools to access components inside, and this toolkit gives you nearly any tool you'd need — all at your fingertips.
What intrigued me about this toolkit is that it also offers other tools, like detailed instructions and repair teardown videos, to help you use your new toolkit the right way. That will help you avoid common, costly mistakes that come with DIY repairs.
8. Problem: You're clumsy with your phone or tablet.
Solution: It's not your fault. It's hard to carry a phone and use it. These clever Popsockets offers a secure grip so you can text with one hand, snap better photos, and stop phone drops.
It can be tough to balance your phone while taking photos or texting — especially while on the go. I've dropped my phone a few times (or more) over the years, and you probably have, too. If you're looking for a solution to that issue, these Popsockets are a good one.
There is a reason Popsockets have become popular over the last couple of years — they're really handy. These little devices suction onto the back of your phone case to offer a secure grip. What I like is they also function as a stand so you can watch videos or do other light tasks while traveling. Makes life a lot easier on flights.
9. Problem: You don't want to carry a phone or tablet charging cable.
Solution: This solution is snazzy and makes a great gift! Now, you can wear one on your wrist whether you have an iPhone or Android.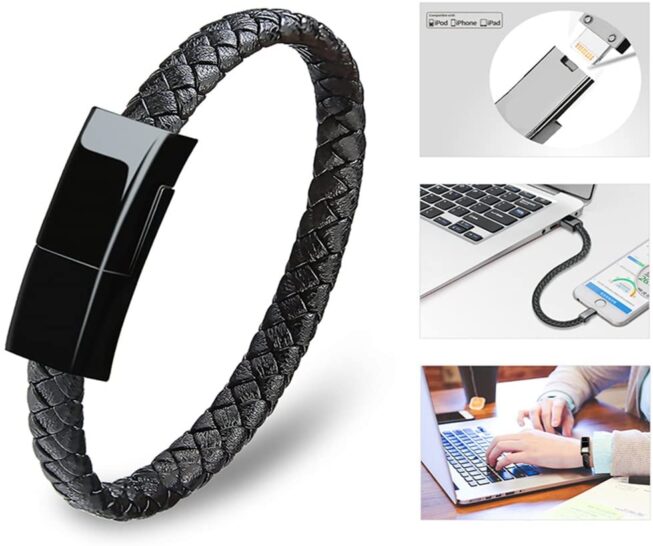 I had never thought about wearing a charging cable around my wrist — not until I saw this cool bracelet charger. This thing is stylish and conceals the fact that there's a phone charger hidden inside for those times when you are very low on battery.
What I like about this bracelet is that you'd never know it was a charger. The soft leather makes it look just like any fashion bracelet. When you need a charge cord, though, you just pull it apart and plug it in. It will rapidly charge your phone. Once you're done, just wrap it back around your wrist for the next time. It's the perfect gift!
10. Problem: Your car is too old to work with your smartphone.
Solution: If your car has a radio, here's the fix. You can easily make calls, play your favorite songs and listen to podcasts through Bluetooth, TF Card, or Auxilary Cable. Advanced noise reduction technology will ensure quality, crystal clear sound.
If your car is too old to work with your smartphone, finding a good solution to play your music or podcasts can be frustrating. That's why this Bluetooth audio adapter caught my eye — it's a good way to integrate your phone with your car when you don't have a plug and play option.
This audio adapter gives you multiple solutions so you can play your music or answer calls in the car. It's easy to use, too. All you have to do is plug it in and hook up your phone through your preferred method. You'll have crystal clear sound and hands-free calls in no time.
11. Problem: You're wasting a lot of money renting a modem from your cable provider.
Solution: You'll save money in the long run if you buy one. This cable modem works with all providers and is easy to set up.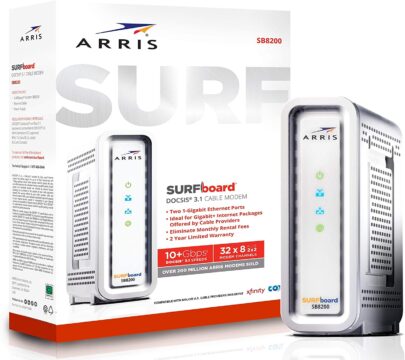 Are you using the cable modem your provider rented to you? You might be spending more than you need to by renting instead of buying this cable modem, which works with any provider you want to use.
The investment in this modem is probably cheaper over the long run than renting from your cable company. It works with all large cable providers like Cox, Spectrum, and Xfinity, and it's super easy to set up. Plus, you won't have to wait for new modem or equipment deliveries when you move — you can just plugin and set up your account with whatever provider you choose. It's that easy.
12. Problem: You want to turn on and off the lights while you're sitting in your favorite chair.
Solution: Perfect for all ages! Just get a smart plug for one of your lamps, then use the plug's app to set up a timed schedule to come on at a certain time each day, or by sunrise/sunset.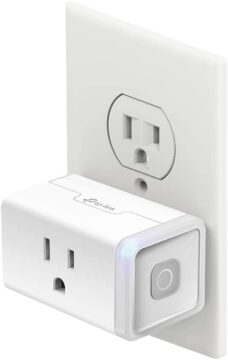 Fumbling for a switch in the dark or getting up to turn off the lights can be a pain. This smart plug will help solve that issue, though.
What's nice about this smart plug is you can control electronics, lamps, or whatever else you have plugged in from anywhere, without touching a switch. You can even set a timer schedule so that your lamps will turn on or off at a certain time of day. All you need is the app to set it up. You can also use Alexa and Google Home Assistant to control your home with this smart plug, which adds tons of capabilities to the mix.
13. Problem: You've run out of USB ports on your computer, and can't plug in a thumb drive without unhooking your mouse.
Solution: You'll wonder how you didn't know about this before. Get a USB hub to add more USB ports, including a few dedicated solely to charging your phone and other tech.
It's surprisingly easy to run out of USB ports. It happens to me all the time. There's a solution, though, with this USB hub, which lets you add a ton more USB ports to your PC or laptop.
You'll get three smart charging ports and seven extra USB 3.0 ports, which allow data transfer speeds up to 5Gbps. All you have to do is plug the USB hub in to use it. You can charge devices, transfer data, or any other task you'd use a USB port for, and it won't take up a ton of room on your desk. Pretty nice!
14. Problem: It's not always convenient to find a plug when you need a charge.
Solution: I use mine all the time! Keep an Anker Power Bank with you, and better yet, use it to charge your phone wirelessly.
My phone battery always seems to be low. Or it did, anyway, until I started using this Anker Power Bank, which lets me charge my phone whenever I need to.
What's been great about this power bank is that it lets me charge my phone wirelessly. I use it all the time. It can even be used for a 5W wireless charge for your phone or wireless earbuds as you're charging another device on one of two 12W USB ports.
15. Problem: Every time you pull out your basic earbuds, they're tangled.
Solution: Forget shaking them out. You can end that frustration once and for all with The Nest compact storage case.
Many of us still use wired earbuds while exercising or doing other high-energy activities. If you still use wired earbuds on occasion, you know the pain that comes with tangled cords. You don't have to deal with that frustration anymore, though. This Nest compact storage case lets you store your wired earbuds without tangling or knotting the cord.
What I like about this storage case is that it stores my earbuds in seconds and releases them instantly without any tangles in the cord. Plus, it helps keep earpieces, mics and cords safe when the case is tucked in a pocket or purse. The durable silicone exterior makes it easy to stash, too, so you can keep it with you on the go.
16. Problem: Your video calls are too dark.
Solution: This one product has it all. A mounting clip so you can use it anywhere plus lights so you look fabulous!
Most of us are still doing our calls and meetings via video due to COVID. One thing I've noticed during recent video meetings is the lighting in my house can be all wrong. Nobody wants to look bad in a video all, and this mounting clip will solve the issue.
What I like about this mounting clip is that it can be used for a ton of different mediums: videos, live streams, recordings, photos, selfies, or any other situation where you need good lighting. It's easy to adjust, has multiple hues and brightness settings, and can be taken with you when you need it.
17. Problem: Cords look ugly on the walls and are a mess on the floor.
Solution: Make the cords disappear from view. These dream covers conceal and organize unsightly cords in your home and office.
What's the point in buying a new, top-notch TV or computer if you're going to let ugly cords hang all over? I think cords look awful when they hang down walls or in piles on the floor, which is why I like these dream covers. They conceal all of those unsightly cords hanging around your home and office.
You can use them to hide cords from your mounted TVs or electronics, and they easily adhere to walls or baseboards so they're out of site. They also cut down on safety issues that come with having cords all over the place. You can even customize them so they blend in better to walls or floors around you.
18. Problem: Your air quality stinks because of smoke, allergens, and odors.
Solution: You need a good air filter. Swedish filter technology in this Blueair Blue Pure 211 captures 99% of airborne pollutants like viruses, pollen, dust, pet dander, mold, bacteria as well as smoke from wildfires.
It doesn't matter how much you clean, mop, dust or vacuum. A good air filter will change the way you live — and it will also change the way it smells in your home. This is especially true if you have pets or other allergens in your living space.
This Blueair Blue Pure 211 air filter is a good fix if your home smells from allergens, smoke or other odors. It's made to capture 99% of airborne pollutants, like viruses, pollen, dust, pet dander, mold and bacteria, leaving the air around you smelling clean and free of annoying allergens. All you have to do is plug it in and power it on. You won't even notice the noise — it's whisper-quiet while it works.
19. Problem: Your desk is a mess of random cables.
Solution: Declutter and better organize them with cord organizers that stick to just about any surface, no tools required.
If you spend more than a couple of hours at your desk each day, you know how messy it can get. The cords, papers, pens and other important work-related tools can stack up and cause clutter to be an issue. These cable holders can help you start to sort things out. This is a great deal for a three pack!
The organizers have adhesive backing and stick right in place, meaning you don't need to drill holes or do anything permanent to get your space organized. They're made of silicon, not cheap plastic, so cords won't slip out. Love that!
20. Problem: People don't put things where they belong.
Solution: Get organized with the DYMO LabelManager 160 that prints durable, water-resistant labels to make it easy to access files, charts, tools and more. The QWERTY-style keyboard lets you quickly enter text!
Lots of us have messy handwriting. That may not be an issue often, but it can wreak havoc on organizing if you're hand-writing file names and label tags. A quick fix for that issue? This DYMO LabelManager, which prints durable, water-resistant labels in seconds.
This label-maker is a lifesaver for those of us who organize and file a lot. It's lightweight, easy to use and has a QWERTY keyboard so that you can type and edit quickly. Once your label text is perfect, all you have to do is print it out and stick it on the document or file. You can even use it to label storage bins or boxes to keep track of where you put your stuff.
By clicking our links, you're supporting our research, as we may earn a very small commission. Recommendations are not part of any business incentives.
We may receive a commission when you buy through our links, but our reporting and recommendations are always independent and objective.