It's day two of Amazon Prime Day! If you were smart, you loaded up on tons of deeply discounted items yesterday, and you can do so again today, too.
There's nothing quite like getting the items you want at a steal, and there's plenty to choose from right now. Log into your Amazon account and you'll find tons of low prices on electronics, gadgets, toys, shoes, and everything else under the sun. Tap or click here to see some of our top picks for Prime Day.
But cheap TVs and running shoes aren't the only bargains you'll find. You can also get crazy deals on home goods. If you've been looking for an upgrade on your pots and pans or want to buy that Instant Pot you've been eying, now is the time to do it.
Not a Prime Member yet? No problem! You can get a 30-day free trial right now by using the link below.
Tap or click here to get your 30-day free trial to Amazon Prime.
Hurry! These savings won't last
First up, a quick rundown of great deals that won't last long. If you want one of these, act FAST. They will sell out or expire soon.
Cuisinart Extra-Large Rotisserie Deep Fryer
Deal price: $119.99 | Regular price: $299.99
BISSELL Cleanview Swivel Rewind Pet Upright Bagless Vacuum Cleaner
Deal price $97.99 | Regular price: $159.99
SodaStream Jet Sparkling Water Maker
Deal price $79.99 | Regular price: $139.99
Anti-Fatigue Standing Comfort Mat
Deal price $17.99 | Regular price: $31.67
Satin Pillowcases for hair and skin, 2-Pack
Deal price $8.06 | Regular price: $9.99
Load up on reusable travel mugs for your hot drinks
Now's the time to load up on reusable travel mugs for your hot drinks. These Contigo Autoseal West Loop 2.0 travel mugs seriously keep coffee and tea hot for hours and hours on end.
Not only will you get hot coffee, but you won't end up wearing it either. These are made with autoseal technology that is leak and spill-proof, so your liquids stay where they should: in the mug. Drinks stay hot up to 5 hours or cold up to 12 with thermalock vacuum insulation, and the easy-clean lid opens fully and locks when you need it to.
Promising review: "None of the locally made cups suited my needs, this looked perfect. It arrived today, I have given it a short test. The lid fits easily, it doesn't leak and the drinking button is easy to press. The best thing about this cup is that there is no spill around the sip hole when drinking. The slight downside is the with it being American it doesn't fit our cup holder in the car, however, I realized this when buying so I am not marking it down for this issue. If you want a cup you can use when driving, this is the one." — Amazon reviewer
This air fryer and Instant Pot can do it all in one pot
An air fryer and Instant Pot in one, with two lids? We'll take it — and so should you. This Instant Pot Duo Crisp Pressure Cooker 11 in 1 with Air Fryer can do it all: pressure cook, air fry, and a ton more.
Instant Pot has become known for its multi-use cookers, and this one is fantastic. You can use this 11-in-1 multi-cooker to pressure cook, saute, steam, slow cook, sous vide, warm, air fry, roast, bake, broil or dehydrate, all from the same pot. You can even use it on autopilot so the work is done for you. And it's on sale for $119.99, which is a steal for a kitchen tool like this.
Promising review: "I looked at many toaster ovens with the air fryer option. This met all our needs. The digital readout is easy to read. The automatic programs are great. I am very impressed so far. And it looks great!" — Amazon reviewer
You'll have plenty of comfy masks on hand
Tired of running out of masks? You don't have to worry about that if you grab this 50-pack of reusable cotton face masks. That's more than enough to go around.
These masks are made with three layers of coverage and 100% cotton, so they're breathable and soft. Even the ear loops are comfortable because they're constructed from soft cotton yarn. The adjustable nose piece and front panel pleats also mold to your face to provide both protection and comfort.
Promising review: "I spent too much on making our own cotton face masks by buying fabrics, elastics and threads. I searched Amazon and found these masks and tried them. They're stretchable so it fits well, they're washable and I can breathe. The price is so cheap so I ordered a lot to share with friends and relatives again! It's worth buying." — Amazon reviewer
Treat yourself with this comfy cashmere throw blanket
This might be a splurge, but if you've always wanted a cashmere throw, treat yourself to this State Cashmere Reversible Throw Blanket. After all, think about how much you've saved these last few months on not going out to eat!
This blanket is stylish, soft, and made of 100% Inner Mongolian cashmere so it's high-quality. You can use it when you cozy up on the sofa or bed — and it provides plenty of warmth for those cold winter days that are coming. You can get it on sale during Amazon Prime Day, but if you wait, you'll miss out on the deal.
Promising review: "I was satisfied with the quality of this item; the throw was well made with no defects and was not too thin. After seeing so many overpriced cashmere products for sale I was somewhat skeptical of exactly what I'd be receiving at a lower price point with this brand but was pleasantly surprised!" — Amazon reviewer
It's time to clean up that quarantine beard
No shave November is going to be epic this year after months of social distancing. It's time to clean up that quarantine beard, and you can do so with this Philips Norelco S8950/91 Shaver 8900 Rechargeable Wet/Dry Electric Shaver.
The nice thing about this shaver is that it's wet or dry and it cuts 20% more hair in a single pass. The SmartClean system helps keep the shaver in tip-top shape, and you'll get five built-in settings so you can customize your trim. You can buy this now and put it away as a Christmas gift, or you can use it to tame the mess on your face. Your call.
Promising review: "This is a very high-quality razor. Big step up from my old one. Makes a close cut. Good in wet and dry conditions. Only downside is that it has a small capacity to hold shavings and the beard attachment is a bit of a hassle." — Amazon reviewer
Brew the perfect cup of coffee at home, work or on the road
There's no denying how easy to use Keurigs are, and the coffee is better than drip. This single-serve Keurig K-Mini Coffee Maker won't take up much space, but it will up your morning cup o' joe. Right now, it's just over $40, almost half off!
Promising review: "I wanted to get a small Keurig for my office and this is perfect. Very lightweight and easy to transport so it would be great to travel with." – Amazon reviewer
Spa day at home. Another great gift idea
How long has it been since you had a professional foot massage? We're guessing it's been a while thanks to the pandemic, but you don't have to wait any longer. This RENPHO Foot Massager Machine with Heat, Shiatsu Deep Kneading will fix you right up, and you won't have to leave the house to use it.
This foot massager offers everything you want: soothing heat, ergonomic design, and multiple kneading and squeeze intensities that can be adjusted to personal preference. It's easy to control using your foot, too. If the massage is too intense, you can just tap the buttons to adjust it. Easy!
Promising review: "After comparing every possible foot massager on Amazon I chose this one because it's the only one that lets you control kneading and air compression separately. I can have it on Low kneading and High air compression. I also chose this one because many of the negative reviews said it was "too strong." That's not negative for me!" — Amazon reviewer
Your dentist will love you for this
Are you flossing regularly? You can vastly improve how well you floss with this Waterpik WP-662 Water Flosser, which is the first dental water flosser in its class accepted by the American Dental Association (ADA).
You don't have to struggle with dental floss or plastic flossers anymore. This water pick makes it easy to floss and the advanced technology makes it up to 50% more effective for improving gum health when compared to string floss. It also cleans deep between teeth and below the gum line, where traditional brushing and flossing can't reach and it's clinically proven to remove up to 99.9% of plaque.
Promising review: "Fantastic product! I purchased one for each of my kids as well. It is really refreshing to be able to add a bit of mouthwash to the reservoir of water since it serves a dual purpose… finishing cleaning with fresh breath but also adding extra protection in between teeth and hard to reach areas since we use a cavity prevention mouthwash with whitener. Another excellent perk is the variety of interchangeable heads! Each of us has our own personal favorite to get the job done. We are very pleased to have purchased one for everyone in our family. It was quite the investment but well worth it." — Amazon reviewer
You might not be hitting the road now, but when you do, travel in style
It's time for a luggage upgrade and this Samsonite Winfield 2 Hardside Expandable Luggage with Spinner Wheels will do the trick. It's stylish, affordable, and lightweight — and if you grab it while it's discounted, you'll be ready to go when the time arises.
If you're worried about damage that occurs to your luggage while traveling, don't be. These suitcases are made to absorb impacts and eliminate the dents and dings that happen during travel. It's fully lined, offers plenty of room, and the wheels spin in all directions so it's easy to pull, too.
Promising review: "Great quality. I had to get myself and hard luggage this time. I usually went for the soft luggage but during my last trip, the wheels and handle were broken (I supposed during the airport handling). Made some research about the best brand available for luggage and Samsonite came highly recommended. My luggage still looks like brand new despite 4 travels with it. It is very light and comfortable to move around." — Amazon reviewer
On-the-go grilling? You got it
If you're looking for a portable, quality grill, this Cuisinart CCG190RB Portable Charcoal Grill is available for a steal right now during Amazon Prime Day. It's the perfect solution to all of your on-the-go grilling needs.
This compact, lightweight grill offers 150-square-inches of grilling space. That's enough room to grill at any tailgate you attend — and you'll look stylish doing it. Plus, it's durable, has dual venting and can handle low and slow or searing hot temperatures. You can take it with you wherever you go — to wherever you want to grill.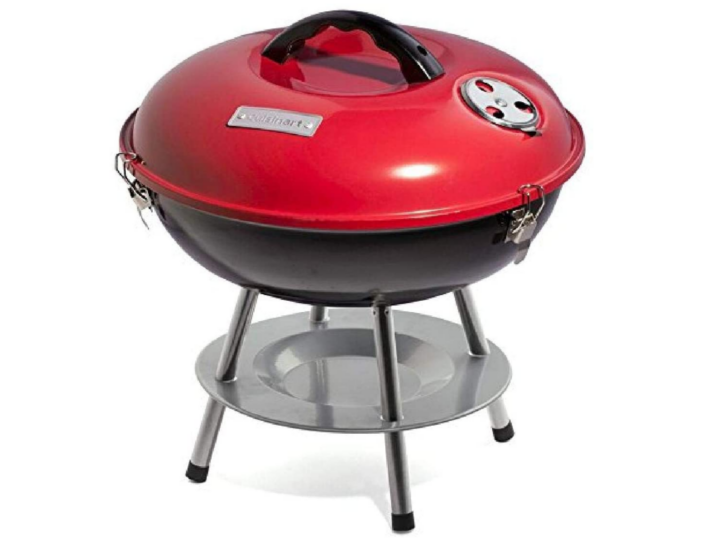 Promising review: "It's worth the price. For a low price, having this portable grill is a good buy. All hardware is of good quality and instructions are very clear. I've assembled it easily in 10 minutes. Now I'm ready to grill small stuff." — Amazon reviewer
By clicking our links, you're supporting our research. As an Amazon Associate, we earn a small commission from qualifying purchases. Recommendations are not part of any business incentives.
We may receive a commission when you buy through our links, but our reporting and recommendations are always independent and objective.