The cool fall weather is finally here, just in time for November. It's only going to get colder, too.
You know what that means, right? It's a great time to start stocking up on fall attire and decor from storage. After all, parts of the nation are already seeing snow and chilly weather. It's only a matter of time before the rest of the country is shivering, too.
If you need to upgrade your fall and winter gear, don't rush out to the stores and risk your health to stock up. Check out the list below instead. These practical products are things that you'll use all fall and winter this year — and you can order them all from the warmth and comfort of home.
Related: 21 tech gifts you should grab now before they sell out
1. Get comfy on cold winter days under these heated and weighted blankets.
Dreading those chilly fall nights? This Sunbeam Heated Blanket will heat your bed for you. All you have to do is flip it on to one of 10 heat settings before climbing under the sheets. You don't have to worry about overheating, either. This blanket auto-adjusts to give you cozy, consistent warmth all night long.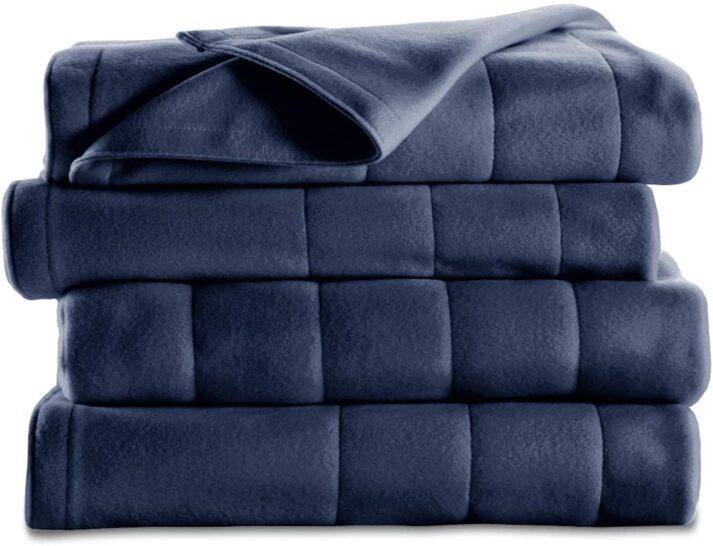 Promising review: "Warms to temp quickly, great for taking the chill off the sheets before you get in bed. Wires are a bit stiff but it's a regular voltage electric blanket so that's to be expected. Controls are easy to use and dim after a few seconds so the light isn't distracting."
Do you toss and turn all night? This YnM Weighted Blanket is the perfect way to calm your restlessness and get a good night's sleep. It's a great option for both adults and kids who have trouble falling or staying asleep. And while the weight will help you relax, it won't make you too hot — it's got built-in temperature control to prevent it. 
Promising review: "I'd read the great reviews for this and was hopeful it would help increase sleep time and comfort, and wow! Before I received this weighted blanket, according to my Fitbit, I was averaging about 4.5 hours of sleep per night due to pain. My first night with this blanket and I slept over 7 hours!! Same for my second night. This is so comfortable and comforting. I'm recommending this to everyone I know!"
2. Tired of cold coffee? This Ember mug will keep your hot drinks at the right temps all day long.
The cool fall air is great — until it turns your coffee to ice on your way into the office. This Ember mug will help keep that issue at bay. It's the world's first temperature control mug. You can use it to control the temperature of your drinks and keep your coffee or hot chocolate at the optimal temp all day long.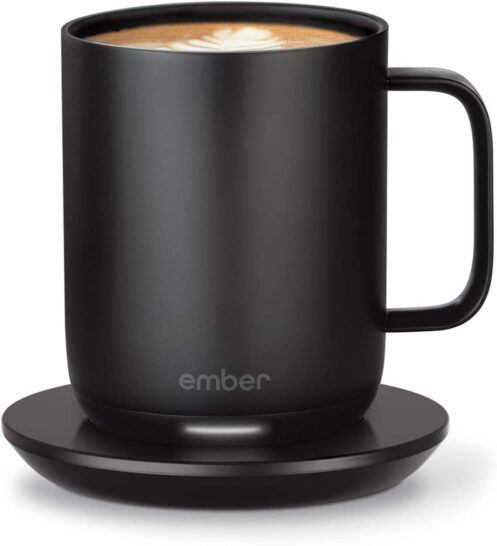 Promising review: "My wife and I were having difficulties in our marriage and would argue daily about whose turn it was to boil the kettle. Now after buying this mug, I can have a hot cup of tea all day and my wife left me because I didn't buy her one or keep boiling the kettle to make her peasant tea in a normal cup."
3. Dinner will be ready in a snap with this Crock-Pot. It's great for slow cooking on chilly days. 
Chilly days call for warm meals. This Crock-Pot is a great way to fill bellies with warm, home-cooked meals without a ton of work or mess. It's great for pot roasts, chili, or any other slow-cooked meal. All you have to do is toss in the ingredients and adjust the temp. Super easy!
Promising review: "I have used this Crock-Pot a dozen times since writing my review … and it gets better and better! I've made casseroles, breakfast dishes, beans, roast, ribs, Mexican food dishes – all just great (including the chicken/rice recipe with the rice cooked in the Crock-Pot)! The stoneware liner is easy to clean and food is NOT sticking to the sides or bottom. Warmer feature is super and it does not appear to be too hot."
4. Cook anything with just one pot. The Instant Pot Duo Evo Plus does it all.
Have you jumped on the Instant Pot wagon yet? If not, you should — and this Instant Pot Duo Evo Plus is a great way to do that. You can make anything in it — and we do mean anything. You can slow cook, steam, sous vide, bake, ferment, and pasteurize, along with a ton of other things. You can use it to make yogurt, bake cakes, roast a rack of ribs, or anything else under the sun — all from one pot.
Promising review: "I have 2 Ultra pots, I think that's enough said! I bought my first instant pot when Ultra was just released, so went with the newest model. And I was very skeptical and thought I could always return it. After using it twice, I was hooked. I cook congee, rice, broth, soup, stews, eggs with it regularly. It was so useful, I had to get another around Christmas. And I have an additional inner pot and two lids."
5. Holiday meals will be picture-perfect with thanks to this Half Baked Harvest cookbook. 
Need some meals to impress the family this holiday season? Try this Half Baked Harvest cookbook. It's full of flavorful, colorful, and most importantly — easy — recipes that are sure to wow the people at your table. Got picky eaters? There's a recipe for every appetite in this one.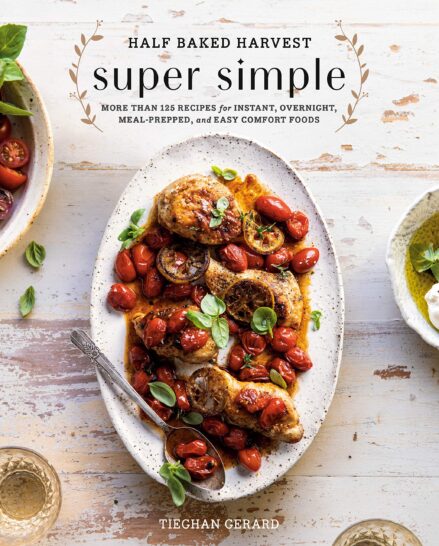 Promising review: "Absolutely beautiful cookbook, photography is amazing ( most of which are by the author and chef herself) and really makes you excited to delve in and try out the recipes. Recipes are wholesome, uncomplicated and scrumptious."
6. Your house will smell amazing with this four-pack of Our Own Candle Company candles.
Fall decor isn't complete without the right candles. This four-pack of Our Own Candle Company candles is the perfect fix. It has four different fall scents: Pumpkin Spice, Mulled Cider, Macintosh Apple and Caramel Pecan. Your home will smell like the holidays with these mini mason candles.
Promising review: "These candles are great and smell amazing! They have lasted a while now with them burning daily. They state 30 hour burn time on each one and I have to believe that with as long as I have been using them. They were packaged well and protected very well when they arrived at my doorstep."
7. This Lemy Fire pit is the perfect fix for cold winter nights outside. You can even use it as an ice bucket in the summer!
Like spending your evenings on the patio? This Lemy Firepit lets you do that in any weather. Use it to warm up outdoor areas as it provides the ambiance you're looking for. It's also a grill, too, which means you can cook out on chilly nights in front of the fire. Pretty cool! It even doubles as an ice bucket in warmer weather.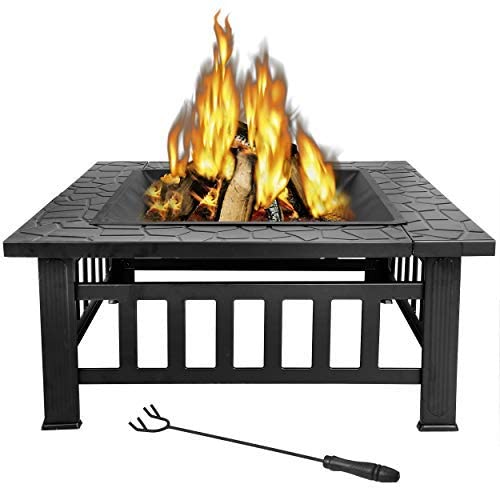 Promising review: "I've used it both as a fire pit and a grill which makes a small, but nice grill which easily cooks enough for a family of four… and seeing as the better brand of charcoal lasts so long, I cooked enough for 7 adults. It took 2 separate cooking times on the grill due to the size, but it worked just fine."
8. This his and hers AW Bridal robe set is the perfect way to stock your guest bathroom for your holiday guests.
If you're planning on having guests over this holiday season, you may want to grab this AW Bridal robe set for your guest bathroom. These cotton terry bathrobes are super soft and high quality. They're a great way to ensure your friends or family are warm and comfortable in your home. They're super cute, too!
Promising review: "This is a great quality terry cloth his and her guest bathroom robe set. I will be buying another set for a wedding gift in the Mr. and Mrs. variety. It comes in a beautiful white gift box, but mine came squashed so I had to throw it out. If I got another set, I would want it to be packed much better so I could give it in the box it comes in. Other than that, perfect!"
9. Let in the cool fall air without letting in bugs with this Senneny magnetic window screen.
That fall air is rolling in. If you want to start airing out your home but are worried about bugs, this Senneny magnetic window screen may be a good fit for your needs. It's easy to install on almost any window and keeps bugs and insects from entering your home without stifling that fresh airflow.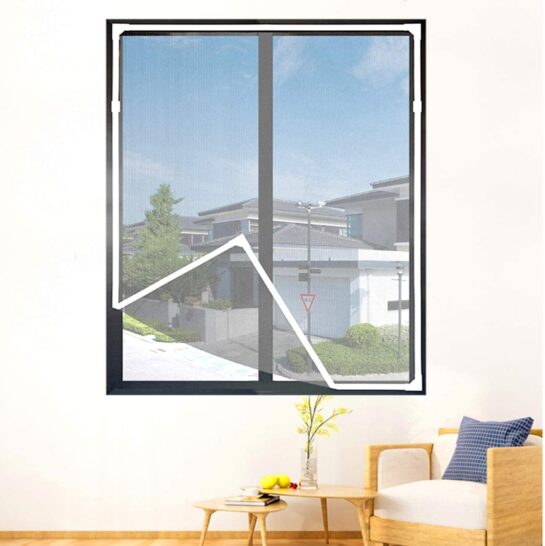 Promising review: "Easy to install, well made product! It looks clean and very nice quality. Highly recommended!"
10. Want to fill your home with fresh air? This Flux Phenom magnetic screen door is a great option. 
Wishing you had a screen door? This Flux Phenom magnetic screen door installs in minutes to keep out bugs and insects while you enjoy the cool fall air. The people and pets in your home will love it — and you won't have to worry about the door being left open behind you. The screen door closes seamlessly behind you as you go in or out of your home.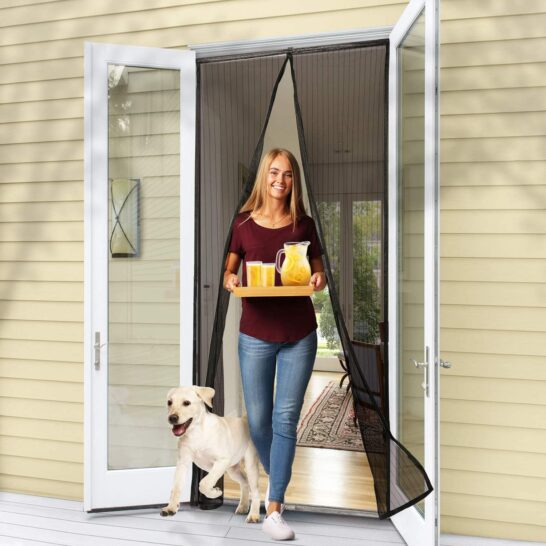 Promising review: "Works PERFECTLY! We purchased this item so that our dogs would be able to go in and out freely without there just being a wide opening into our house for bugs to just fly in. Must say it was well worth the money! Our dogs run right in and out and it magnetizes perfectly back together each time! Definitely would recommend."
It's hard to create the perfect fall setup without a fireplace. If you want to add one to your home without a major construction project, this Ameriwood Home Chicago electric fireplace TV console is a happy medium. The electric fireplace will keep you toasty on cold days, and the console can house your TV, too. It's great for people with limited space. 
Promising review: "I originally purchased this for my fiance to have an additional heater in our apartment and as a tv console for our 55″ Samsung. This is one of the best purchases I have ever made while on Amazon. The quality is amazing at this price point and it really stands out as the centerpiece of our living room. It usually becomes the topic of conversation when we have people over and they inquire where we purchased it from."
12. Add some festive fall decor to your home with these Ygeomer fall pillow covers.
If you're trying to find some inexpensive, festive decor, check out these Ygeomer fall pillow covers. They're an affordable, easy way to make your home festive. They fit over most standard size throw pillows and the design is really cute, too. 
Promising review: "Super cute and GREAT price! I put these covers on 20×20 pillows also bought on Amazon (these are 18×18 covers). I was a little worried about the zippers, they feel very fragile, but none broke upon putting the pillows in. I will be using these covers next year!"   
13. Hard tile or wood floors? Your feet will be nice and warm in these memory foam slippers.
Need some comfy slippers that you can wear inside and out? These WateLeves women's memory foam house slippers are made with thick memory foam and hard soles that are great for lounging or running outside to grab a package or two. Your toes will stay toasty and you won't have to worry about ruining your slippers when you need to step outside. Pretty convenient!
Promising review: "These slippers are wonderful. I had always had bootie slippers with a soft sole. I was hesitant to purchase slide on slippers. I am so glad that I did though. They are very soft on the inside. And very comfortable. I can't wait to put them on in the morning or when arriving home again. Never thought I would look forward to putting on slippers but I do with these. The hard sole is very nice, that always used to be why I had to toss the other slippers because the some would rip. The price is fantastic and so is the comfort. Definitely would purchase."
Shuffling to and from the garage while spending a lazy day indoors is easy with these RockDove men's memory foam slippers. They're made for men who want the option of going from inside to outside without swapping slippers for hard-soled shoes. They're super comfortable, too — and the bottoms are made of the same natural rubber used in trail running shoes. That means they'll last for a long time, even with some heavy wear and tear. 
Promising review: "I was born to wear these slippers! I end up buying new slippers every year because I am always disappointed by the poor quality of a promising purchase. However these slippers are pimp. I wear a 10.5 and on the recommendation of reviewers I bought a size 11-12. They couldn't fit better. Thank you Rock Dove for making my feet feel like millionaires!"
14. Showcase your love of fall with this doormat. It's great for cutting down on mud and leaves in your home!
It's tough to keep your floors clean in the winter. Leaves, snow and grime are easy to track in, but this cute fall doormat will cut down on that. The natural coir is made to trap dirt and moisture, and the fall theme is the perfect way to welcome guests to your home. 
Promising review: "This is a great oversized outdoor mat. I went canoeing recently and had mud all over my shoes, got home and this mat got almost all of it off. And it's super cute. Good graphics quality. I have already gotten two compliments on it. I had an expensive mat before this that shed everywhere and did not retain the vibrancy in the colors. This one is still new, so time will tell, but it already seems more durable than my last one."
You probably have some Christmas garland in a storage bin, but what about Thanksgiving? This Camlinbo Thanksgiving lighted garland will help dress up your home in honor of the fall season. It even comes with lights to help brighten things up.
Promising review: "Great little trees in nice colors that I put around the house. Arrived quickly and packaged well. Just check the sizes and beware they are small.  
By clicking our links, you're supporting our research. As an Amazon Associate, we earn a small commission from qualifying purchases. Recommendations are not part of any business incentives.
We may receive a commission when you buy through our links, but our reporting and recommendations are always independent and objective.