Streaming isn't for everyone — especially since it means you must constantly juggle ever-changing subscription costs. It's easy to overpay for movies and shows you don't have enough time to watch. If you want to save yourself from subscription misery, this guide will help you find and record free shows and movies.
Maybe you don't want to abandon Netflix, Hulu, Disney+ and your other favorite services. Or you're looking for free streaming services to add to your paid services. Tap or click here for the 15 best sites to watch movies and shows for free.
One great way to save money on entertainment is by returning to the magic of broadcast television. Attach an antenna to your TV to watch free, live content in HD from popular networks. Here's how to easily find and record your shows.
Finding the right antenna
First, determine whether you need an unamplified, amplified or large outdoor antenna. Here's a quick explainer:
Amplified antennas: These are usually meant to be used inside houses with a medium-strength signal.
Unamplified antennas: These have a shorter range. They're simple and cheap. Plus, they're designed to be used in houses near a strong signal.
Large outdoor antennas: These are ideal for areas with a weak signal. They can be amplified or unamplified.
We've rounded up some of the best options you can buy online. Read through them and find the best pick for your home entertainment setup.
Promising review: "The antenna is great. I have around 60 channels now. The setup was easy and quick. I did it myself in about 10 minutes. I love it and would recommend it to everyone!"
Promising review: "Great feature is the placement of the power module below the antennae itself, you can see the green lights to indicate the best reception – then you can fix the antennae in that spot via the pins. Love this product!"
Promising review: "This was an upgrade from a basic antenna I was using and it was worth it. The picture quality is better and I get enough channels in my area for enjoyment."
These are all great options, but we've got you covered if you need more ideas. Tap or click here for the best antennas for a clear TV signal.
Now that you have an antenna, it's time to adjust your TV search habits. You should follow these steps to find what you want to watch with your new setup.
Use this site to find out when your shows are on
Although these live TV channels are free, there's one drawback. They come out on a schedule. You can't watch all of them on demand.
That's why you need a tool that shows you which channels are in your area. Depending on the strength of your antenna, you can reach broadcast towers up to 250 miles away. Of course, each broadcast tower will access a different variety of channels.
Don't sweat it if you're unsure which networks your antenna can access. Just use an online directory to see the channels near your area. We recommend Zap2It.
It's a great way to find out when your shows and movies are on
You can use this free guide to find local TV listings by provider or time zone. It's super easy to use.
When you first open Zap2It, you're taken to its default lineup page, which looks like this: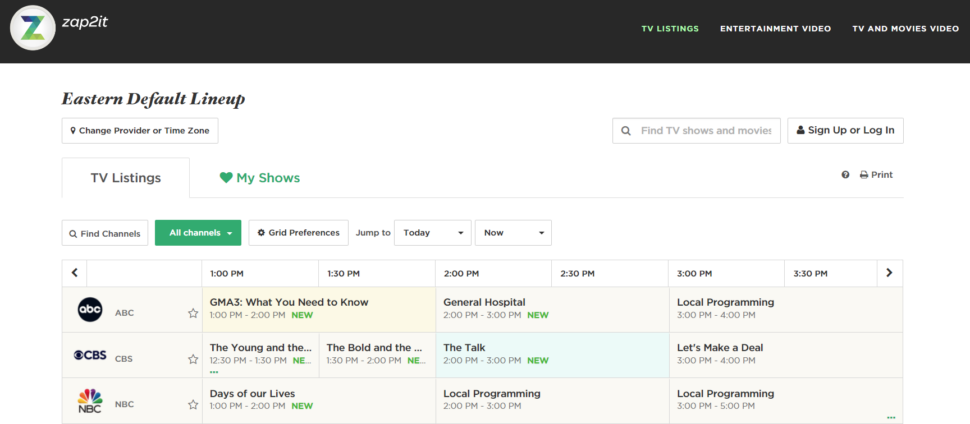 If you have a specific show or movie you want to watch, type it into the search bar. You can also create an account to save your liked shows for quick access later. You can adjust your grid preferences and provider or time zone to match your location.
Do you see the times at the top of each column? You can go forward or backward in time by pressing the arrows on the left and right.
Aside from searching for shows and changing your preferences, you can also use nifty keyboard tricks to find what you need quickly. For example, use Ctrl + F once the page is open to locate what you want. Tap or click here for five smart keyboard shortcuts everyone should know.
If you're ready to search for shows, hit the yellow button below. This free online guide helps you find anything you're craving, from live TV, like sports and news, to your favorite movies and shows.
Use an over-the-air DVR to record
Although you must manage TV schedules, you don't have to resign to missing things. Say your favorite movie is on at 8 p.m., but you have to go to dinner with a friend then. Just record it with a DVR.
That way, you can watch it later on. It's a convenient workaround you'll use time and time again. Here is one of the best options.
Promising review: "If you too miss the days when you could just "tape" a show, then this is for you. No subscription required, no nonsense. Just set up the times you want it to tape and off it goes. As an added bonus we can now watch broadcast TV in the room that's too far from the antenna to bother running cable to."
Now you know how you find and record your shows – Here are your next steps
Yes, your smart TV is spying on you – Here's how to stop it
Check all available TV channels in your area with this web tool
We may receive a commission when you buy through our links, but our reporting and recommendations are always independent and objective.