Shopping on Amazon can be a great way to save money on otherwise expensive tech. Tap or click here for quick and easy ways to save money when filling your cart. Just avoid the most common mistakes people make when buying electronics on Amazon.
For example, you might be so wowed by a great deal that you snap it up before it sells out. Hasty buying habits can be incredibly costly in the long run, so rein in your impulses. When you're about to buy from Amazon, read product reviews from a trusted source like Consumer Reports.
Unfortunately, many third-party sellers are notorious for buying fake five-star reviews, while others bribe people into removing low-star ratings. Amazon is a great place to save money if you're a savvy shopper. If you avoid these cardinal sins, you should be good to go.
1. Paying for an extended warranty
Some of the common mistakes everyone makes don't cost much. For example, many shoppers choose the fastest delivery option — which can come with higher shipping prices. If you're buying something small, you can probably afford to eat the cost.
If you want to save money, it's best to wait a little longer and stick with free shipping. But some mistakes are way too costly to make. Here's one, you shouldn't buy an extended warranty on electronics you buy online.
Most failed appliances will break down within the first 90 days. Otherwise, they'll probably fail after around five years. So before you buy an extended warranty, consider the total cost. You're better off putting it in your savings account or investing it so it can grow into more money down the line.
Then again, you could always spend the extra money on another gadget that will make your life easier. Tap or click here for seven tech gems that save you time.
2. Paying full price
Always look for deals and discounts. Look for alternative items and similar brands, as well. You may believe in one brand, but a similar brand might have the item you want at a much lower price.
Luckily, there's a button right at the top of your Amazon toolbar called Today's Deals. Check it out and you can find low prices on the devices you need.
You can also benefit from midseason or holiday sales. Labor Day is coming up, so you have many deals to look forward to. Another way to stop buying expensive electronics at full price is to use Honey.
This free browser extension scans the web for coupon codes. Even better, it automatically applies those codes to your orders. Plus, it tracks item price changes, which is helpful for the notoriously mercurial Amazon. Tap or click here to start taking advantage of this money-saving trick.
3. Not trading in your old stuff
Let's say you want to upgrade your smartphone. You currently have an iPhone 12, but you want the iPhone 13. You're making a mistake if you buy the new phone and leave the old one lying around to collect dust.
Trading in old electronics will put a lot of money back into your pockets. The Amazon Trade-In Program makes finding and accepting offers on your old tech easy. Plus, you get paid quickly.
Just know that you're not getting cash when you sell your items. You're getting an Amazon gift card, so you'll have to spend the proceeds on Amazon.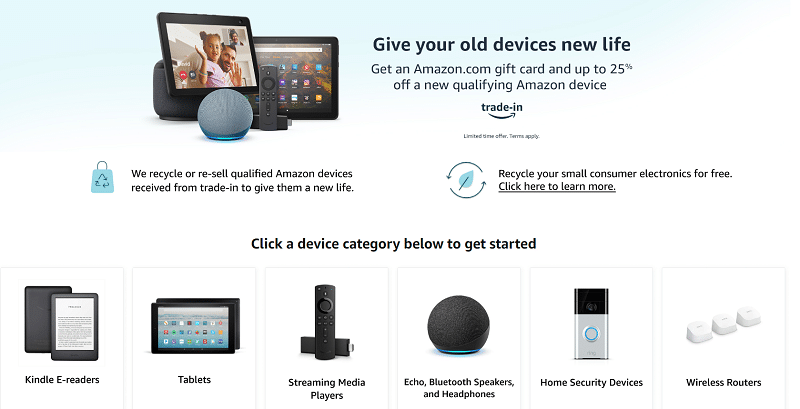 To sell your item on Amazon, go to the Trade-in website. After that:
Select a category, from Kindle e-readers to wireless routers.
Then, look for your specific product.
Once you find it, select Trade in this item.
From there, you need to confirm your item and answer a few yes or no questions.
Then, Amazon will provide your trade-in value. You can select Return it for Free or Accept the price.
On the Order Summary page, select Confirm Trade-In.
After that, you're good to go!
4. Buying the "best" version when you don't need it
Perfection can be pricey. Maybe you want to buy the latest and greatest for bragging rights. But if you don't have money to throw around, consider purchasing an older model.
This way, you're still getting many good features — just not in shiny new packaging. One great way to save money when buying electronics on Amazon is to get refurbished tech.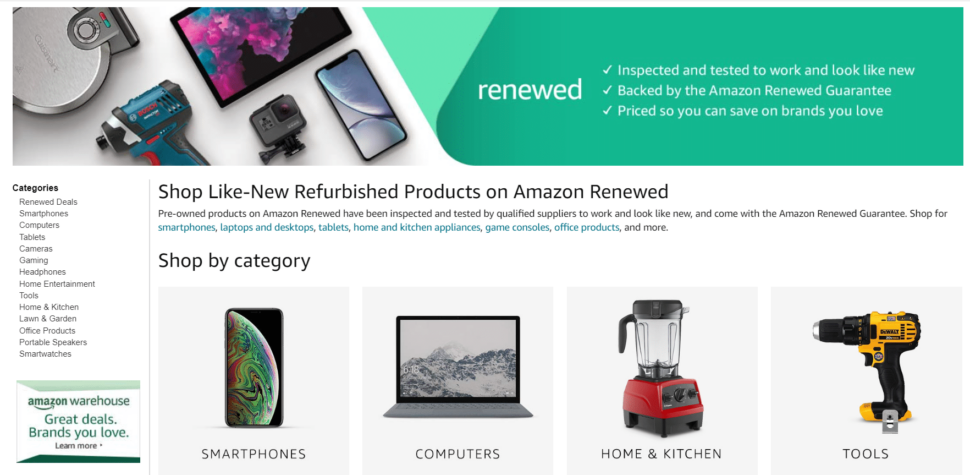 Shop for refurbished devices. These are gadgets that other people have used. Since then, they have gone through a rigorous restoration process.
If you don't mind buying a secondhand item, you could stand to save lots of money. Check out the Amazon Renewed store to see a vast library of refurbished products. You'll get electronics at far lower prices than you'd pay for new ones.
Plus, every purchase comes with the Amazon Renewed Guarantee. You have 90 days for refunds or returns if your device doesn't work as expected.
5. Buying no-name electronics from third-party sellers
One of the biggest mistakes people make when buying electronics online is choosing shady sellers. Many shoppers are starstruck by low prices. They don't look at the brand and see it's not from a well-known electronics company.
When it comes to devices, you get what you pay for. It's just not worth taking chances on Chinese knock-offs. Stick with reliable brands with good reviews from trustworthy sources like Consumer Reports.
Want to avoid Chinese sellers on Amazon and other online marketplaces? Use these four free online tools to avoid Chinese products when you shop online.
We may receive a commission when you buy through our links, but our reporting and recommendations are always independent and objective.