It's clear what the top choice of wireless earbuds for iPhone users is. AirPods and AirPods Pro are, without a doubt, the most popular option for Apple smartphone owners.
There's a good reason for it, too. Not only were AirPods designed to work specifically with Apple products, but they offer a ton of features that make them a solid option. They're wireless, have long battery life and the sound quality is top-notch. There are even some hidden tricks you can use with your AirPods that you may not know about.
The top wireless headphone choices aren't as cut and dry for Android users, though. There are tons of different options on the market. If you're trying to find the best wireless headphones for your Android, we're here to help narrow it down. Here are the best wireless earbuds to pair with Android devices.
If serious sound is what you're looking for, serious sound is what you'll get from these Samsung Galaxy Buds+. They're known for the awesome sound quality, but there are a ton of other features that come with them, too. You'll get up to 11 hours of nonstop music on one charge. The Galaxy Buds+ case gives you another 11 hours' worth of charging power, too. That's 22 hours total.
These earbuds offer a ton of other cool features, too. Just three minutes of charging will give you an hour of playtime, so you can get more battery power quickly when you need it. You can also use them to filter out noise or let ambient sound in, which is perfect if you're waiting for a flight in a busy airport or need to hear oncoming traffic on a run. They are one of the best options for Android users.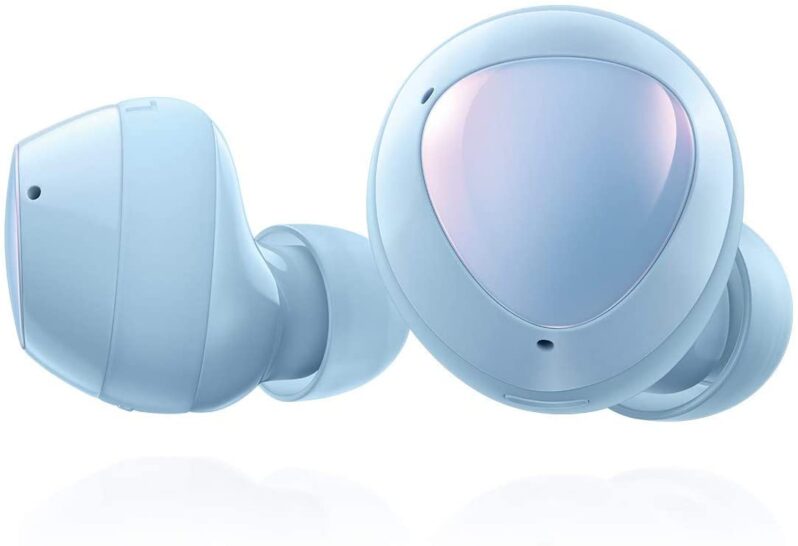 Promising review: "I'M LOVING IT!!!! NO REGRETS!!! For starters, 2-way speakers…. I'm loving it!! More "tugs!" You can really tell the difference. Okay, it has gotten more responsive touch wise and no delays at all. Games, music, or movies … no problem. The magnets and hinge in the case have gotten tighter. You will now have no problems with losing your buds by falling off from the case when opened."
The Sennheiser Momentum True Wireless 2 may not have the name recognition of Galaxy buds, but it's only a matter of time before these are the top choice of music fanatics everywhere. These earbuds offer amazing stereo sound, active noise cancellation and superb audio performance.
You'll get plenty of playtime, too. The battery lasts up to seven hours and the charging case will add another 28 hours. That's a seriously impressive power load from a case. Other impressive features include Transparent hearing, which lets you know what's going on in the world around you when you need it, and noise cancellation when you want to drown it out.
These earbuds even offer customizable touch controls and voice assistant capability. If you want high-end, top-notch sound quality and superior craftsmanship, these earbuds are for you.
Promising review: "To keep it short, Sennheiser MTW2 has the best sound stage I have heard so far this year. It is better than my Sony xm3 and Beoplay wireless earbuds and also better than my Bose 700. It's almost on par with the Sony XM3 headphone in term of audio quality. These earbuds are also very comfortable to wear and lightweight."
Having trouble with the comfort level of your current earbuds? These Jabra Elite 75t may be a good fit — both literally and figuratively. They're engineered to be secure in your ears, and the smaller design and ergonomic shape ensure they'll fit all sizes and shapes of ears.
You won't have to compromise sound quality for fit, either. These earbuds offer a great call and music experience. The enhanced four-microphone call technology filters out disruptive noises around you, even in windy or noisy environments. The wireless connection stays stable, too — so you won't have to worry about dropped calls or crackling music.
Plus, you'll get decent battery life. These earbuds offer nearly 8 hours of battery on a single charge. The charging case offers a whopping 28 hours more and you can charge them in as little as 15 minutes.
Promising review: "From the time you receive your new item, you'll already feel like you are receiving high quality earbuds, from the detail and quality of material, just in the packaging, as should be expected for the price. The updating of the software took longer than I anticipated; however, once it was completed, I was very pleased with the features. Some of my favorites were the "Find My Jabra" which uses a Google Maps GPS tracker, like you would find on a mobile device, I love how it lets you adjust how much ambient sound is let in. This is especially beneficial for joggers as it's important for safety and security to hear what's around you, while you're listening to music."
If you're looking for earbuds with bass, the Sony WF-XB700 has your name on them. These earbuds offer a deep bass sound that lets you have the music experience you're looking for without using wired, over-the-head headphones.
You'll get a pretty good battery life, too — up to 18 hours with the charging case. And, for under $65, you really can't beat the price.
Promising review: "These are a great earbuds for bass heads and anyone who loves volume, loud volume. These are definitely one of the top, if not the top wireless earbud I've ever tried! They are pretty big, see the pics. But they deliver on sound, have a huge Bluetooth range of what is well beyond 100 feet, and the battery lasting 9 hours is awesome."
Bose is known for offering superior sound quality, and the Bose Sport Earbuds are no exception. This model is great for Android owners with active lifestyles, too, since they're designed to help you energize your workouts while staying put.
You'll get tons of high-end sound features from these little earbuds. They come with Bose signature Volume-Optimized Active EQ, which automatically adjusts the bass, midrange and treble based on how loud or soft you play your music. Plus, the Bose StayHear Max tips create an airtight seal with your ear canal — which not only keeps your earbuds in your ear but adds to the sound quality, too.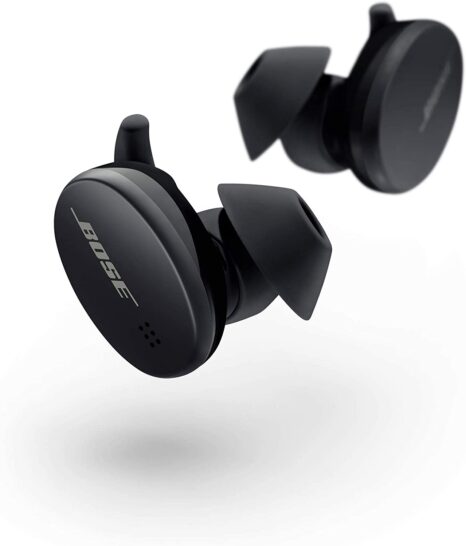 Promising review: "These fit in my ear perfectly and stay there in running. The sound quality is good for what it is, and one of the best among true wireless earbuds. Sound stage is okay, highs are pretty good, for bass I wouldn't want a bit more than what it already has. I also used these to make phone calls, and sound quality on the other end was also good."
You hear a lot about Echo smart speakers, but you may not know about the Echo Buds. These earbuds are Amazon's own addition to the wireless earbud market, and they're pretty great. You'll get immersive sound, crisp audio and noise reduction all in one pair of Echo Buds.
They're comfortable, too — and they work with Alexa so you can stream music, play audiobooks, make calls or get directions. You can also use them with other voice assistants, so you aren't limited to Alexa. Plus, you'll get up to 5 hours of music playback per charge. They're quickly recharged, too. A 15-minute charge adds up to 2 hours of playtime. The charging case gives you about 20 more hours of playtime in total.
Promising review: "These buds are easily the best I have tried. I appreciate the balance, which is strong without being over powering. It's a perfect compliment to the rest of the music tones. The noise cancelation is impressive. Just a couple of taps and the sound is either blocked or allowed through. I definitely recommend these buds. I doubt very seriously that you would be disappointed if you give these a try. These things are awesome!"
If you're looking for a budget pair of earbuds, this pair from TOZO T10 could be what you need. For less than $30, you'll get advanced Bluetooth technology, in-call stereo sound and a ton of other high-end features.
Not only do these earbuds offer massive bass for you audiophiles, but they're also waterproof and work great for sports and fitness routines. You won't have to worry about sweat damaging them.
You'll also get lots of battery life. These wireless earbuds can last over 4 hours on a single charge. The charging case gives you an extra 14 hours, too — so you'll be able to power back up on the go when you need to.
Promising review: "I was thoroughly impressed with the Tozo T10. The packaging was incredible, the build quality is top notch, and an amazing set of features for the price even if the price was twice as high. Wireless charging, IPX8 waterproofing, high quality 8mm sound driver, and bluetooth v5.0 are just a few of the high end features the T10's have to offer."
We may receive a commission when you buy through our links, but our reporting and recommendations are always independent and objective.