You probably have hundreds of family pictures saved on your devices. Sure, you might print a few and put them in photo albums, but most are probably hidden away in your PCs, laptops, smartphones or even the Cloud. Luckily, we've got a much better idea for your digital family photos.
Digital photos can really liven up your house. They'll also remind you throughout the day of happy times with your family and friends. One of the best ways to show them off is through high-tech digital photo frames.
That's why we researched the best digital photo frames money can buy. Want something small? How about something huge, with Wi-Fi and other cool add-ons? Whatever your needs, we've found something you'll love.
If you're looking for an option with lots of bells and whistles, look no further than this Aura Carver 10.1-inch smart digital picture frame. Instantly share photos from your phone to this Aura digital photo frame through its easy-to-use app.
Invite unlimited friends and family to share pictures to your frame or send photos to their frames all via Wi-Fi. And it's Alexa Compatible.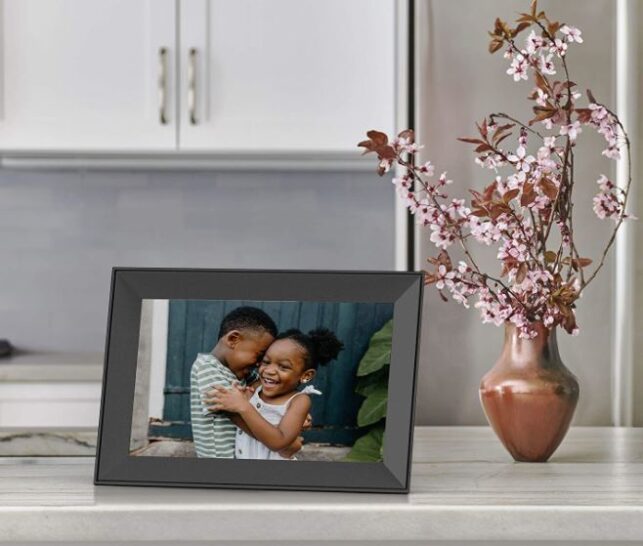 Promising review: It's super easy to set up. I was guided all the way, with no difficulty whatsoever (my mom could do it, and actually I'm gonna buy her the same frame). It's super easy to add pictures to it via the app and there is no worry about memory space since it comes with unlimited cloud storage.
This high-tech photo frame comes in three different sizes. Whether you want an 8-inch, 10-inch, or 15-inch frame, the LOVCUBE 8-Inch Digital Photo Frame has you covered. With this, you'll be able to see your treasured memories in vibrant, high-resolution displays.
Wondering what time it is? This photo frame comes with a digital calendar clock and an energy-saving motion sensor. You can even set your favorite songs as background music for different photos.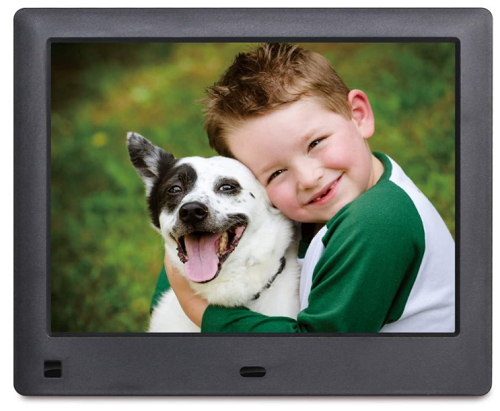 Promising review: "I've used this digital frame for a week and it's actually a little over my expectations. First the LCD screen quality is pretty good and pictures look vivid and colorful. I used to have a small digital frame and I would say this 10-inch one has better effects than the 8-inch one. The remote control and settings are user friendly and I figured out all the functions without reading the manual."
Easy to set up, this touch screen is convenient to use — even if you're not so tech savvy!
With the Dhwazz Digital Photo Frame, you don't need to worry about figuring out Wi-Fi connections. It's simple: Connect the power and insert the USB drive or SD card. Your photos will automatically show up in a slide show.
It even comes with a built-in stereo speaker. You can play videos, set songs for the pictures, and use the clock and alarm. It also comes with a smart motion sensor. If you leave the room, it turns off, saving you a good chunk of money on your electric bill.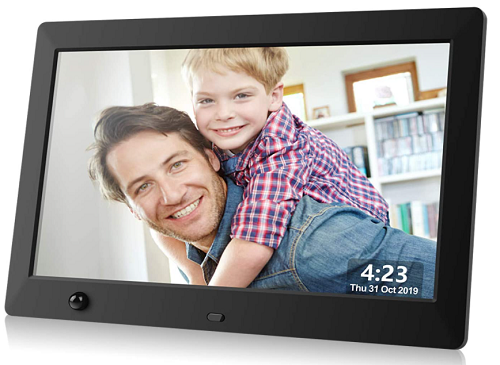 Promising review: "I've been looking for an electronic frame for photos for a long time and this frame is absolutely fabulous. I think 10 inch screen size is large enough for me and this frame has very high resolution. It's very easy to set up, the touch screen is quite convenient to navigate. The design looks very classy."
With adjustable brightness, a motion sensor, auto-rotate and more, this item's packed with features. The Atatat 12-Inch Digital Picture Frame comes in five different sizes, from 7-inches up to 15.6. You also have the option to buy a Wi-Fi version of the frame.
Like the other frames, this is easy-to-use, plug and play. You can even delete pictures on the frame you don't need. Want it to auto power on and off? Need to know the time and day it is? You've got those features.
Best of all: This item has a unique breakpoint play function. Basically, it continues to play the photo, music or video that you were on the last time you used the device.
Promising review: "This picture frame is great! It's easy to setup, the display is beautiful, and comes with a remote (battery included). It has the ability to play music or videos, which is a nice touch if you want something that can play music with a slideshow."
Motion sensor? Check. Auto-rotate function? Check. The MRQ 14-Inch Full HD Digital Photo Frame is full of great features: It comes with a clock, calendar, slideshow setting and a built-in speaker. You can also zoom in on images to show off cool background details to your guests.
You can even listen to music by plugging in your earphones to its 3.5 mm slot. This 14-inch LED screen brings superb picture quality so you can enjoy your family memories with the click of a remote button.
Promising review: "I have been looking at the digital frames on Amazon for months. But the frame size to features and price ratios of some of the best-sellers weren't in my range. I was looking for an affordable, 14 inch frame and when I found this one on sale, I knew I had to act fast…the set up only took 30 seconds! Yes, right. Just plug it in! And it is so easy to figure out how it works if you are already using any kind of electronics like phones, tablets, etc. The pictures I took with my Sony camera looks amazing! Even from several feet away."
6. Looking for something bigger? This 15.6-inch Dragon Touch option has you covered
There is a nice balance between large and gaudy. This 15.6-inch Dragon Touch digital picture frame is perfect for those looking for a bit larger frame without overdoing it.
This one is cool as it's not just for still photos. With a quick tap of a finger, browse through your photos, pause your slideshow, or easily adjust display settings. The built-in speaker supports the playback of photos, slideshows and small videos.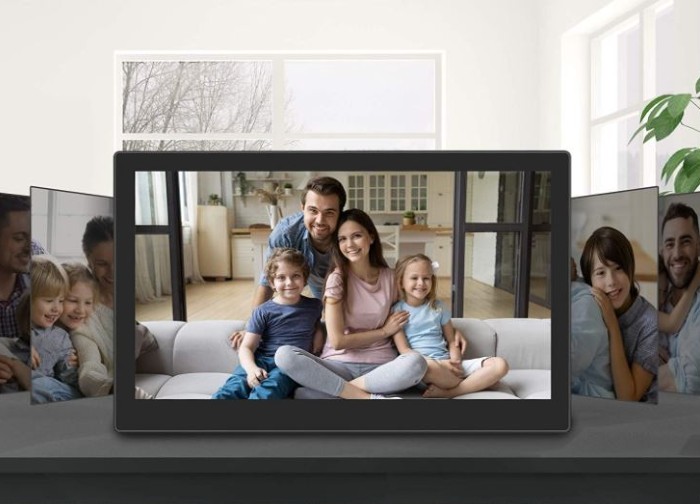 Promising review: I have a variety of smaller digital picture frames and they all work great. However, I needed a larger size and the touch screen control would be awesome too. I was not disappointed, this one works great. Great picture, very robust OS and image/video transfer via phone or pc work flawlessly.
This is the perfect season to crack open your old photo albums. You might find some hidden treasures! Tap or click here to organizing your photos in three simple steps.
We may receive a commission when you buy through our links, but our reporting and recommendations are always independent and objective.